Rev Up Hunger with a Souped-Up Combo
For appetites as big as the stakes, share the FAST X Snack Pack and get a large popcorn, 2 candies, and 2 large drinks with collectible cups. For a limited time, fuel up with our exclusive Toretto Twist Pibb X-tra.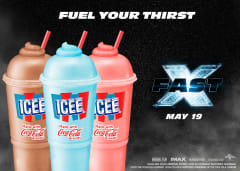 A Cool Treat with All-Out Flavor
Get your tastebuds revving with a cool treat that goes full throttle. Enjoy the frozen rush of your favorite ICEE flavor when you see FAST X, now showing.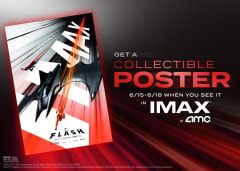 Race in and Snag a Gift with IMAX
Don't miss DC's THE FLASH when it speeds onto the big screen opening weekend! Get tickets to experience the rush in IMAX® at AMC 6/15-6/18 and receive a collectible poster.
Get a Collectible with Dolby Cinema
Meet the residents of Element City in Disney and Pixar's ELEMENTAL at Dolby Cinema at AMC®. Plus, take home a commemorative mini poster when you get tickets to see it on the big screen 6/15-6/18.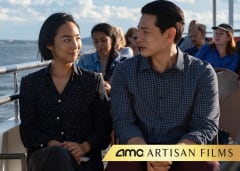 AMC SCENE
Old Friends Reconnect In A24's PAST LIVES
A touching story of star-crossed lovers from an emerging voice, Celine Song. Learn more about AMC Artisan Film, starring Greta Lee And Teo Yoo.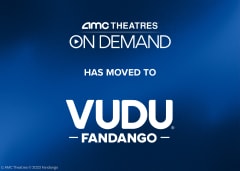 We've Partnered with Vudu
AMC Theatres On Demand is proud to announce our new partnership with Vudu! Transfer your existing AMC Theatres On Demand movie collection today and gain access to an even more extensive movie library, featuring thousands of FREE titles, 4K UHD quality, Dolby Atmos, and more.
Plus, new VUDU customers get 15% OFF EVERYTHING for the first month! (Offer terms apply).