The modern horror-thriller A QUIET PLACE and raunch-com BLOCKERS — which will be in AMC theatres this Friday — premiered at the 25th South by Southwest festival last month. Though the two films couldn't be more different, they both received a "raucous response from audiences" (Variety), and buzz has been building ever since. Learn more about the new releases and get your tickets for opening night, April 6.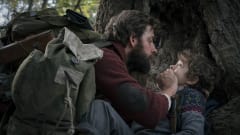 A Quiet Place
Sound is the enemy in this high-octane thriller from director John Krasinski. A QUIET PLACE debuted opening night of the festival to a standing ovation and already holds a 100 percent on Rotten Tomatoes ahead of its public release this Friday. Rolling Stone called the film "a surprisingly solid, formalistically experimental genre piece from a guy who self-admittedly isn't a die-hard fan of such things."
In A QUIET PLACE, a tightknit family must navigate their lives in silence after mysterious creatures that hunt by sound threaten their survival. Krasinski — who also co-wrote, executive produced and starred alongside wife Emily Blunt — was inspired by classic horror like JAWS and ALIEN, but his approach was quite different: There's very little dialogue in his film. Hear more about his unique and ambitious idea in our exclusive cast interview.
Don't watch A QUIET PLACE alone. Invite your friends and get your tickets to AMC today.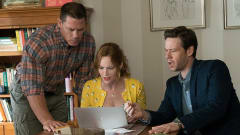 Blockers
Vanity Fair may have summed up BLOCKERS best: "Somehow, the 'butt-chugging movie' delivers a sensitive story of female friendship and the art of letting go." Yes, John Cena does participate in an unconventional beer bong challenge, but that's only one of the hilarious hijinks in BLOCKERS.
The raunchy sex comedy stars Leslie Mann, Ike Barinholtz and Cena as three hover-parents, who, after they stumble upon their daughters' pact to lose their virginity at prom, launch a covert one-night operation to stop the teens from sealing the deal.
The directorial debut of Kay Cannon (writer of the PITCH PERFECT series) premiered night two of the festival, where many of its lines "were drowned out by the waves of laughter in the SXSW audience" (New York Times). Check out the trailer below.
Make BLOCKERS a fun girls' or guys' night out. Get your tickets to AMC today.