On a hot July day, there's nothing better than relaxing in a cool theatre with delicious food and drinks. Beat the heat and order from AMC's Feature Fare menu. Our tastiest lineup yet pairs perfectly with the movies you can't miss this summer.
EIGHTH GRADE
See EIGHTH GRADE with a summer staple: a U.S.A. all-beef hot dog, loaded with the tastes you love — from simply savory to fired-up. Choose from Chili-Cheese, Mustard and Kraut, Royal Garden, or Spicy Sriracha, and don't forget to pair your meal with a refreshing Red Cherry ICEE.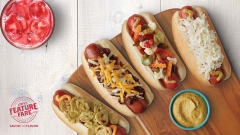 Written and directed by Bo Burnham, EIGHTH GRADE explores the pressure kids are under to make friends and how lonely early adolescence can be without them. While quiet, awkward Kayla (Elsie Fisher) grapples with the challenges of fitting in at school, her online persona embraces being and loving yourself exactly as you are. Hear more from Burnham and Fisher and get your tickets to EIGHTH GRADE today.
SKYSCRAPER
Enjoy a snack you can share with your friends throughout the epic action of SKYSCRAPER. Order the legendary 1.5 lb. soft Bavarian-style pretzel, sprinkled with coarse salt and served with warm nacho cheese and spicy brown mustard.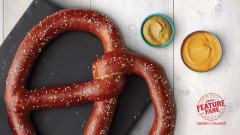 The adrenaline doesn't stop in superstar Dwayne Johnson's new film, SKYSCRAPER, in which he plays a U.S. war veteran who now assesses security for skyscrapers. His latest assignment, the Pearl, is the most advanced, super-tall structure in the world. No one knows what would happen if things went wrong, but they're about to find out. Watch our exclusive interview with the stars to get a sneak peek and get your tickets to SKYSCRAPER today.
HOTEL TRANSYLVANIA 3: SUMMER VACATION
Cheese, please! Your family will be all smiles while watching HOTEL TRANSYLVANIA 3 and enjoying a deliciously thin and crispy flatbread pizza, available in decadent 4-Cheese, meaty Pepperoni, spicy Buffalo Chicken and tangy BBQ Chicken. Plus, get a large fountain drink for just $1.99 when you buy any flatbread pizza! But you'll have to hurry — this offer is here for a limited time only.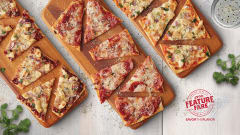 In HOTEL TRANSYLVANIA 3, Drac is back with your favorite monster family. Their luxury cruise starts off smooth sailing, as they play monster volleyball and catch up on their moon tans. But the dream vacation turns into a nightmare when Mavis realizes Drac has fallen for the mysterious ship captain, Ericka, who hides a dangerous secret that could destroy all of monsterkind. Hear from the stars in our exclusive interview and get your tickets to HOTEL TRANSYLVANIA 3: SUMMER VACATION today.