With so many talented Best Actor and Best Actress nominees, this year's Academy Awards® is sure to be an exciting event. There's been buzz for months over who will win, furthering building our anticipation for the ceremony on March 4. While all of the performers deserve recognition for their craft, we believe these four actors are seriously overdue for an Oscar win. See who made our list and get tickets to their films at AMC before it's too late.
Frances McDormand
Frances McDormand has never conformed to Hollywood's standards for leading ladies. She doesn't wear makeup unless she's filming; she doesn't dye her short, choppy hair; and she refuses to nip, tuck or inject. Her unconventional style, merit-based success and "I don't give a you-know-what" attitude is, even if unintentionally, a powerful message to women everywhere. 
And if she takes home the Best Actress Oscar for THREE BILLBOARDS OUTSIDE EBBING, MISSOURI, she will become one of 14 female performers who have won in the category more than once.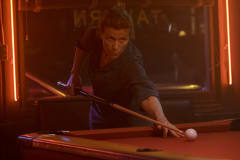 In the darkly comic drama written, directed and produced by Academy Award-winner Martin McDonagh, McDormand stars as Mildred Hayes, a tough but tender mother mourning the violent murder of her teenage daughter.
Her complex performance has already earned McDormand the Golden Globe award for Best Performance by an Actress in a Motion Picture, Drama, and the SAG Award for Outstanding Performance by a Female Actor in a Leading Role.
On March 4, she will be up again for the Best Actress in a Leading Role Oscar. Her first and, so far, only Oscar win was 21 years ago for FARGO (1996). She has also been nominated for Best Actress in a Supporting Role for MISSISSIPPI BURNING (1988), ALMOST FAMOUS (2000) and NORTH COUNTRY (2005).
Gary Oldman
Gary Oldman is renowned for his "big" acting style, in which he completely immerses himself in his roles. (He lost so much weight for 1986's SID AND NANCY — 30 pounds — he had to be hospitalized.) Many of Hollywood's brightest stars have credited Oldman as their favorite actor and influence; critics love him, too, which makes his lack of Oscar nominations over the years all the more puzzling.
Throughout his nearly 35-year career, Oldman has appeared in at least 60 films, but he's only been nominated for two Academy Awards, both in the Best Actor in a Leading Role category. His first was for 2011's TINKER TAILOR SOLDIER SPY; his second for his portrayal of Winston Churchill in 2017's DARKEST HOUR.
In the World War II drama, director Joe Wright invites audiences into the War Rooms, where Churchill battled to gain the confidence, support and words to rally a nation — the latter a major focus of the film, and Oldman delivers with astounding accuracy.
Oldman's transformation into the prime minister is remarkable, earning him the Golden Globe for Best Performance by an Actor in a Motion Picture, Drama, and the SAG Award for Outstanding Performance by a Male Actor in a Leading Role. Though competition is fierce in the Best Actor Oscar category, Oldman stands a real chance of victory.
Sam Rockwell
While still in high school, Sam Rockwell got his first big break when he appeared in the independent film CLOWNHOUSE (1989). After graduation, he appeared in a variety of TV shows before returning to the silver screen in 1994's THE SEARCH FOR ONE-EYE JIMMY; however, "The Kid" in BOX OF MOON LIGHT (1996) was his breakout role.
Though Rockwell has starred alongside many A-list celebrities in more than 50 films, he has never won an Oscar. Until this year, he hasn't even been nominated.
Rockwell has received praise for his performances but has never been your typical leading man or sidekick. The role of Officer Dixon in THREE BILLBOARDS OUTSIDE EBBING, MISSOURI, seems made for Rockwell's dark (and often quirky) acting style.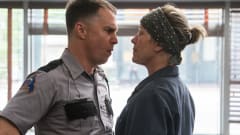 Like the film's other characters, Officer Dixon is majorly flawed. He's incompetent at his job; he's a violent drunk; and he's a momma's boy who still lives at home. Despite all of Dixon's faults, Rockwell is able to move audiences from hating the character (aside from his comedic effect), to pitying him, to sort of liking him (or at the very least, understanding him).
For his layered performance, Rockwell won the Golden Globe for Best Performance by an Actor in a Supporting Role in Any Motion Picture and the SAG Award for Outstanding Performance by a Male Actor in a Supporting Role. His chances for the Best Actor in a Supporting Role Oscar look promising.
Willem Dafoe
Since he began his film acting career in 1980 (HEAVEN'S GATE, uncredited), Willem Dafoe has appeared in nearly 100 titles. He is best known for his roles as Green Goblin/Norman Osborn in SPIDER-MAN (2002) and Jopling in THE GRAND BUDAPEST HOTEL (2014) — we predict he will also gain notoriety for his portrayal of Bobby in THE FLORIDA PROJECT (2017).
Set in the shadows of the happiest place on earth, THE FLORIDA PROJECT is a drama so raw, you forget it's fictional. The film centers on a mother-daughter duo living in a budget motel just outside of Disney World. As the motel's rough-around-the-edges manager, Dafoe serves as the film's moral compass — and often ends up in the middle of the chaos as he tries to provide a small sense of stability.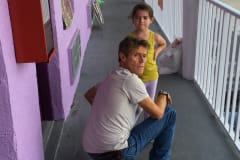 The role is Dafoe's third Oscar nomination for Best Actor in a Supporting Role: his first for playing Sgt. Elias in PLATOON (1986); his second for Max Schreck in SHADOW OF A VAMPIRE (2000).
He was nominated for the Golden Globe for Best Performance by an Actor in a Supporting Role in Any Motion Picture and the SAG Award for Outstanding Performance by a Male Actor in a Supporting Role, but was bested by Sam Rockwell. The two will go head-to-head again at the 90th Academy Awards. Either way, we're excited to see one of the acclaimed actors win their first Oscar.
Check back on our blog often for more articles about the Oscars, and don't miss our Best Picture Showcase at an AMC theatre near you. Split your showtimes over two consecutive Saturdays or marathon them all over 24 hours (at select locations).