In February, Marvel Studios' BLACK PANTHER warmed us up for the year's hottest releases, but movie lovers like you know summer is the season for blockbusters. April and May usher in just a taste of what's to come, and what better way to get up close to the action than IMAX?
IMAX at AMC is truly immersive. The combination of heart-pounding audio and awe-inspiring images draws you into something as close to reality as you have ever experienced in a theatre. Grab some popcorn and a fountain drink, and get ready to be a part of the movie. Here are four films you can't miss in IMAX this spring.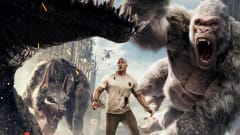 RAMPAGE
Big meets bigger in Dwayne Johnson's new action adventure. In RAMPAGE, the megastar goes head-to-head with genetically altered, raging creatures of enormous size, not only to halt a global catastrophe, but also to save the fearsome beast that was once his friend: an extraordinarily intelligent, silverback gorilla named George.
The film — which is loosely based on the video game series of the same name by Midway Games — debuted April 13 in 4,101 U.S. theatres at No. 1, and fan excitement continues to grow leading up to its wide release this weekend.
Action this massive deserves to be seen on the huge screen and pixel-perfect clarity of IMAX at AMC. Get your tickets to RAMPAGE today.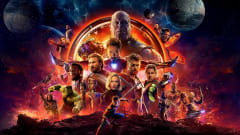 AVENGERS: INFINITY WAR
The largest cast of action heroes unites on the big screen in AVENGERS: INFINITY WAR, opening everywhere April 27. The star-studded film — which spans the entire Marvel Cinematic Universe — was shot using IMAX cameras. Hear from directors the Russo brothers and producer Kevin Feige about why they love the IMAX experience.
An unprecedented cinematic journey 10 years in the making, AVENGERS: INFINITY WAR brings to the screen the ultimate, deadliest showdown of all time between the Avengers, their allies and the powerful Thanos, whose blitz of devastation and ruin threatens to put an end to the universe.
An epic battle deserves an epic viewing experience. Get your tickets to AVENGERS: INFINITY WAR in IMAX at AMC today.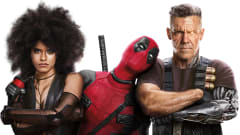 DEADPOOL 2
When DEADPOOL exploded into theatres in 2016, no one could have guessed it would have the highest-grossing opening weekend for an R-rated movie. But with the original film's success and super-fan following, it's no surprise the fast-talking, foul-mouthed antihero is returning for a sequel on May 18.
You won't believe the intensity IMAX brings to every shot and strike in DEADPOOL 2 — just like you won't believe the fake, but official synopsis: After surviving a near fatal bovine attack, a disfigured cafeteria chef (Wade Wilson) struggles to fulfill his dream of becoming Mayberry's hottest bartender while also learning to cope with his lost sense of taste. Searching to regain his spice for life, as well as a flux capacitor, Wade must battle ninjas, the yakuza, and a pack of sexually aggressive canines, as he journeys around the world to discover the importance of family, friendship, and flavor - finding a new taste for adventure and earning the coveted coffee mug title of World's Best Lover.
Who wouldn't want to see that on the big screen of IMAX at AMC?
SOLO: A STAR WARS STORY
Board the Millennium Falcon and journey to a galaxy far, far away in SOLO: A STAR WARS STORY, an all-new adventure with the most beloved scoundrel in the galaxy. The second of the franchise's standalone prequels, the film takes place before the first STAR WARS movie and focuses on a young Han Solo's adventures with Chewbacca.
Alden Ehrenreich (HAIL, CAESAR!) plays the legendary hero, with a strong supporting cast featuring Woody Harrelson, Emilia Clarke, Thandie Newton and Donald Glover as notorious gambler Lando Calrissian — years before he joined the Rebel Alliance.
Follow the larger-than-life characters into a dark criminal underworld on May 25.