We love buttery popcorn and an ice-cold Coke as much as any moviegoer, but sometimes, we like to kick things up a notch. At AMC's MacGuffins® Bar & Lounge, guests who are at least 21* can enjoy mixed drinks, wines, and domestic and imported beers, available in over 200 AMC theatres. We also have a selection of craft and local brews, which vary by location.
This spring and summer, you can also sip limited-time premium cocktails, paired with 2018's most anticipated blockbusters. Learn more and find a MacGuffins Bar & Lounge at an AMC near you.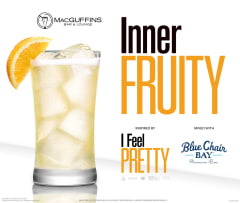 Inner Fruity
Let your inner beauty out with Blue Chair Bay Banana Rum, pineapple juice and Sprite. The Inner Fruity is the perfect cocktail for when you're not only feeling pretty, but feeling pretty fun. Get the girls together tonight to see I FEEL PRETTY at AMC, and start with drinks at MacGuffin's Bar & Lounge.
I FEEL PRETTY opens tonight, April 19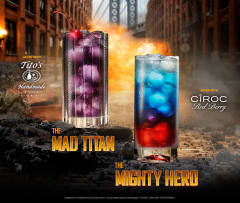 The Mad Titan vs. The Mighty Hero
Fuel your excitement for AVENGERS: INFINITY WAR. Delicious flavors come together in the Mad Titan and the Mighty Hero. Bent on becoming the ultimate taste in the universe, the Mad Titan is mixed with Tito's Handmade Vodka, blue curacao, cranberry juice, and sweet and sour mix — but the Mighty Hero rises to the challenge with Ciroc Red Berry Vodka, blue curacao, Sprite, lime sour mix and grenadine. Whichever side you choose in this showdown, you'll be victorious.
AVENGERS: INFINITY WAR opens April 26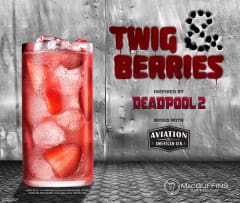 Twig & Berries
Appropriately named for inappropriate characters, the Twig & Berries is made with Aviation American Gin, strawberry puree and a squeeze of lemon, topped with Sprite and strawberry slices. While this cocktail is available for a limited time only, you'll get a gift that keeps on giving: an AMC exclusive keychain with Deadpool's face. What did you think we were going to say?
DEADPOOL 2 opens May 18
Learn more about our limited-time specialty cocktails.
*Must be 21+ with an ID to purchase alcoholic beverages. Please consume responsibly.