Spring is officially here, and so is a new slate of family-friendly releases at AMC. From reimagined classics to adventurous animations, your kids will love these five films to celebrate the beginning of a new season.
Dumbo
This live-action remake expands on the beloved Disney tale about a newborn elephant with unusually large ears, who goes from laughingstock to main attraction at a struggling circus. Dumbo's newfound popularity catches the eye of a persuasive entrepreneur, who recruits him for the giant entertainment venture Dreamland.
There, Dumbo soars to new heights alongside a spectacular aerial artist — but beneath its shiny veneer, Dreamland is more of a nightmare, filled with dark secrets. Danny DeVito, Colin Farrell, Michael Keaton and Eva Green star. (March 29)
Shazam!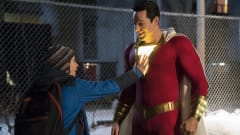 One word can turn a streetwise 14-year-old into an adult superhero. After encountering a powerful wizard, Billy Batson (Asher Angel) gains magical powers through his alter-ego, Shazam (Zachary Levi). As Shazam, Billy can punch through concrete, shoot electricity out of his hands ... and buy beer for him and his friends.
Shazam is one of DC's more comedic characters — balancing incredible abilities with joyful teenage recklessness — but he also has serious enemies, including the villainous Dr. Sivana (Mark Strong). (April 5)
Missing Link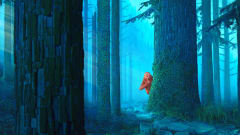 Neither beast nor man, Mr. Link (Zach Galifianakis) is the last living remnant of our primitive ancestry — and he's lonely. To find his supposed distant relatives, the Yetis, he enlists the help of Sir Lionel Frost (Hugh Jackman), the world's foremost investigator of myths and monsters.
But they can't make the journey alone. They need Adelina Fortnight (Zoe Saldana), who possesses the only known map to the group's secret destination: the fabled valley of Shangri-La. MISSING LINK is the latest creation from Laika Studios (CORALINE, KUBO AND THE TWO STRINGS). (April 12)
Penguins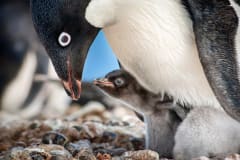 Education meets entertainment in PENGUINS, the new documentary from Disneynature. Ed Helms narrates the coming-of-age story, which follows an Adélie penguin named Steve (also voiced by Helms) as he journeys to Antarctica to find love and start a family.
On top of the unforgiving — but stunning — environment, Steve must survive killer whales and leopard seals, who unapologetically threaten his happily ever after. PENGUINS arrives at AMC in time for Earth Day. (April 17)
UglyDolls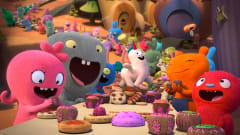 Welcome to Uglyville, where not-so-perfect dolls are sent. Ambitious Moxy (Kelly Clarkson) believes there's a bigger world out there, one where UglyDolls like her can find the perfect kid — and with help from her friends, Moxy takes a leap of faith to find out if she's right.
Through their adventure, the UglyDolls learn our flaws make us unique and who we truly are is what matters most. Don't miss the animated musical event of the year. (May 3)