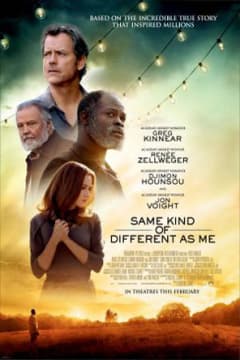 A simple act of kindness can change everything.
Before Ron and Debbie Hall met Denver Moore, their 19-year marriage was falling apart. Debbie was a woman of God, while Ron, an international art dealer, found fulfillment in his work, money … and another woman.
When Ron's infidelity was brought to light, Debbie invited him to stay, as long as he did what she asked of him: serve others and help her find the "poor wise man" from her dreams — the man who would transform their city and, ultimately, their lives.
SAME KIND OF DIFFERENT AS ME is based on the 2006 New York Times bestseller, an unforgettable true story of forgiveness, friendship, family and faith.
Ron, Debbie and Denver's journey together begins in Fort Worth, Texas, at Union Gospel Mission homeless shelter, where the couple volunteers.
Denver, a dangerous drifter who grew up picking cotton in virtual slavery, has no interest in small talk as he moves through the food line — but Debbie is persistent. She recognizes Denver, at least his face, from her dreams. She befriends him, and, more surprisingly, so does Ron. Despite vast differences, their lives begin to intersect, and they all are changed … forever.
The real Ron Hall co-wrote and produced SAME KIND OF DIFFERENT AS ME, which stars Academy Award winner Renée Zellweger (Debbie) and Academy Award nominees Greg Kinnear (Ron) and Djimon Hounsou (Denver).
For Hounsou, the true story hit close to home: "Prior to his acting and modeling fame, he spent around a year of his youth homeless in France," according to a Dallas News article. In 2008, he testified before the U.S. Senate Judiciary Committee on behalf of runaway and homeless youth.
"It's a rare opportunity for an actor to be blessed with a role so soulful," Hounsou said. "To embody Denver's spirit was at once an emotional challenge and an extreme privilege, learning the story of a man who came from so little and gave so much."
Kinnear and Zellweger were also moved by their roles — hear from the stars in this clip.
Ron Hall was on set the entire time, making sure the film captured the real events and people the actors portrayed, including himself.
"[Kinnear] nailed the part of an arrogant, self-centered art dealer," he said. "And then, he nailed the part of me being transformed by this homeless man."
Ron continues to advocate and raise money for the homeless. He has traveled around the country to share his story with Bible study classes with only a handful of people present and to megachurch congregations brimming with 10,000 or more.
SAME KIND OF DIFFERENT AS ME is your opportunity to hear the message and call to love one another and to reframe the way we, as a society, see homeless people.
The inspirational film opens October 20 at an AMC theatre near you — the perfect place for large family gatherings or faith-based get-togethers. Get your tickets today.