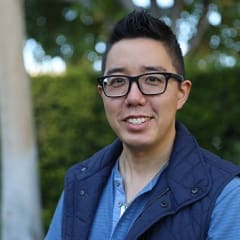 For the first 10 years of his career, Andy Park fulfilled a childhood fantasy as a comic book artist. His second job was equally dream-worthy: He worked for Sony for five years, helping to create the third-person action-adventure video game series "God of War."
Now, and for the past eight years, Park is one of six full-time artists who work in the visual development department at Marvel Studios. Incredibly imaginative and astonishingly talented, Park and his team are responsible for the on-screen looks of characters including Hela from THOR: RAGNAROK, the upcoming Captain Marvel, and the new Ant-Man and the Wasp.
"I feel like I've come full circle," he said. "My first love is comic books — as an artist, as a kid. To be able to create the characters that you see on the big screen, which is essentially making them come to life, is completely surreal."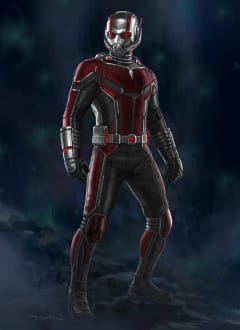 © MARVEL STUDIOS 2018
Park grew up with Marvel comic books and is a self-described "Marvel guy." "Marvel comics always spoke to me," he said. "It was always about the characters. They were relatable; they weren't perfect, ideal gods; they were human."
Scott Lang/Ant-Man (Paul Rudd) is the embodiment of Park's description. (Director Peyton Reed describes Lang as "the everyman of the MCU.") And Park has helped shape Lang's look, and even his story, since the beginning.
Marvel's visual development team is first up in the movie-making process. They start churning out ideas during, sometimes even before, the script-writing phase. They also create key frame illustrations, moments and scenarios that help the director drive their vision. 
"I always have in the back of my mind, 'What do the fans want to see?' which is easy to figure out because I'm basically asking myself, 'What do I want to see?'" Park said.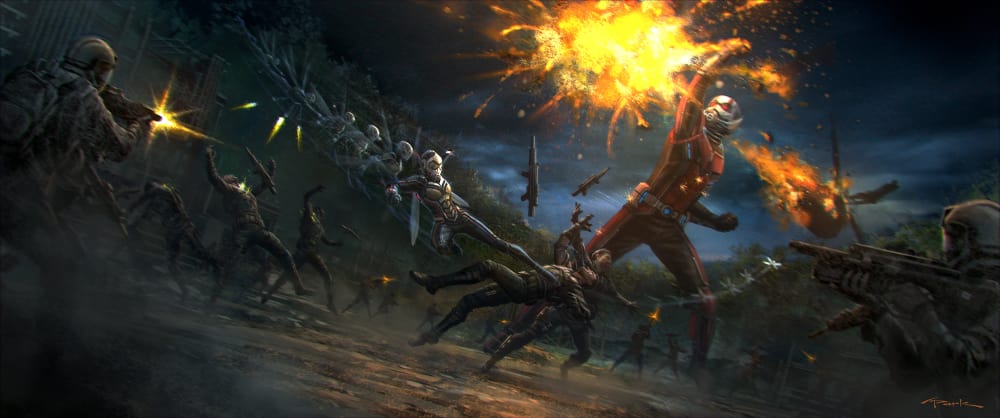 © MARVEL STUDIOS 2018
Park designed both Ant-Man and the Wasp's (Evangeline Lilly) suits for the first ANT-MAN film, as well as Ant-Man's suit in CAPTAIN AMERICA: CIVIL WAR. "It was really great, just being able to revisit these suits film after film and help evolve them," Park said.
He also designed both heroes' suits for ANT-MAN AND THE WASP. He painted the initial concepts, suggested the various materials to be used and put patterns into the designs.
"Another fun part of my job is after the initial look gets approved, the next step is I start working with the costume designer and the head specialty costumer, who makes all of the helmets and hard pieces."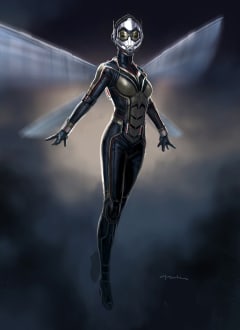 © MARVEL STUDIOS 2018
For version 3.0 of the Ant-Man suit, Park gave Lang a modern update — but the Wasp's suit, Park admits, is more sleek, agile and cool. "She can fly; she can blast; and she's a lot more capable," he said with a laugh.
For inspiration to design the Wasp's suit, Park went back to the source materials: the comic books. He gravitated to her more recent look, the black and gold suit that mimics the wasp insect.
He also had to keep in mind it's Dr. Hank Pym (Michael Douglas) designing these suits in the movie. "These are ultra, high-tech suits, but Hank Pym is not Tony Stark," Park said. "He has a very different sensibility … [he's] more old school."
One of Park's main objectives was to maintain the balance of contemporary and classic, to elevate the characters' looks while staying true to their origins. Designing the suit for new villain the Ghost came with its own unique challenges.
© MARVEL STUDIOS 2018
Early on in the script development process, Park noticed they were missing a strong antagonist. After brainstorming with his team, he recommended bringing in the Ghost from the Iron Man comics. "I love working with Peyton [Reed], because he really opens his door to everyone," Park said. "I felt free to go to him [about the script]." Within a day, the idea was approved — with one minor change. The Ghost is female in ANT-MAN AND THE WASP.
"Even though I work in comic book movies, I'm a little bit out of it when it comes to contemporary comic books," Park said. "I wasn't familiar that the Ghost was actually evolved … the Ghost has a different look now." Fellow Marvel artist Tully Summers came up with the Ghost's final suit design.
"It was really fun to tackle," Park said. "I think that the look you see on the screen has a mix of the more contemporary look with the mask, as well as the classic look with the hood."
See Park and his team's designs up close on the big screen in ANT-MAN AND THE WASP. Get your tickets at AMC today, and check out Park's other amazing artwork on Instagram and Twitter: @andyparkart.