At the end of SPLIT, director M. Night Shyamalan included a scene where he panned around a diner, scanning the faces of the patrons before stopping on that of Bruce Willis. The icon was resuming his UNBREAKABLE character, David Dunn. And in that moment, it was clear that SPLIT took place in the same universe.
Fans went crazy.
That enthusiasm continued when people learned that the upcoming GLASS would be a full continuation of the UNBREAKABLE and SPLIT stories. But we know it probably has been years since you revisited Shyamalan's unconventional superhero movie, so let us run through a few key facts you will need to remember before you see GLASS January 18.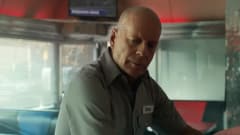 David Dunn's Powers
UNBREAKABLE, released in 2000, is the origin story of a Philadelphia security guard named David Dunn (Bruce Willis), who is virtually indestructible. David survived a train crash, but never assumed it was because of a secret power that he had. David's son, Joseph (Spencer Treat Clark), reads comics and comes to believe that his father might be one of those heroes, removed from the page. Together, they slowly begin to test his abilities.
Though David is extremely skeptical of his irregular powers, by the end of UNBREAKABLE, he has assumed the identity of an anonymous, hooded savior. He uses his power to read the thoughts of people he comes in contact with and follows through to assist people who are in dire need. David learns, over the course of one rescue mission, that he might have a weakness to water. But it's believed that David will continue to use his increased strength to help people, mainly because he's being manipulated by the other key character in UNBREAKABLE.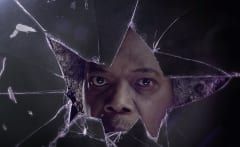 Elijah Price/Mr. Glass
Every hero needs a villain, and in UNBREAKABLE, David is motivated by the presence of Elijah Price (Samuel L. Jackson). Where David is impossibly strong, Elijah is unusually weak. His bones are so brittle, he earns the nickname Mr. Glass. But Elijah also subscribes to the truth found in comic books, and he believes that there must be a counterpart to him, somewhere in the world.
We learn, by the end of UNBREAKABLE, that Elijah was responsible for the train crash that first revealed David's powers. And he firmly believes that his destiny is to become the antagonist to David's burgeoning hero. You can't have the Joker without Batman and vice versa. So you can't have David without Elijah … or so Elijah would like to believe. Shyamalan never explored the give and take between these characters in a sequel, until GLASS rolled along.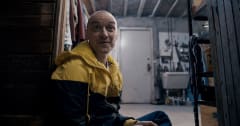 Kevin and His Personalities
So how does James McAvoy factor into all of this? The X-MEN star headlined Shyamalan's standalone horror-thriller, SPLIT, in 2017, playing a man suffering from dissociative identity disorder who often communicates through his 23 different personalities. SPLIT was an acting showcase for McAvoy, whose character kidnapped a handful of girls and held them against their will until one of them, Casey (Anya Taylor-Joy), managed to escape.
SPLIT was revealed to be part of the UNBREAKABLE universe in its end credits, which set the stage for GLASS. From what we have been able to tell in the trailers, Elijah (Jackson) continues his game against David (Willis) and sees Kevin (McAvoy) as a tool to be used in the war to unveil super-powered beings to the community at large.
GLASS is believed to be the final part of this superhero trilogy that Shyamalan has been crafting since 2000. It doesn't follow the normal beats of a comic book cinematic universe, but that's exactly what has us so intrigued.
We have been waiting nearly 20 years to see the next chapter in the battle between David and Elijah, and the fact that Kevin and his personalities will be part of it has us very excited. You can grab tickets to see GLASS at your local AMC theatre now. The movie opens everywhere January 18.