Up until recently, Chadwick Boseman was mostly known as a very talented actor who starred in a handful of moving historical dramas. But after he joined the Marvel Cinematic Universe, Boseman's name became synonymous with two words: Black Panther. As T'Challa, Boseman has been able to apply his talents in a whole new way, working as part of large ensembles while showing off his considerable abilities as an action star.
With his roles in upcoming films like 21 BRIDGES and DA 5 BLOODS, the actor is taking the cinematic world by storm. Read on for a closer look at Boseman's career and why he's our new favorite action star.
Boseman's Beginnings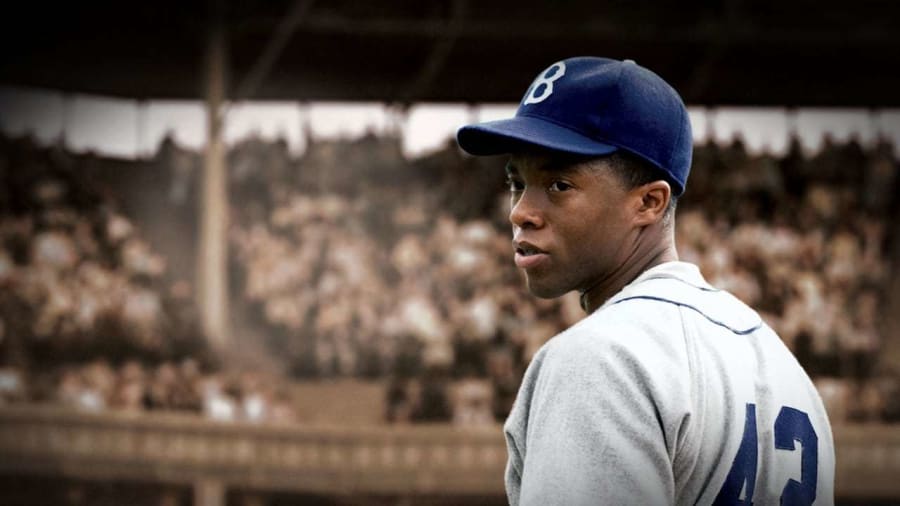 After graduating from college (where one of his professors was actress Phylicia Rashad), the South Carolina native picked up a handful of guest appearances on TV shows like "Law & Order," "CSI: NY" and "Cold Case" (are you sensing a theme?). It didn't take long for Boseman to gain attention for his talents: By 2008, he was starring in the ABC Family series "Lincoln Heights," followed by a role on the short-lived NBC mystery series "Persons Unknown."
After appearing in several more shows — including "Fringe" and "Justified" — Boseman landed a career-making role as legendary baseball player Jackie Robinson, in the acclaimed drama 42. Released in 2013, the biopic cemented Boseman's star status and led to his appearance in another sports drama, DRAFT DAY, opposite Kevin Costner. Soon after, Boseman signed on to headline a biopic about another icon, this time playing music legend James Brown in GET ON UP, from the director of THE HELP.
Marvel Magic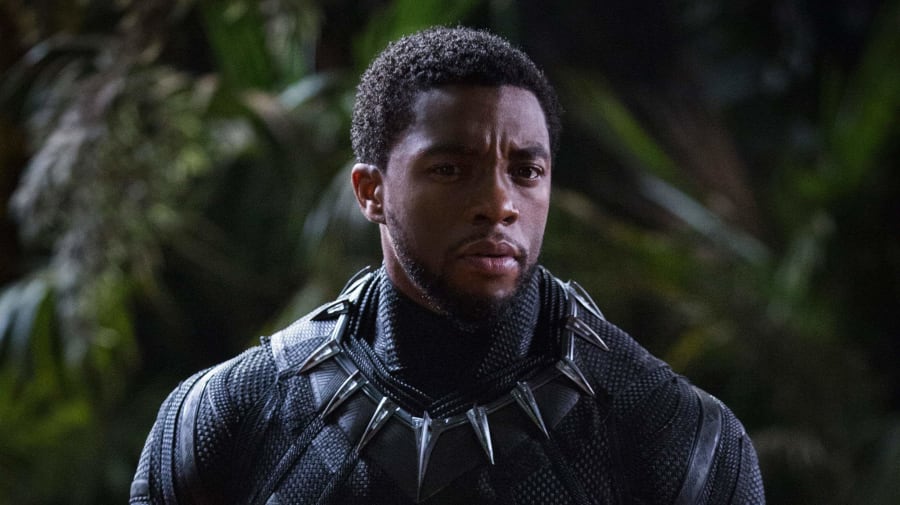 2016 was a major turning point in Boseman's career: In addition to starring in the fantasy action flick GODS OF EGYPT, alongside "Game of Thrones" favorite Nikolaj Coster-Waldau (aka Jaime Lannister), the actor made his debut in the Marvel Cinematic Universe as T'Challa — better known as the superhero Black Panther. Boseman delivered a scene-stealing performance in CAPTAIN AMERICA: CIVIL WAR, showing off his awesome action skills as the dynamic African superhero.
While fans eagerly awaited his BLACK PANTHER solo movie, Boseman continued to flex his action movie muscles in MESSAGE FROM THE KING, a Netflix movie starring Luke Evans and Teresa Palmer. In that film, Boseman plays a South African man who travels to Los Angeles to avenge the death of his sister.
Black Panther and Beyond
When BLACK PANTHER arrived in 2018, it was an instant worldwide sensation and became one of the first superhero movies to receive serious awards consideration. The film was nominated for seven Oscars®, including Best Picture; it took home awards for Best Original Score, Best Production Design and Best Costume Design, with costume designer Ruth E. Carter becoming the first African-American to win that award.
BLACK PANTHER also gave Boseman a chance to really shine, both as an actor and an action star. The film's fight sequences were some of the best in Marvel movie history, thanks in part to the actor's prowess. He reprised the superhero role for AVENGERS: INFINITY WAR and AVENGERS: ENDGAME, both huge event movies with massive casts. The fact that Boseman's scenes stood out in these films is a real testament to his talents.
Up next, Boseman will continue to explore action-driven films with a pair of intriguing roles: First, he'll appear in the action-thriller 21 BRIDGES, opposite Taylor Kitsch and J.K. Simmons. Directed by Brian Kirk ("Game of Thrones") and produced by AVENGERS: ENDGAME directors Joe and Anthony Russo, the film stars Boseman as an NYPD detective who teams up with fellow officers to track down a gang of cop-killers. Boseman has also signed on to star in DA 5 BLOODS, an action-drama set in the aftermath of Vietnam. Directed by iconic filmmaker Spike Lee, the film centers on four African-American Vietnam vets who return to the country to find their fallen squad leader.
21 BRIDGES opens on September 27.