Though we're coming to the end of Autism Awareness Month, AMC is committed to continually expanding our knowledge of autism spectrum disorder (ASD) and creating sensory-friendly environments in which our guests with ASD can enjoy the movies.
We recognize the need for more outlets that cater to the unique abilities and talents of people with ASD — like Exceptional Minds (EM), a vocational academy and production studio for creatively gifted young adults with autism. AMC toured the LA-based school and working studio and met with some of the staff members, students and graduates. We want to share our experience and what we learned about the artists who have helped shape some of your favorite films.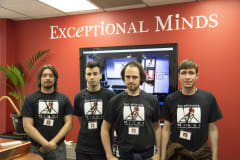 The first and only nonprofit of its kind, EM provides students with the technical and work-readiness skills for gainful employment in the fields of animation and visual effects. Students learn the Adobe Creative Suite, After Effects, Photoshop, Dreamweaver, and how to deliver an "elevator speech," complete with an in-classroom elevator prop.
Currently, there are 33 students enrolled in the full-time, three-year program and 50 students enrolled in the part-time program. EM's fifth graduating class will enter the workforce in June, bringing their total to 46 men and women who have graduated from EM academy since 2011.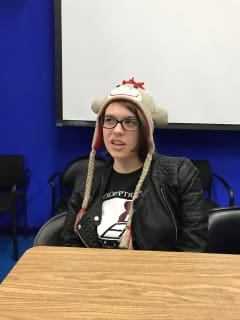 Kate Jorgensen, a first-year EM student, has loved drawing since she was able to pick up a pencil. She says doodling helps her focus her energy. "The fact that I get to go to a school that's for art … I've already bypassed my goals," Kate said.
Kate's interested in a career in visual effects, and after she completes her program, she may apply for a paid position in the Exceptional Minds Studio, where EM graduates can further hone their skills for outside employment.
Though the EM Studio team is small — 11 artists currently — they work with big Hollywood names, including 20th Century Fox, Marvel Studios, Lionsgate and Sony Pictures. Some artists have gone on to work for Marvel, Stargate and Mr. Wolf, and in paid internship positions at Warner Bros. and Unicorn Island.
"The studio not only gives them their first opportunity to use the skills they've learned in our school, but also to understand pipelines, deadlines, and to develop all those good working habits that are so important to gainful employment," said Susan Zwerman, Studio Executive Producer and Job Developer, Exceptional Minds Studio. "For many of these young adults, it's their first paycheck — and that's significant. Because along with a paycheck often comes their own apartment or car, for example. All those things that you and I take for granted, they are now able to experience as independent adults. Their time here is also invaluable to us. It gives us real feedback on what we need to be teaching our students in the vocational school."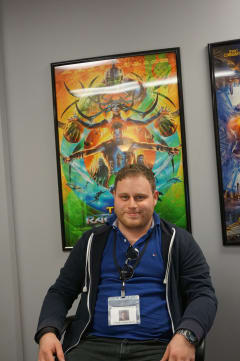 Studio artist Tony Saturno traveled across the country to attend EM academy. He has always loved big blockbuster films like IRON MAN and JURASSIC PARK, and working on this year's BLACK PANTHER was especially exciting for Tony. "It feels rewarding that in the end my hard work pays off," he said.
Marvel Studios has been a major partner since the EM Studio's beginning in 2014. "When I toured the Exceptional Minds school/studio, I realized what a wealth of untapped potential existed in this extraordinary group of young adults," said Victoria Alonso, EVP of Physical Production, Marvel Studios. "I am happy to be a part of the growth of this important endeavor."
The EM Studio team has completed visual effects services and animation services for more than 50 motion pictures and TV shows. In addition to BLACK PANTHER, their credits include many Marvel titles: AVENGERS: AGE OF ULTRON, ANT-MAN, CAPTAIN AMERICA: CIVIL WAR, X-MEN: APOCALYPSE, DOCTOR STRANGE, SPIDER-MAN: HOMECOMING, GUARDIANS OF THE GALAXY VOL. 2, and THOR: RAGNAROK.
Don't miss the newest Marvel film, AVENGERS: INFINITY WAR, at AMC. Browse showtimes and tickets for a sensory-friendly screening at a location near you.