"Good morning, Angels!"
If you grew up in a certain time period, there's a very good chance that you just answered us with, "Good morning, Charlie!" This was how several episodes of the classic television program "Charlie's Angels" began, as a warm yet mysterious voice over a loudspeaker would assign three beautiful agents another globe-trotting mission.
CHARLIE'S ANGELS found new life back in 2000 when director McG cast Drew Barrymore, Cameron Diaz and Lucy Liu as the titular leads. And nearly two decades later, Sony is launching the Angels on the big screen once again when Elizabeth Banks directs and co-stars in CHARLIE'S ANGELS (2019).
We don't have a proper trailer for the new CHARLIE'S ANGELS yet, but this is 2019, and audiences are tuned into social media. So, that's where Banks has been showing off her updated cast of Angels, who will be played this time around by Ella Balinska, Naomi Scott and Kristen Stewart.
The plot of the current CHARLIE'S ANGELS is being kept under wraps, but we expect it to be loosely based off of the TV show, meaning that the ladies work for the Townsend Agency. In fact, one year before her movie was due to reach theatres, Elizabeth Banks posted this image to get fans revved up: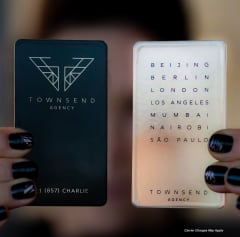 But it wouldn't be enough to simply remake a CHARLIE'S ANGELS story. It's better to bring some new things to the table, and this movie is expected to have a global feel as it films in major cities around the world. In addition, Banks will not be the only Bosley in the film. Sony has confirmed that there will be multiple Bosley characters — or handlers who have teams of Angels at their disposal — and others will be played by Patrick Stewart and Djimon Hounsou.
Does this mean that we will get more than three Angels on screen?
The Barrymore-Diaz-Liu CHARLIE'S ANGELS spawned at least one sequel, so it will be fun to see if audiences respond to Elizabeth Banks' vision with enough passion to kick-start a new action franchise. We will be able to see for ourselves when the new CHARLIE'S ANGELS roars into theatres on November 1, 2019.