For a certain generation of movie fans, the name Chucky is iconic. On June 21, the creepy red-headed killer doll is back with a vengeance, to terrorize a whole new generation of moviegoers with an updated story that incorporates modern technology.
Chucky has undergone plenty of changes since he was introduced in the original CHILD'S PLAY. Before the new reboot hits theatres, we want to take a look back at the long and fascinating history of this horror mainstay. When you're dealing with a villain as devious as Chucky, you've always got to watch your back. (Note: Spoilers for the original CHILD'S PLAY series ahead!)
It Was Child's Play
From his bone-chilling 1988 debut to the sequels and more comedic recent installments, Chucky has had an impressive lifespan. There are popular horror franchises in every generation. Today, audiences are squirming before stories of ghosts and ghouls (THE CONJURING universe) and legal murder (THE PURGE).
Back in the '80s, however, we were bedeviled by singular boogeymen, like Freddie Krueger in A NIGHTMARE ON ELM STREET and Jason Voorhees in FRIDAY THE 13TH. And then, there was Chucky, the chillingly violent doll from CHILD'S PLAY. Released in 1988, the first movie introduced a simple but effective horror concept. A widowed mother (Catherine Hicks) buys a Good Guys doll for her son, Andy (Alex Vincent). It doesn't take long for them to realize that there's nothing good about this doll, who introduces himself as Chucky and sets about devilishly tormenting Andy and his mom.
Possession Is Nine Tenths of the Law
What they don't know (but soon discover) is that Chucky is possessed by the spirit of a serial killer named Charles Ray (Brad Dourif). Ray transferred his soul into the doll using a voodoo ritual, and who among us can say they would not do the same, if given the chance?
The longer Chucky stays in the doll body, the more "human" that body will become. So, Chucky is on a mission to transfer his soul into another human, and he'll stop at nothing to succeed. Given his weird supernatural existence, Chucky is incredibly difficult to destroy. Although Andy and his mom manage to kill him by the end of the first movie, there's evidence to suggest that — in pure '80s villain fashion — Chucky will return.
Back for More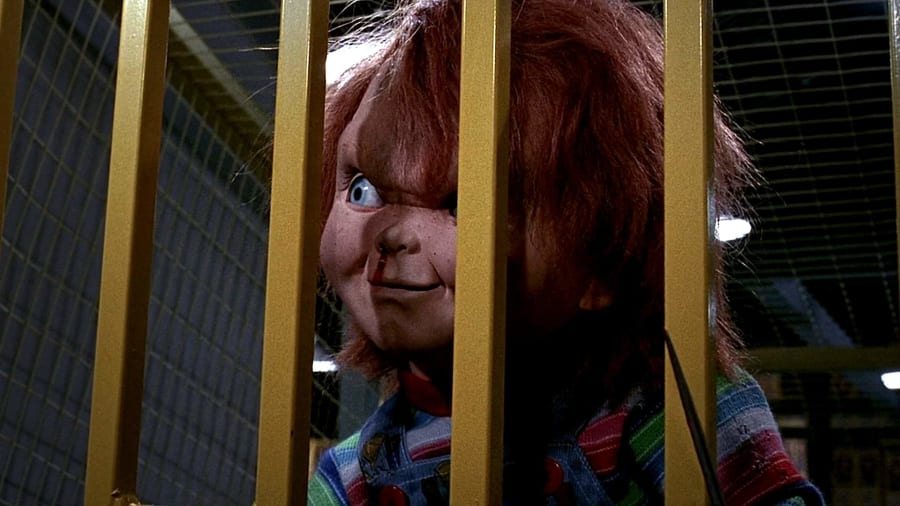 And return he does, in 1990's CHILD'S PLAY 2 and again in 1991's CHILD'S PLAY 3. In the first sequel, Alex Vincent reprises his role as Andy, who is living in foster care two years after the events of the previous film. The company that made the Good Guys dolls accidentally brings Chucky back to life, and the killer doll sets out on another murder spree in an attempt to transfer his soul into Andy's body.
The first sequel ends in a horrific scene set in the Good Guys doll factory, where Chucky is ultimately blown up. But not even an explosion can kill this little terror. He gets a new doll body in CHILD'S PLAY 3 and makes a beeline for Andy, who is now a teenager (played by Justin Whalin) attending military school. When he arrives, Chucky makes "friends" with a young boy named Tyler and tries to take possession of his body, but Andy puts a stop to his diabolical plan once again.
Name Recognition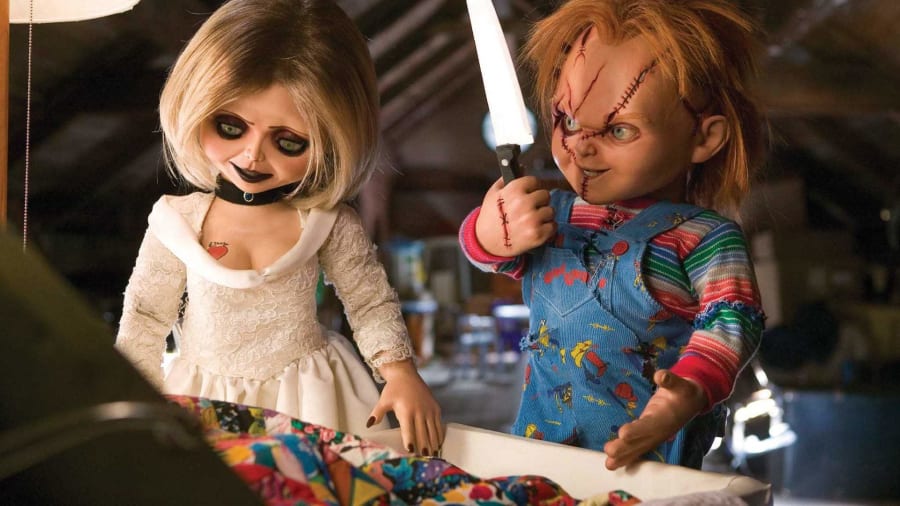 In 1998, BRIDE OF CHUCKY marked a turning point in the franchise. The series dropped the CHILD'S PLAY title and became more campy. Jennifer Tilly starred as Tiffany, the former girlfriend and accomplice of serial killer Charles Lee Ray. Tiffany brings Chucky back to life with a little voodoo magic, but then Chucky kills her and transfers her soul into the body of a doll. Together, the maniacal duo pursues a young couple (Katherine Heigl and Nick Stabile) in hopes of killing them and taking their bodies. At the end of the film, the Tiffany doll gives birth to a baby, hinting at yet another sequel (and some very bizarre doll biology).
It would be another six years before Chucky returned to the big screen, in SEED OF CHUCKY. This fifth film is a totally insane horror-comedy, in which Chucky and Tiffany's son, Glen (also a doll), kills his father and helps his mother kidnap the actress Jennifer Tilly (who plays herself), so Tiffany can possess her body and Glen can be reborn as a human. Did we say "totally insane"? We meant utterly mental, in the best possible way.
Several years later, in CURSE OF CHUCKY, the doll embarks on a mission of revenge aided by the now-human Tiffany. The end of that film sets up the next sequel, CULT OF CHUCKY, which finds Chucky squaring off with his old nemesis, Andy, played once again by Alex Vincent from the first two CHILD'S PLAY movies.
And now we get to see an all-new version of the story, which takes inspiration from the very first movie. There's a new cast, with Gabriel Bateman as Andy Barclay and Aubrey Plaza as his mom, Karen. Brian Tyree Henry plays the detective investigating crimes that are probably Chucky's fault. And Mark Hamill voices Chucky, who is more like an out-of-control robot than a possessed toy — but with Hamill vocalizing his crazed rage, that sounds good to us.
CHILD'S PLAY opens on June 21.