Day one of CinemaCon kicked off last night with Sony Pictures announcing their upcoming films, which all share a common thread: They are all great stories told by visionary storytellers. The first presenter was the one and only Will Ferrell to introduce his new comedy with John C. Reilly, HOLMES AND WATSON.
Joined by his cast — Trevor Jackson, Lex Scott Davis and Jason Mitchell — Director X presented SUPERFLY, a remake of the 1970's film that pioneered how music is used to tell a story. "SUPERFLY is the definition of cool," he said. "It's timeless. The location may have changed, but the hustle is the same."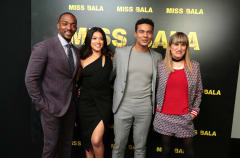 Next up was director Catherine Hardwicke with Gina Rodriguez, Anthony Mackie and Ismael Cruz Cordova, who star in MISS BALA, another remake. Rodriguez spoke of the importance of the Latino audience, reviving the 2011 Spanish-language film of the same name, and of being a Latina woman at the top of the credits of an action film.
Sony then shifted gears with a look at their upcoming family-friendly films, including A DOG'S WAY HOME and GOOSEBUMPS: HAUNTED HALLOWEEN. They also shared extended footage from HOTEL TRANSYLVANIA 3, as Dracula and family head to the Bermuda Triangle for a family cruise.
Back-to-Back Action
WHITE BOY RICK, based on a true story of family hustlers in early-1980's Detroit, was presented by producer Jeff Robinov and star Matthew McConaughey. McConaughey plays the father of a 15-year-old boy, portrayed by newcomer Richie Merritt, whose performance was deemed "truly special" by McConaughey.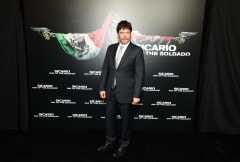 Benicio del Toro, CinemaCon's Male Star of the Year, kept the momentum going with footage from SICARIO 2. Del Toro was bursting with excitement as he spoke about his return in the action-packed sequel, which will arrive in theatres June 29.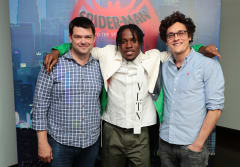 The president of Sony then took the stage to introduce SPIDER-MAN: INTO THE SPIDER-VERSE, a major breakthrough in animation produced by Phil Lord and Chris Miller (THE LEGO MOVIE). Shameik Moore, the voice of Spider-Man/Miles Morales, said it was his destiny to play this role — he even wrote it down in his journal five years ago.
For the first time ever, Denzel Washington will reprise a character in a sequel. Director Antoine Fuqua revealed footage of EQUALIZER II, which will open July 20.
Director Fede Álvarez and Claire Foy also shared footage from THE GIRL IN THE SPIDER'S WEB and discussed Foy's "unique" character, "survivor" Lisbeth Salander.
Dwayne Johnson, Kevin Hart, Jack Black and Karen Gillian will join forces again to play our favorite game. JUMANJI 2 was given an official release date of Christmas 2019.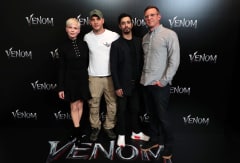 Possibly the most exciting announcement of the night was from director Ruben Fleischer, who brought Riz Ahmed, Tom Hardy and Michelle Williams on stage to debut the new VENOM trailer and talk about the film. Williams spoke about how she has always wanted to be in a superhero movie but did not want to play the damsel in distress. Hardy talked about how VENOM is a "dream come true" and that he had chased after this role.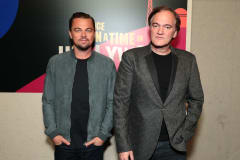 Finally, Sony closed their presentation with "just one more thing," to quote Steve Jobs. Quentin Tarantino and Leonardo DiCaprio introduced a new film called ONCE UPON A TIME IN HOLLYWOOD, which is still in its early stages. (They haven't even started shooting yet.) Starring DiCaprio and Brad Pitt and set in 1969, the film will show a psychedelic version of Hollywood and "will be the closest thing to PULP FICTION," Tarantino claimed.
Check back on our blog later today and every day this week for the latest from CinemaCon. Follow AMC on social for live updates and even more sneak peeks.