Last year, Warner Bros. celebrated its biggest year yet. The team opened more titles at the No. 1 spot than any other studio, and their vision for 2018 and beyond is to launch more films the way they're meant to be seen: on the big screen, surrounded by other movie lovers.
Using his Lego Batman voice, Will Arnett hosted the Warner Bros. presentation at CinemaCon Tuesday afternoon. He first welcomed to the stage director James Wan and Jason Momoa, Amber Heard, Patrick Wilson and Yahya Abdul-Mateen II, the cast of AQUAMAN. Arnett joked with JUSTICE LEAGUE star Momoa, asking if he's ever wanted to play a character with a shirt.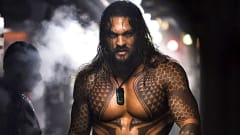 Heard, who plays the strong Mera, shared a small spoiler while discussing her character: "She's not some damsel who needs to be rescued. She actually rescues Aquaman." We were also given a sneak peek at the new film, which splashes into theatres December 21.
Next up was funny couple Melissa McCarthy and husband-director Ben Falcone to introduce their new comedy, LIFE OF THE PARTY. They talked about their writing process, much of which seems to include a yoga ball. McCarthy also said her dream was to voice the Lego Batman character, but that part was already taken (looking at Arnett). They shared the LIFE OF THE PARTY trailer and extended footage from the film, which opens May 11.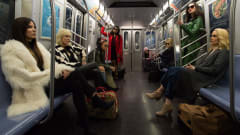 OCEAN'S 8 also arrives in theatres this summer, June 8. Stars Sandra Bullock, Cate Blanchett, Anne Hathaway, Mindy Kaling, Sarah Paulson and Awkwafina discussed the new diamond heist and film's gala setting, aka "Super Prom," trademarked by Arnett. Blanchett admitted when she was approached about the film, she thought "they were crazy." Then, they told her the rest of the cast, and she still thought it was a crazy idea — crazy good, and she wanted in. The all-female team then shared the OCEAN'S 8 trailer and extended film footage.
Warner Bros. also announced two upcoming horror movies: THE NUN, which is part of THE CONJURING series, and IT: CHAPTER 2, which was given the official release date of September 6, 2019. They also played a few scenes from their new sci-fi action thriller, THE MEG, which opens August 10 of this year.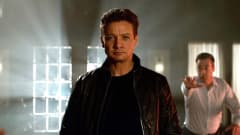 Arnett brought back the laughs with the cast of TAG, a comedy based on a true story about a group of friends who have been playing a lifelong version of the childhood game. Ed Helms, Jeremy Renner, Jon Hamm, Isla Fisher, Jake Johnson, Annabelle Wallis and Hannibal Buress all appeared on stage to talk about the film. Arnett asked Helms, "What skills do you need to master the game of tag?" Helms responded, "You have to be quick, cunning, no job, no responsibilities," and Renner chimed in, "And no will to live." The audience then enjoyed the TAG trailer and exclusive film footage.
CRAZY RICH ASIANS was tapped as the next presentation. Stars Constance Wu, Henry Golding, Michelle Yeoh, Awkwafina, Ken Jeong and Sonoya Mizuno joined Arnett to discuss the lavish new comedy that's already building buzz ahead of its August release. Arnett asked Golding why he decided to change careers, from hairdresser to actor. Golding explained he was contacted at the 11th hour about the role and auditioned via Skype. We caught a glimpse of CRAZY RICH ASIANS from its newly released trailer.
Arnett then showed off footage from his new film, TEEN TITANS GO! TO THE MOVIES, which opens July 27. The animated action comedy is produced by and stars Arnett as villain Slade. From the footage, the film is sure to be fun for the whole family.
"Big stars really do exist, and so does Big Foot." Channing Tatum, Common and Zendaya all play Yetis in SMALLFOOT, another animated comedy from Warner Bros. Arnett asked each of the stars what they have in common with their characters. Tatum said he also has big feet; Zendaya said she is like her character in that she's always trying to learn something new; but Common, though he's wise like his character, is not very hairy, as evidenced by his head. The actors then shared the SMALLFOOT trailer.
The family adventure MOWGLI followed. Andy Serkis, who directed the film and stars as Baloo, joined Benedict Cumberbatch, Cate Blanchett, Matthew Rhys and Rohan Chand on stage to discuss what makes this film different from THE JUNGLE BOOK. Serkis explained, "People are used to the animated version, but this pulls directly from Rudyard Kipling's book about being an outsider and Mowgli trying to find his identity." When Chand, who plays Mowgli, said he grew up reading Kipling, Arnett joked Chand had been "waiting his whole life for this role." (He's only 14 years old.)
The stars had different experiences in preparing for their roles. To play Kaa, Blanchett first went to YouTube and watched a battle between an anaconda and a crocodile, in which the crocodile lost. She used the video as inspiration to channel her inner, slithery antagonist. Rhys, who plays one of the few humans in MOWGLI, said it was if there were two films being made. He shot for two weeks in the jungle, separate from the voice actors. We got to see two and a half minutes of the film, and now, we can't wait to see more.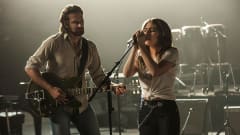 Bradley Cooper then introduced his directorial debut, A STAR IS BORN, starring himself and Lady Gaga. He described the film as "a big swing, but you can't contrive what moves you." He continued, "To me, music is the purest way you can communicate love, because you have to be so relaxed. I always saw this as something that had to be seen in a theatre."
A STAR IS BORN is Cooper's first time singing and playing guitar in a film. Gaga told him they had to sing live. Her biggest pet peeve is when you can tell actors are lip syncing. They even jumped on stage at Coachella and Glastonbury Festival to film for the movie. Gaga said from the beginning Cooper would become a musician and she would become an actress as a result of creating this film together. See if she's right when the film releases October 5.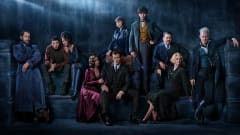 The last film Arnett presented for Warner Bros. was FANTASTIC BEASTS: THE CRIMES OF GRINDELWALD. Stars Eddie Redmayne, Ezra Miller, Katherine Waterston, Alison Sudol, Dan Fogler and Callum Turner were all there to discuss the upcoming release. Redmayne expressed his excitement to finally go to Hogwarts after growing up reading "Harry Potter." Arnett then challenged Miller to Harry Potter trivia, and he got almost all of the answers correct. Only one required a judge's ruling on his pronunciation of "Polyjuice Potion." Redmayne then shared raw, unfinished footage from the spellbinding film.
Arnett closed the presentation by bringing all of the talent from the night on stage for one final photoshoot. Needless to say, it was an exciting, star-studded event, and there's only more to come. Visit AMC Scene throughout the day and week for more recaps, and follow AMC on social for live updates.