On November 21, Adonis Creed (Michael B. Jordan) will return to the ring in sports drama CREED II. CREED is both a ROCKY spinoff and sequel, and CREED II will have even closer ties to the franchise, specifically ROCKY IV. Learn how the films are connected and get your tickets to CREED II at AMC today.
ROCKY IV (1985)
In the fourth ROCKY installment, Soviet boxer Ivan Drago (Dolph Lundegren) comes to the United States to train and promote his "superior athleticism." Apollo Creed (Carl Weathers), A patriotic American fighter with something to prove, challenges Drago to an exhibition match. Despite his reservations, Rocky Balboa (Sylvester Stallone) agrees to train him. Tragically, Drago kills Creed in the ring with no sense of remorse. Rocky blames himself, and in an effort to avenge Creed's death, travels to Russia to take on Drago and wins.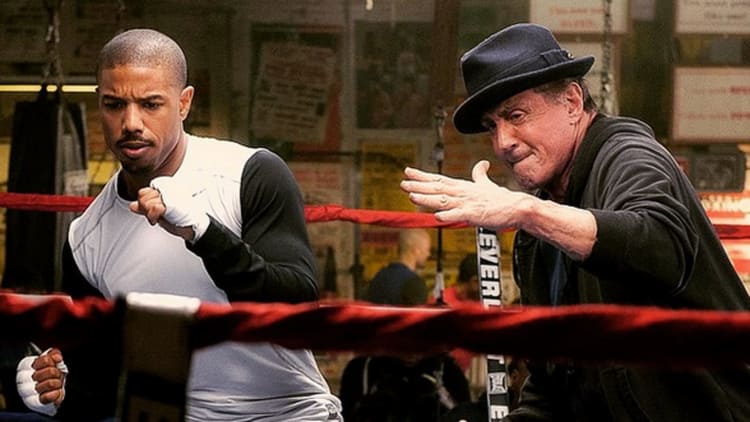 CREED II
With Rocky by his side in CREED, Adonis became a skilled boxer, carrying on his father's legacy. And like his father, Adonis is headstrong — not one to back down from a challenge, not even from Drago's son, Viktor (Florian Munteanu), in CREED II. Adonis sees the match as an opportunity to defeat the family that destroyed his father; Drago sees the chance for his son to redeem their namesake; and both will fight like hell to get what they want.
Rocky, of course, discourages Adonis to step in the ring with Viktor and refuses to help train him. The stakes are much higher this time around. After all, Adonis could meet his father's fate, leaving behind the people who need him: his girlfriend (Tessa Thompson) and their newborn. The cast shared more in an exclusive interview with AMC:
CREED II is about going back to basics to rediscover what made you a champion in the first place, and remembering that, no matter where you go, you can't escape your history. See CREED II on the big screen at AMC. Get your tickets today.