CREED II is the story of multiple families. There are the Creeds, of course, with fighter Adonis (Michael B. Jordan) and his mother (Phylicia Rashad) joined by Tessa Thompson's character Bianca. Add Sylvester Stallone's Rocky into that mix as well, as he has become an uncle to Adonis.
Then there's the Drago family. Even as CREED II shows how Adonis attempts to triumph over forces that nearly destroyed his family, there's also a flip side. The Dragos — father Ivan (Dolph Lundgren) and son Viktor (Florian Munteanu) — are looking to win in the ring as Viktor challenges Adonis. But they also want to prevail over their own dark past.
Here, without spoilers, is how CREED II is the story of the Drago family. (Well, there will be spoilers for ROCKY IV, but none for the new movie!)
The Soviet Powerhouse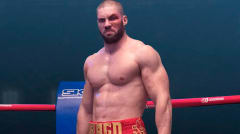 Let's roll the clock back to 1985, the year of ROCKY IV. One of the greatest tricks the original CREED pulled was turning that fourth ROCKY movie into a solid dramatic foundation. We love ROCKY IV, but the movie featuring a robot butler isn't exactly the obvious starting point for a heavyweight drama. But CREED found the heart of the movie by focusing on the effect Apollo Creed's death had on his son, Adonis.
Ivan Drago was basically a Soviet super-soldier, trained to destroy any competition in the ring. He killed Apollo with a single punch — though the American champ's failed to take Drago seriously, which left him severely under-prepared. Drago was well-equipped to take on Rocky Balboa as well, but the all-but-emotionless Soviet punching machine didn't take one thing into consideration. That was Rocky's fury at the death of his friend Apollo. Anger became determination, and Rocky defeated Drago in the ring.
Siberian Shame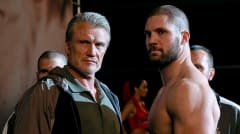 Think about the fate of a man trained to do one thing — to win — in the Soviet Union of the mid-'80s. At the end of ROCKY IV you can see a sort of crushed terror fall onto Ivan Drago. He knows he's in a bad place. "You had ONE JOB!" is on the face of everyone around him. So it doesn't take a genius to realize that Ivan hasn't had a great time in the decades between then and now.
But, just as we've seen with Adonis Creed, there's a way out of the pit of shame: win again. At least, that's how Ivan sees it. (The truth is a lot more complicated, and involves actually facing the reasons you lost in the first place.) So Ivan has trained his son, Viktor, to fight. Probably doesn't matter if the young Drago even wants to box, or if he fights for the same reasons Ivan does. As long as Viktor wins, everything will be OK for the Drago family.
Lundgren And Munteanu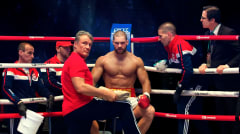 It takes great performances to bring imposing fighters to life on screen. The powerful actor Dolph Lundgren, whose skills extend to drumming and singing, returns to play Ivan Drago. As his son Viktor, CREED II director Steven Caple Jr. chose Florian Munteanu, a real-life fighter. Just as Lundgren stood incredibly tall over Sylvester Stallone in ROCKY IV, Munteanu is much taller than Michael B. Jordan. So when the two of them are side-by-side in the ring, the advantage sure does look like it falls on Viktor Drago's side.
Whether Munteanu acts strongly enough to stand up to Jordan on that front remains to be seen. We know Lundgren can exude incredible power as a Drago, and have no reason to doubt Munteanu. And while sequels in this long-running series don't often set up the heroes to fail, we can't wait to see just how the Drago family story plays out — and if Ivan and Viktor get what they want out of the fight with Adonis Creed.
CREED II opens on November 21.