The TOY STORY franchise has been entertaining families for generations and is preparing to deliver another comedy that catches up with the beloved toys of the Pixar universe. But as audiences are lining up for the chance to see TOY STORY 4, we're all starting to question the definition of a "toy."
Toys, as we have come to know them, come out of a box. Even when Andy first received Buzz Lightyear (Tim Allen), he came in a box that was shaped like a spaceship. But that's about to change with TOY STORY 4, which opens June 21.
If you're a die-hard fan of the franchise, you'll want to see all four TOY STORY films on June 20 at our Marathon Event. Tickets are on sale now.
In TOY STORY 4, the gang will meet a new friend named Forky (Tony Hale), who will be created by Bonnie in arts-and-crafts class. He's largely made up of a spork, the combination of a spoon and fork. In an exclusive interview with AMC, TOY STORY 4 director Josh Cooley opened up about the design of this clever new character, saying the spork was the only option they ever considered.
"Somebody drew a spork as we were talking about it and it stuck," Cooley said. "I thought the spork is just a hilarious utensil. It's just funny. Nothing else in my head, nothing popped up as being funnier than that. So, we ran with it. The spork was always there."Over the years, Pixar has had to explore how to animate the different characters who are introduced into the TOY STORY toy box. Slinky Dog (Blake Clark), for example, has to contend with the fact that his torso is a Slinky toy, and Rex (Wallace Shawn) has to contend with his small, plastic arms. Forky, according to Josh Cooley, came with his own physical challenges.
"It's funny — he's got googly eyes, so any time he moves, they're going to be moving around," Cooley said. "But the first couple of tests we did of Forky with the animators — we always do early animation tests just to get the feel of a character — they had some beautifully done animated shots with Forky, and I told them, 'This is beautiful, but we can't use it.' Like, this is too good. This is too fluid. It's just too polished. And I said, 'This guy is handmade, and he should not feel like the other toys in the room. He needs to be, you know, it should feel like he belongs in the movie, but he should move unlike anybody else. We should take advantage of the fact that he is just popsicle sticks and a spork and pipe cleaners.'"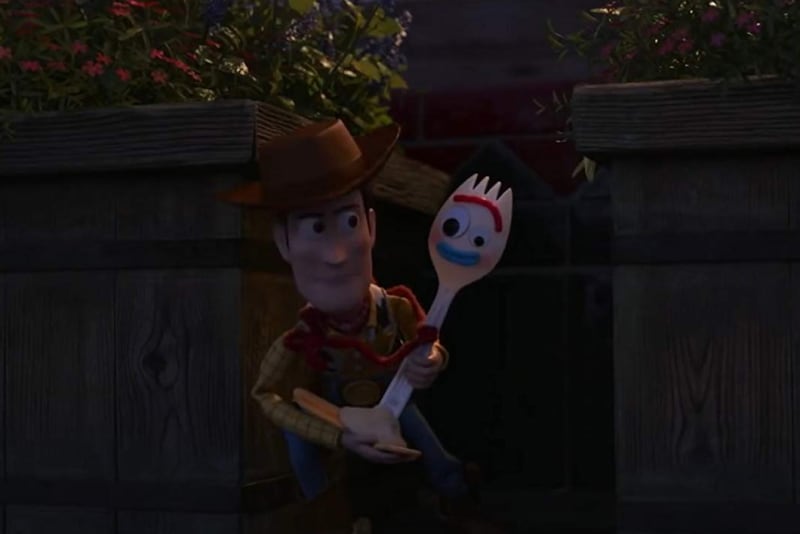 Which is exactly what the animators did. They went back to the proverbial drawing board, striving to achieve more of what Cooley called a "handmade quality" for Forky, because he's supposed to have been created by a kindergartener — and that led to some very cool changes to his physical design.
"The spork doesn't actually bend when he turns to look at something. He just kind of turns his whole body," Cooley explained. "We just made it look as if a little kid was holding him and walking him across the room, like somebody was playing with him. So, that was a lot of fun to do."
In TOY STORY 4, Woody (Tom Hanks), Buzz (Tim Allen) and the rest of the gang commit to protecting Forky on a long road trip, because they know how important the new creation is to Bonnie. We will see how things work out when the animated sequel arrives in theatres on June 21.
Be among the first to see it at the Opening Night Fan Event, June 20. Get your tickets today.