In THE CURSE OF LA LLORONA, opening on April 19, the ghost of a woman steals living children to express her rage. Linda Cardellini stars as a social worker, whose casework introduces her to a family haunted by the spirit of La Llorona, the weeping woman — and who must confront her deepest fears to protect her children as the dead woman's curse finds a new target.
Michael Chaves directs THE CURSE OF LA LLORONA for producer James Wan, creator of THE CONJURING series. The films have several things in common: relatable characters, a sense of intense dread and the sort of ghost that will haunt your dreams for weeks to come. We spoke to Chaves about creating this new folktale-inspired horror movie — and about his next movie, THE CONJURING 3.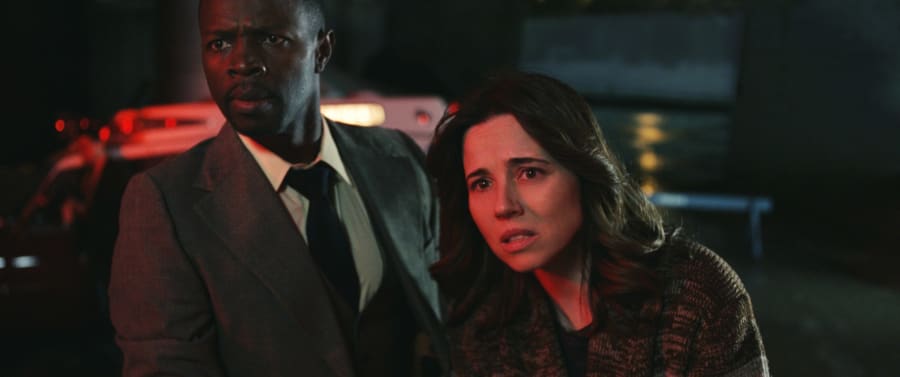 Tell us about the legend of La Llorona and how it informed this movie.
I grew up in Los Angeles, so I've known about it for a while. It's one of those sleepover or campfire stories that got passed around. There are a lot of those type of ghost stories, and this is one of the rare ones that really sticks. It's very memorable. I think there are a lot of components to that. First of all, it's incredibly dark and scary. Everyone can connect to the idea of this monstrously evil spirit that would snatch away kids in the middle of the night.
Beyond that, the legend is about a woman scorned. There are a lot of variations of the La Llorona legend. We've chosen one, but there are endless variations of it. But all of them touch on some spirit of tragedy. La Llorona was once human, and hers is a very tragic tale. Either she was wronged, her husband ran off with a younger woman, or there are other variations of the story. But it's about a moment of rage or madness that could haunt you for the rest of your life.
So, there are a lot of components of the story that give it a lot of power and have made the story endure over hundreds of years. It felt like natural material for a horror film.
Some consider the 1970s a golden age for horror, and at that time, we saw a lot more kids in danger in horror movies. Are you bringing back that idea with this film?
I think it's something that everyone can connect to. I think it gets everyone. I mean, you have to be a pretty cold person to not be emotionally invested when you see a child in danger. I grew up on a lot of horror movies, but I think it even extends beyond horror into movies like JURASSIC PARK. I loved that film growing up. There's something so classic, so accessible about that threat.
Do you have kids yourself? 
I have two little ones. I have a 2-year-old and a 5-year-old. The crazy thing is, my 2-year-old has been the mile-marker of this film. He was born a week before I met with New Line, and as the project developed and went into production, he has been growing up. He was walking when it went into production. The crazy thing is, the movie is being released on his birthday weekend. I had nothing to do with it. It's pure coincidence — or destiny, or whatever you call it. 
Tell me about the core experience of making THE CURSE OF LA LLORONA.
We had an incredible cast with Linda Cardellini, Raymond Cruz, Patricia Velasquez and our amazing La Llorona, Marisol Ramirez. You know, Marisol has not been included in the press tour because New Line has this tradition of wanting to keep the actors who play the monsters away from the press, to just make it feel more special, more terrifying. And I am totally in support of that. But she is unfortunately being kept out of the limelight during this time, and she really should be celebrated.
Marisol is a powerhouse in the movie. She's so incredibly ferocious. And she was such a trooper, because we really embraced the idea of practical effects and makeup. Everything's in camera; the CG in the movie is very minimal, to clean things up or fix things, not to put in things that weren't there. And I think that, that really helps ground the movie. And it was also great for everyone's performance. We had a real La Llorona stalking the set and going after the children. So, that was really effective.
You just had your premiere at the South by Southwest Festival in Austin, Texas. How was that experience with an audience?
We test-screened it a couple times and those were some of the best experiences that I've had, second only to the actual premiere of the movie. Seeing it with an audience has been so exhilarating. I come out of commercials and music videos, which go online and on TV. So, I'm never around when people are watching. To be able to see something that I've made play in front of an audience is, just in its own right, fantastic.
And this movie is a rollercoaster ride. It is terrifying. It is fun, and to see the audience engage with it is really, really fun. This is something that needs to be seen in a theatre. There are so many great options out there that you can watch at home or on your phone or iPad, and I think that now if you're going to the theatre, you really need to have a movie that sort of justifies that experience. Horror and scary movies are communal experiences. That is the reason that we go to the theatre. It's been the best ride seeing it in a theatre.
Tell me about your relationship with James Wan. Is that something that goes back a number of years? 
It does now! By the time that it's released, it will have been three years in the making. Or, to be honest, even more than three years, since James has been on it for longer than that. He was already on it as a producer and mastermind before I even came on board. When I heard he was attached, I was overjoyed and excited. I'm such a James Wan fan. To be able to work with him was a total thrill. He's not only a great director; he's a really great guy. He's so supportive of filmmakers. I would not have been able to make this movie if it wasn't for him, and I really owe him.
And he contributed so much to it. People have speculated about whether this is part of THE CONJURING universe. I think we've created a great mystery and some questions that have been brought up and discussed. There might be an answer to that within the film itself.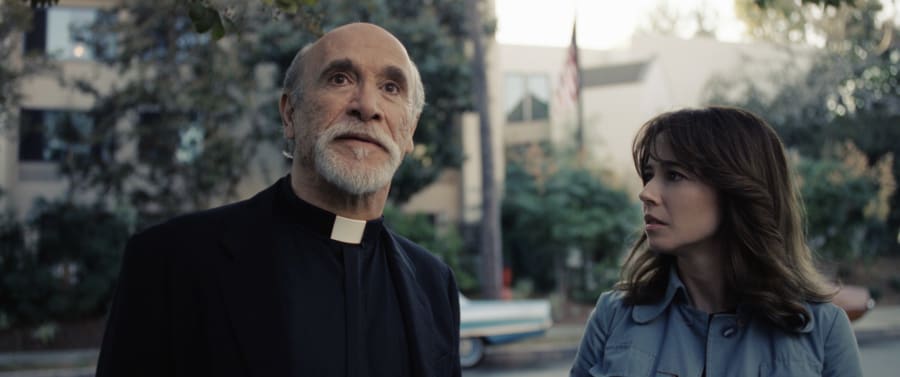 Did that CONJURING connection come from Wan?
James was really smart in shaping and creating it. Beyond that, when designing La Llorona — to be able to have a master monster maker on your team, someone who has basically created more iconic monsters than I think anyone else in his generation — is really incredible. It was really fun working with him and being able to bounce ideas off him. I love monster makeup. I love all that stuff. As a little kid, that was the first thing that really attracted me to movies. I thought I was going to be an effects makeup artist. Our makeup artist was Gage Munster — he also did THE NUN — who I can't credit enough. He's so talented and a genius in his own right with a great attitude. To be able to develop stuff with him, bounce it off … James for guidance and ideas. It was really a wonderful collaboration.
You were developing THE CONJURING 3. Is that still happening?
It is absolutely happening! Tomorrow I get on a flight to Atlanta, and we go straight into [location] scouting. The script is incredible. The chance to work on the third in the series is —  I still can't believe I'm doing it. I am so excited to be a part of it. It's something that James has been developing with the team. I can't say much, but I can say that it puts the Warrens up against an adversary that they have never faced before. They are absolutely pushed to their limits. It is still very much a CONJURING film, but it really pushes the boundaries.
THE CURSE OF LA LLORONA haunts AMC beginning on April 19.