November is the most grateful month of the year, and we're giving thanks for new releases. Our "Now Playing" and "Coming Soon" lists are stuffed with scrumptious storytelling films — from dramas to comedies and more. Feast your eyes on just a few fulfilling indie films, playing at an AMC theatre near you this month.
THE FLORIDA PROJECT
Release Date: November 10, 2017
Directed by: Sean Baker
Starring: Willem Dafoe, Brooklynn Prince, Bria Vinaite
Set in the shadows of the happiest place on earth, THE FLORIDA PROJECT is a drama so raw, you forget it's fictional.
The film stars newcomers Bria Vinaite (Halley) and Brooklynn Prince (Moonee), a mother-daughter duo living in a budget motel just outside of Disney World. Halley is an out-of-work stripper, who solicits wholesale perfume and sex to tourists as a means of survival, while her precocious 6-year-old spends her days with her ragtag group of friends.
Willem Dafoe serves as the film's moral compass — hotel manager Bobby — who often ends up in the middle of the chaos as he tries to provide a small sense of stability and structure. Watch our exclusive interview with the star regarding the film's "pressure cooker" environment.
THE FLORIDA PROJECT has received rave reviews since its premiere at this year's Cannes Film Festival and was one of the most talked-about films from the Toronto International Film Festival (TIFF). There's even chatter it's a front-runner for a best picture Oscar nomination. With a storyline and performances like these, we wouldn't be surprised.
THREE BILLBOARDS OUTSIDE EBBING, MISSOURI
Release Date: nationwide November 17
Directed by: Martin McDonagh
Starring: Frances McDormand, Woody Harrelson, Sam Rockwell
THREE BILLBOARDS OUTSIDE EBBING, MISSOURI, is a darkly comic drama and possibly Frances McDormand's best performance to date.
Seven months ago, the teen daughter of Mildred Hayes (McDormand) was murdered on a deserted road. With no arrests and no closure, Mildred makes a bold move and paints three signs leading into her town with a controversial message directed at William Willoughby (Woody Harrelson), the town's revered chief of police. When his second-in-command Officer Dixon (Sam Rockwell), an immature mother's boy with a penchant for violence, gets involved, the battle between Mildred and Ebbing's law enforcement is only exacerbated.
To adopt a "cowboy attitude," McDormand searched for inspiration in John Wayne movies; you can see his influence in her walk and unfiltered tongue. Hear more about her character from her co-stars in this clip.
THREE BILLBOARDS OUTSIDE EBBING, MISSOURI, proves no one is fully bad or good, as director Martin McDonagh said in a red carpet interview at TIFF — where the film received the coveted Grolsch People's Choice Award. The tension between the characters is palpable; the film is immensely angering at times; and yet, the story balances humor and tender moments that keep you hopeful. Look for THREE BILLBOARDS OUTSIDE EBBING, MISSOURI, come awards season: A best picture and best actress nomination is more than likely.
THE KILLING OF A SACRED DEER
Release Date: nationwide November 10
Directed by: Yorgos Lanthimos
Starring: Nicole Kidman, Alicia Silverstone, Colin Farrell
THE KILLING OF A SACRED DEER delivers exactly what you'd expect from the twisted visionary behind THE LOBSTER, Yorgos Lanthimos: uncomfortable curiosity.
Colin Farrell again stars in Lanthimos's new film as Steven, a charismatic surgeon. He is forced to make an unthinkable sacrifice after his life starts to fall apart, when the behavior of a teenage boy he has taken under his wing turns sinister. But before we're buried under the weight of his decision — and why — the unusual revenge thriller leverages dark comedy to lighten the mood (and the more graphic scenes).
AMC sat down with the cast to discuss working with the acclaimed director.
Though this is not your typical horror film, THE KILLING OF A SACRED DEER is sure to receive audience praise and possibly an Oscar nomination. Last year, Lanthimos secured an original screenplay nomination for his bizarre dystopian black comedy THE LOBSTER, co-written by Efthimis Filippou, who also wrote this film. It seems Lanthimos, Filippou and Farrell make a formidable team.
LADY BIRD
Release Date: nationwide November 17
Directed by: Greta Gerwig
Starring: Saoirse Ronan, Odeya Rush, Jordan Rodrigues, Laurie Metcalf
Indie darling Greta Gerwig makes her directorial debut in LADY BIRD, a well-balanced art film with the correct formula for breakout potential.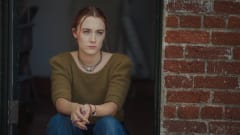 The coming-of-age story is a somewhat autobiographical tale embodied by Saoirse Ronan as Christine McPherson, a rebellious student at a conservative Catholic Sacramento high school who wants to escape her family and small town constraints to go to college in New York.
Like many of Gerwig's films, LADY BIRD is charming, witty and quirky in all the right ways — and it's deeply personal. In addition to directing, Gerwig wrote the film, a strong contender for best picture and Ronan for best actress.
VICTORIA & ABDUL
Release Date: October 6, 2017
Directed by: Stephen Frears
Starring: Judi Dench, Ali Fazal, Tim Pigott-Smith
In 1887, a young Indian clerk named Abdul Karim (Ali Fazal) travels to the United Kingdom to present a ceremonial medal as part of the Golden Jubilee, but surprisingly finds favor with the elderly Queen Victoria (Judi Dench). Their unprecedented and unlikely relationship causes a battle royale within the royal household; however, despite pushback from the Queen's court and family, Abdul becomes her teacher, her spiritual advisor and her devoted friend over the last years of her life.
Learn more about their multifaceted relationship in our exclusive interview with the film's stars.
The extraordinary true story of VICTORIA & ABDUL humorously explores questions of race, religion, power and the farce of Empire through the prism of a highly unusual and deeply moving friendship. At its heart, the film is about love: two people, from other worlds, finding a connection — a message we need to hear in today's tense climate.
This is the second film in which Dench stars as Queen Victoria. Her first portrayal in 1997's MRS. BROWN earned her a best actress nomination. Could this be her second?
GOODBYE CHRISTOPHER ROBIN
Release Date: October 13, 2017
Directed by: Simon Curtis
Starring: Domhnall Gleeson, Margot Robbie, Will Tilston
Before Winnie the Pooh became the best-loved children's book of all time, the story was simply a gift from a father, A. A. Milne (Domhnall Gleeson), to his son, Christopher Robin (Will Tilston) — a series of poems inspired by their adventures together and the boy's beloved stuffed toys. That is, until one is published in Vanity Fair.
Along with his mother, Daphne (Margot Robbie), and his nanny, Olive (Kelly Macdonald), Christopher Robin gets swept up in the international success of the book. The enchanting tales "reminded people what happiness was when everything was broken" after World War I … but at a cost to the family.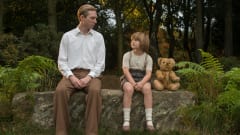 This rare glimpse into the author's relationship with his son is both heartwarming and heartbreaking — you will cry — but beautifully captured on the big screen. Relive your favorite childhood memories and create new ones with your family this November.
LAST FLAG FLYING
Release Date: nationwide November 24, 2017
Directed by: Richard Linklater
Starring: Bryan Cranston, Laurence Fishburne, Steve Carell
Based on Darryl Ponicsan's tough and tender novel, LAST FLAG FLYING chronicles one final mission between three Vietnam-era Navy vets.
Soft-spoken Doc (Steve Carell), unhinged and unfiltered Sal (Bryan Cranston), and quietly measured Mueller (Laurence Fishburne) reunite after 30 years to perform a sacred task: the proper burial of Doc's only child, who has been killed in the early days of the Iraqi Invasion.
As this trio of old friends makes its way up the Eastern seaboard, writer-director Richard Linklater gives us a rich rendering of friendship, a grand mosaic of common life in the USA during the Bush era, and a striking meditation on the passage of time and the nature of truth.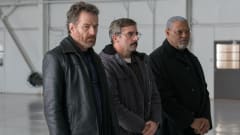 All three stars have been nominated for Oscars for previous work — Carell for FOXCATCHER, Cranston for TRUMBO and Fishburne for WHAT'S LOVE GOT TO DO WITH IT — but LAST FLAG FLYING may earn them all a best picture nomination and Carell his second best actor nomination.
NOVITIATE
Release Date: nationwide November 24, 2017
Directed by: Margaret Betts
Starring: Margaret Qualley, Julianne Nicholson, Dianna Agron
Spanning over a decade from the early 1950s through to the mid-60s, NOVITIATE is about a young girl's first initiation with love — in this case, with God.
Raised by a non-religious, single mother in rural Tennessee, a scholarship to Catholic school soon finds Cathleen (Margaret Qualley) drawn into the mystery and romanticism of a life devoted to the worship and servitude of God. But as she progresses from the postulant to the novitiate stage of training, she finds her faith repeatedly confronted and challenged by the harsh, often inhumane realities of being a servant of God; she finds herself struggling with issues of faith, sexuality and recent changes in life of the Church at the dawn of the Vatican II era.
Writer-director Margaret Betts said, "I wrote NOVITIATE because I saw in a nun's world a unique and profound way to explore the subject of the way women love. That is what remains at the heart of the story for me."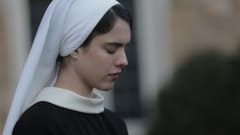 The Sony Pictures Classic release was selected for the 2017 Sundance Film Festival and Toronto International Film Festival and has received praise from audiences and critics alike. Don't miss NOVITIATE in AMC theatres this month.
WONDERSTRUCK
Release Date: October 20, 2017
Directed by: Todd Haynes
Starring: Oakes Fegley, Julianne Moore, Michelle Williams
Based on Brian Selznick's best-selling novel, WONDERSTRUCK follows Ben (Oakes Fegley) and Rose (Millicent Simmonds) — children from two different eras who secretly wish their lives were different. Ben longs for the father he has never known, while Rose dreams of a mysterious actress whose life she chronicles in a scrapbook.
When Ben discovers a puzzling clue in his home and Rose reads an enticing headline in the newspaper, both children set out on quests to find what they are missing that unfold with mesmerizing symmetry.
"Magical," "moving" and "perfect" have been used to describe WONDERSTRUCK. We couldn't have said it better ourselves. The mystery drama is a must-see, family-friendly film that just might make the best picture list.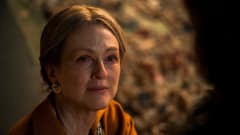 With a smorgasbord of options, AMC has films everyone can enjoy this November — and none of that weird ambrosia "salad" your aunt always serves at Thanksgiving. Get your tickets now to any of our fulfilling indie films, playing at an AMC theatre near you.