Sing it with us: "Do you want to watch a trailer?" Of course you do, because Walt Disney Animation Studios has revealed more footage from the next adventure of sisters Anna (Kristen Bell) and Elsa (Idina Menzel) from the highly anticipated sequel FROZEN II. Give it a look for yourself below:
So far, we have seen a teaser and a full trailer for November's release of FROZEN II, and we commend the studio for still keeping most of the plot details under wraps. We return to the island where Elsa appears to be stranded, using her ice gifts to overtake some massive waves and potentially escape.
But this new trailer also dives deeper into the mythology of Elsa's mysterious past. The trolls who helped raise her return to explain that Elsa's past may not be exactly what she remembers. And she is tasked with going on a dangerous mission to unlock the keys to her future.
Where will this take Elsa? North, according to the trailer, across what is being described as "the enchanted land" where she'll encounter terrifying beasts and what looks to be powerful magics.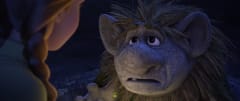 The FROZEN II trailer convinces us that the sequel will be anything but a recycling of what worked the first time. This is more of an epic quest that will take the sisters away from their home kingdom of Arendelle. But while the action looks epic in scope, the movie also will focus more intently on the relationship between the sisters we grew to love in the 2013 two-time Oscar® winner.
Therein lies some of the challenge for FROZEN II, though. The first movie was a massive success, critically and financially, so following it up could be a daunting task. Thankfully for Disney, they brought the entire creative crew back, including co-directors Chris Buck and Jennifer Lee. The cast is back, from Bell and Menzel to Josh Gad as the adorable snowman Olaf. Most important, though, will be the music, as the songs of FROZEN were a huge part of the reason why the animated movie had such a cultural impact.
We still don't know who or what the villain will be in FROZEN II, though we have time to find out. The animated sequel skates into theatres on November 22 and should entertain families throughout the entire Thanksgiving weekend.