Like most careers today, there's no straight path to becoming a filmmaker. For new director Cory Finley, the journey has been particularly winding. The fruition of his debut film, THOROUGHBREDS, happened almost serendipitously: The right story, the right vision, and the right cast and crew came together at the right time — and within 22 days of shooting, THOROUGHBREDS was a wrap.
The "razor-witted black comedy" reckons with issues of class through two beneficiaries of privilege: Amanda (Olivia Cooke), who feels nothing but can fake cry on command, and Lily (Anya Taylor-Joy), who feels everything. Most of the film takes place at Lily's lush family estate in suburban Connecticut.
Though the teens seem to have everything, they feel trapped by, well, their trappings of wealth and status. As the pair bonds over Lily's contempt for her oppressive stepfather, Mark (Paul Sparks), they rekindle their unlikely friendship and begin to bring out each other's most destructive tendencies.
"We're in a very self-focused world," Finley said in an exclusive interview with AMC. "I think the movie was, in some ways, a way of exploring that."
The Making of THOROUGHBREDS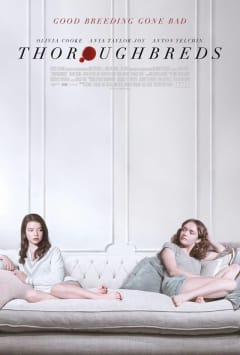 IndieWire describes THOROUGHBREDS as "AMERICAN PSYCHO meets HEATHERS." While it's a fair comparison — and Finley doesn't shy away from the compliment — the writer-director was inspired by classic film noir, THE POSTMAN ALWAYS RINGS TWICE and DOUBLE INDEMNITY, and Stanley Kubrick's horror, THE SHINING. (Finley's film was influenced by the use of the "enormous house as a physical explosion of the character's psychology.")
Among stiff competition, THOROUGHBREDS debuted at 2017's Sundance Film Festival and was picked up by Focus Features, the distribution company behind two of this year's Best Picture Oscar® nominees: DARKEST HOUR and PHANTOM THREAD. Hear more about the Sundance experience from Finley.
The Playwright Turned Writer-Director
St. Louis-born, New York-based Finley first started writing plays in college, after he was rejected from an intermediate fiction seminar. He spent years half-finishing novels and "chasing the right stories" — THOROUGHBREDS actually started as a play. But Finley began to see the story unfold in a specific, cinematic way, though he had no formal film education or experience.
Not surprisingly, making the leap from playwright to writer-director came with challenges, like confronting his imposter syndrome. "Part of the job of being a good director is to have a very specific way of seeing things and to communicate that clearly to people," Finley said. "I think it took me a mental adjustment to realize there was a way to do that, that was not a form of selfishness."
Finley saw THOROUGHBREDS all the way through — from writing the script, to directing the cast, to editing to his distinctive vision. "Suddenly, I felt like there was a final chapter of writing that had been unlocked," Finley said of the editing process.
The Stars of THOROUGHBREDS
Every aspect of the film has a piece of Finley, even the main characters. "I put a lot of myself — both the parts I love about myself and the parts I fear about myself — into these characters."
To cast the well-off teens, Finley approached Cooke and Taylor-Joy as a fan. "I thought they were all the things you want in an actor: really magnetic, really natural at holding the camera, and they both just had this high intelligence that comes through in all of their performances."
The late Anton Yelchin also stars as Tim, a local hustler and drug dealer. THOROUGHBREDS is one of Yelchin's last films. Hear from Finley about working with the talented young actor.
Don't miss THOROUGHBREDS at an AMC theatre near you. Browse showtimes and get your tickets for opening night, March 9.