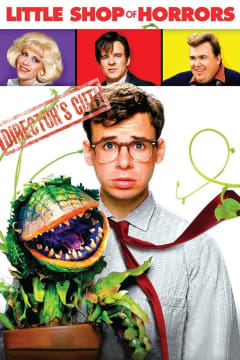 A singing plant. A daring hero. A sweet girl. A demented dentist. The outrageous 1986 musical comedy LITTLE SHOP OF HORRORS returns to the big screen for two nights only: Oct. 29 and Halloween — this time, with the rarely seen original ending and an exclusive introduction from director Frank Oz.
The cult classic fans know and love is an adaptation of the Off-Broadway show based on a Roger Corman film of the same name, but with a resolved finale in which the film's stars defeat the "mean green mother from outer space" and live happily ever after. The original, dark ending that mirrored the play and prior film proved to be too grim for 1980's test audiences.
"The theatre became a refrigerator, an ice box," Oz said in an interview with Entertainment Weekly. "It was awful, and the cards were just awful. You have to have a 55 percent 'recommend' to really be released, and we got a 13. It was a complete disaster."
For years, the original ending was only available as black-and-white workprint footage. But in 2012, Warner Home Video fully restored the materials and released THE DIRECTOR'S CUT, Oz's vision, on DVD.
Thanks to Fathom Events, audiences will be able to experience the intended 23-minute ending in theatres — just in time to celebrate the year's scariest holiday.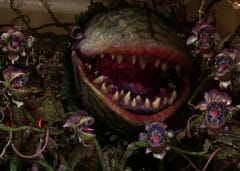 Film Synopsis
Business is bad at Mushnick's Flower shop. Shy Seymour (Rick Moranis) and brave Audrey (Ellen Greene) will soon be unemployed. That is until Seymour pricks his finger and a sickly little exotic plant gets its first taste of human blood. The plant spurts 10-feet tall. As horticultural interest in "Audrey II" sprouts, Mushnick's business takes off. But fresh blood must be found — and people start disappearing. Love and business bloom at a hilarious yet bloody cost.
LITTLE SHOP OF HORRORS also stars Levi Stubbs (Audrey II), Vincent Gardenia (Mushnik) and Steve Martin (Orin Scrivello, D.D.S.) and features special appearances by comedic heavy hitters Jim Belushi, John Candy, Christopher Guest and Bill Murray.
Don't miss LITTLE SHOP OF HORRORS: THE DIRECTOR'S CUT at an AMC theatre near you. Get your tickets for the special Oct. 29 or Halloween screening now.