Charlotte Field is the glamorous, strong, confident, powerful, trailblazing head of America's foreign policy. She's respected and beautiful — and she's the front-runner in the upcoming presidential election. Fred Flarsky is an unemployed journalist whom Charlotte used to babysit two decades prior. He's physically and socially clumsy and barely seems able to take care of himself
Could a relationship between these two ever work? Put it this way: There's a reason the movie about them is called LONG SHOT. Charlize Theron and Seth Rogen star as the mismatched rom-com pair in the May 3 release.
Unlikely, But Not Impossible
When Charlotte launches her presidential campaign, she seeks out a speechwriter to help tell the story of her life. After running into Fred for the first time in decades, she comes to the conclusion that his writing skills, combined with their shared personal history, might make him an ideal hire.
Whether they're an ideal match as a romantic couple is another story. As they spend more and more time together on the campaign trail, these polar opposites discover a mutual attraction. Charlotte, however, has a public image to maintain. "We asked a thousand constituents how they would feel if Kate Middleton were to start dating Danny DeVito," says one of Charlotte's staffers. "Pretty negative reaction."
The Best Possible Pairing
To make a movie like LONG SHOT work, you need multitalented actors in the lead roles. Throughout her career, Charlize Theron has tackled just about every genre there is. She's done drama (THE CIDER HOUSE RULES), crime (MONSTER, for which she won an Oscar®), fantasy (SNOW WHITE AND THE HUNTSMAN) and action (MAD MAX: FURY ROAD). That lineup is just for starters. She has also killed in comedies such as YOUNG ADULT and "Arrested Development," which sets her up as the ideal lead for this movie.
Seth Rogen's comedy credits are well-known: He's been part of SUPERBAD, NEIGHBORS, KNOCKED UP and THE DISASTER ARTIST as a writer, actor, and/or director. He also wrote or co-wrote stoner comedy PINEAPPLE EXPRESS, R-rated animated comedy SAUSAGE PARTY and THIS IS THE END. On the TV side, he's a co-creator, writer and director of the graphic novel adaptation "Preacher."
An Exceptional Staff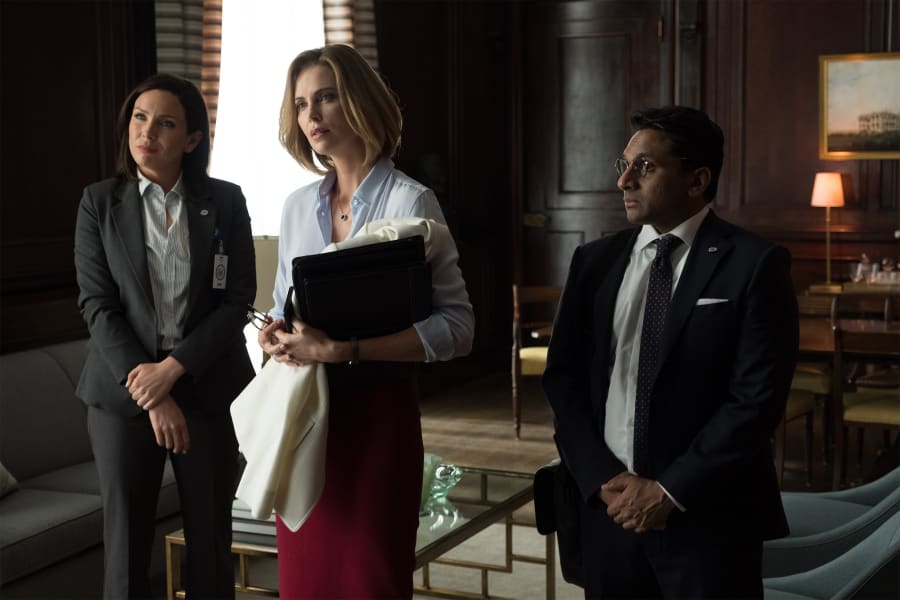 LONG SHOT is given further energy by a supporting cast that includes O'Shea Jackson Jr. (STRAIGHT OUTTA COMPTON, the upcoming GODZILLA: KING OF THE MONSTERS) as Fred's best friend, Lance, and June Diane Raphael ("Grace and Frankie," "Big Mouth") as Maggie, one of Charlotte's key staffers.
Andy Serkis from BLACK PANTHER and THE LORD OF THE RINGS plays Fred's boss, Parker Wembley, and Bob Odenkirk ("Breaking Bad," "Better Call Saul") appears as the President of the United States. Alexander Skarsgård ("True Blood") plays Canadian Prime Minister James Steward — a casting choice that is a not-so-subtle hint at real-life Prime Minister Justin Trudeau.
Behind the Camera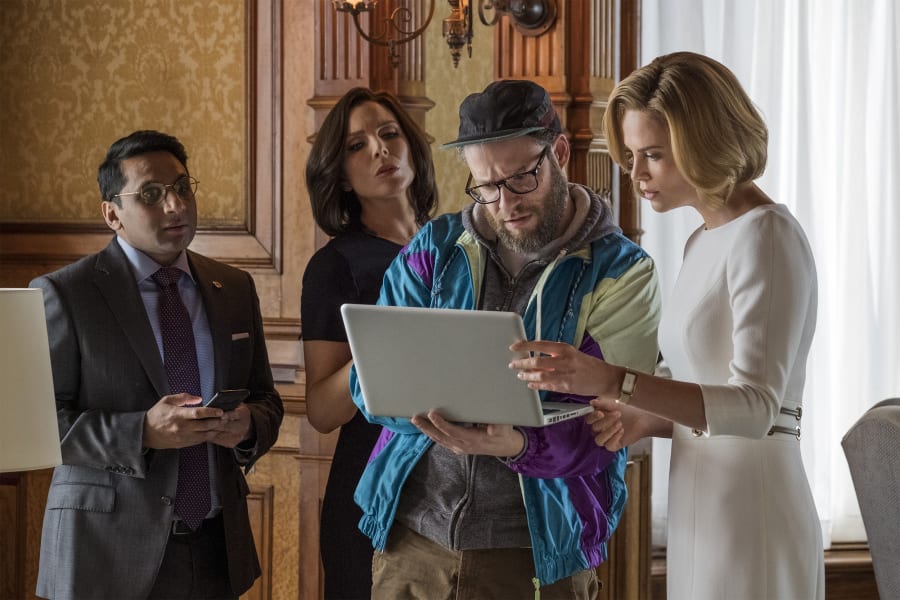 Together, LONG SHOT screenwriters Dan Sterling and Liz Hannah bring the knowledge of comedy, politics and journalism that is required to make the film work. Sterling previously wrote Rogen's THE INTERVIEW, as well as episodes of "The Office," "Girls," "King of the Hill" and "South Park." Hannah's first screenplay was 2017's THE POST, starring Tom Hanks as one of the Washington Post journalists who published the Pentagon Papers. The film earned two Oscar nominations and a Best Screenplay Golden Globe nomination for Hannah and co-scribe Josh Singer.
Like Sterling, director Jonathan Levine has worked with Seth Rogen before: He directed the cancer comedy 50/50 and the Christmas comedy THE NIGHT BEFORE, both co-starring Joseph Gordon-Levitt. Levine's other credits include SNATCHED, with Amy Schumer and Goldie Hawn, and zombie rom-com WARM BODIES, starring Nicholas Hoult.
You can see LONG SHOT at AMC when it opens on May 3.