The hype for Star Wars: The Last Jedi continues to build, and fans can't wait to see their favorite characters on the big screen yet again. Rian Johnson's second installment in the new Star Wars trilogy looks to build upon the story and characters that were set up in The Force Awakens, but unlike its predecessor, The Last Jedi will prominently feature a particularly beloved character that was fans have been dying to see, Luke Skywalker.
The Last Jedi will be the first film since Return of the Jedi to feature Luke Skywalker in a speaking role, and people have been extremely excited to welcome Mark Hamill back to the Star Wars universe. Apart from the fans, Mark Hamill is also thrilled to be back playing Luke Skywalker and he continues to share his delight on various social media platforms.
Recently, Hamill has been having a bit of fun with fans who are dying to know what happens in The Last Jedi. Obviously, Hamill would never give away any specific details regarding the film, but that doesn't stop fans from incessantly bombarding him with questions. In response to the fans, Hamill has begun trolling Star Wars fans with fake theories and spoilers for The Last Jedi, which he does in a delightful fashion.
Mark Hamill Trolls Star Wars Fans Leading Up To The Release Of The Last Jedi
Mark Hamill has been an icon in the nerd community for 40 years, and in that time, he has built a rapport with his fan base. Hamill has proven that he loves to interact with his fans, even if that means trolling them from time to time. Recently, Hamill has taken to teasing Star Wars fans who are trying to decipher every bit of footage released for The Last Jedi and he is having too much fun doing it.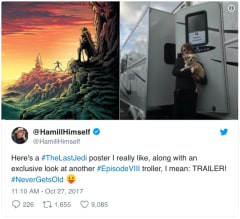 In the tweet above, Hamill gave fans a look at an exclusive trailer from The Last Jedi, but unfortunately, it was not the trailer they were looking for. In another tweet, Hamill posted a picture from Empire Strikes Back, where he did some theorizing of his own, which plays on the concept of fans going too far when it comes to breaking down a simple image in an attempt to discover its hidden meaning: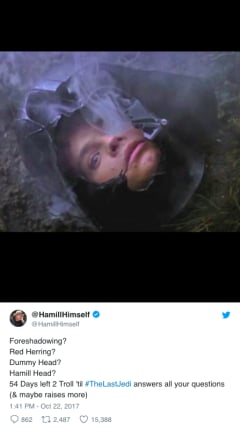 Hamill's next post actually fooled some fans – which is hilarious – but it was quite the clever ploy. In the post, Hamill showed an image the cover of a Star Wars book (which is real and released in 2013) and he stated that the novelization of The Last Jedi had leaked early. While the book is real, it has nothing to do with the upcoming film - even if fans desperately wanted it to: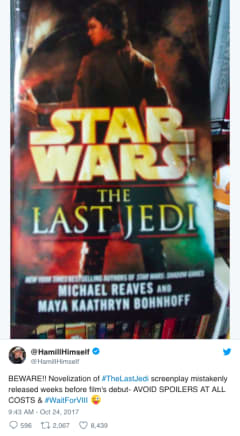 In two tweets, Hamill touched on a popular fan theory regarding how Star Wars villains are positioned in movie posters. Many fans believe that Hamill's Luke Skywalker will be the villain of The Last Jedi, because he is "looming" over the other characters on recently released poster for The Last Jedi. In response, Hamill posted a theory that Luke was the villain all along, and he also included a line from a Robot Chicken Star Wars Special song, "From a Certain Point of View". He also posted the same villain poster theory again, but this time he proved that sometimes villains are on the front of cereal boxes: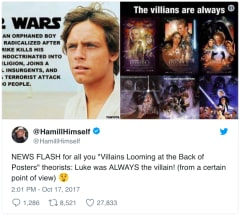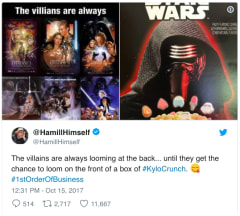 While some commenters have said that Mark Hamill's tweets might be mocking Star Wars fans, he is only having a bit a fun. Sure, Hamill is poking fun at some of the theories being thrown at him by Star Wars fans on a daily basis, but his tweets don't contain a touch a malice. If anything, Hamill is dealing with the constant onslaught of fan question and theories in a delightful way, which is amazing, because their constant questions would probably drive most people mad.
Thankfully, Star Wars: The Last Jedi is less than two months away from release and fans will finally get some of the answers they've been looking for. Until then, they'll continue to theorize about the film and Hamill will undoubtedly continue to troll them.
Star Wars: The Last Jedi hits theaters on December 15, 2017.