At AMC's MacGuffins® Bar & Lounge, our specialty cocktails, beer and wine always provide that extra kick that fuels your excitement. This summer, guests who are at least 21* can give a tasty toast to action-packed films with themed drinks, crafted with premium liquors. Get your tickets to SOLO: A STAR WARS STORY, DEADPOOL 2 and OCEAN'S 8 and sip some sometime fun.
The Scoundrel
Between brawling with bounty hunters, ducking gangsters and avoiding the law, smuggling is thirsty work. Stop by the spaceport cantina for a legendary cocktail mixed with Crystal Head Vodka, blue curacao, house-made lemonade and a splash of Chambord.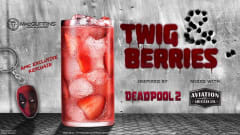 Twig & Berries
For the hero who does good while being berry, berry bad. Mixed with Aviation American Gin, strawberry puree, katana-sliced strawberries, Sprite® and a squeeze of lemon, this fresh cocktail goes down smooth after a day of maximum effort.
Grab life by the berries with DEADPOOL 2 at AMC.
The Heist
So good, it should be illegal. This drink wasn't stolen out of a high-security vault — or at least no one can prove that it was. Mixed with CÎROC Peach Vodka, triple sec, orange juice and a splash of soda and now pouring at MacGuffin's Bar.
Pull off the ultimate night out with OCEAN'S 8 at AMC.
Our movie-themed cocktails are available in over 200 AMC theatres, as well as wines and domestic and imported beers. We also have a selection of craft and local brews, which vary by location. Learn more and find a MacGuffins Bar & Lounge at an AMC near you.
*Must be 21+ to purchase alcoholic beverages. Please consume responsibly. For a limited time only.