April is Autism Awareness Month, and AMC is proud to partner with the Autism Society to offer unique movie showings. Not only this month but every month, we screen the latest releases in a sensory-friendly environment that's a little quieter and a little brighter. Getting up to dance, walk, shout and sing is all part of the experience.
President and CEO of the Autism Society of America Scott Badesch said, "AMC is a very strong and cherished partner of the Autism Society. We value the partnership, because AMC is enabling hundreds of thousands of families impacted by autism to enjoy the movie-going experience, as well as allowing the over 1.5 million people who are autistic to attend a movie without being impacted by the far too often sensory-related noise and lights that are part of a movie showing."

Sensory Friendly Films started in 2008 and has expanded to more than 200 AMC theatres across the U.S. Since the beginning, Director of Special Content at AMC Scott Landes has been a champion of the program, which hits close to home as his son is on the autism spectrum. "All of the sudden, we could go [to the movies] as a family," he said of the program.
That's the ultimate goal for both AMC and the Autism Society: to enable families to spend time together, enjoying the time-honored wonders of seeing a film at a theatre.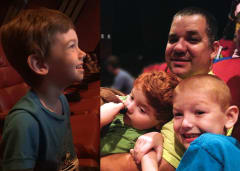 "At the end of the day, Sensory Friendly is about inclusivity," Landes said. "All we're trying to do is give people who wouldn't normally have the opportunity to enjoy movies in a theatre an environment that's conducive to them."
By providing a tailored environment, AMC hopes to help our guests with autism better relate to the world around them and bring them into more conversations with friends and peers about the latest releases.
Every second and fourth Saturday, little movie lovers can watch new family-friendly films; on Tuesday evenings, we cater to teens and young adults. Check out our sensory-friendly showings for April and May.
Family-Friendly Films
Young Adult Films
Check your local AMC theatre listings for sensory-friendly film showtimes, and get your tickets today. Don't forget to share your fun with #AMCSensoryFriendly.