Sylvester Stallone is returning to his most famous character for another round.
Stallone has announced that he will be directing, producing and starring in the highly anticipated film Creed 2, starring Michael B. Jordan. Many still believe Stallone's performance as Rocky Balboa in 2015's Creed deserved the Oscar for Best Supporting Actor, but the award went to Mark Rylance for his role in Bridge Of Spies.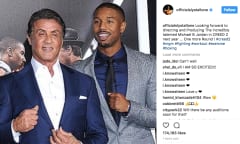 On Monday, Stallone posted a picture of himself and Jordan on his Instagram with the caption:
Looking forward to directing and Producing The incredibly talented Michael B Jordan in CREED 2 next year … One more Round !
The first film in the series, Creed, was directed by Ryan Coogler from a script he co-wrote with Aaron Covington. It was a spinoff of the original Rocky series, with an aged Balboa teaching Adonis Creed (the son of his former rival/friend Apollo), played by Jordan.
Creed impressed critics and performed beyond expectations, grossing $173 million worldwide. Stallone won a Golden Globe for the role. Stallone also posted recently on Instagram saying he is back in the gym, working on getting fit for shooting, which begins next year. We may even see him return to the ring once more! Another photo on Instagram showed him and Jordan training with the caption, "Getting stronger !!! 2018"