If producer/director James Wan is the father of The Conjuring Universe, composer and actor Joe Bishara is the franchise's best friend. The 10-year partnership between Wan and Bishara has spanned 10 movies, including the upcoming ANNABELLE COMES HOME. They've created some of the scariest movies in that decade, thanks to Wan's expertise behind the camera and Bishara's skills in the recording booth and on screen.
His name isn't as well-known as that of his filmmaking counterpart, but Bishara has become one of Wan's most reliable weapons. On screen, Bishara's face is under makeup as he plays some of the spookiest monsters in the series. As a composer, he creates complex, catchy and effective music that becomes the nervous system of each movie.
An Insidious Talent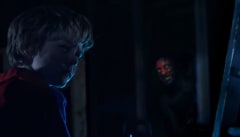 Bishara began his career in the Los Angeles-based industrial band Drown, before transitioning into film with projects such as THE GRAVEDANCERS and the 2009 remake of NIGHT OF THE DEMONS. He and Wan first worked together on INSIDIOUS, the filmmaker's franchise follow-up to SAW, which has produced three sequels (so far). Bishara's contributions to that franchise cannot be overstated. For one, he created a truly spooky theme that weaves through the sequels. He also played small but pivotal roles, such as the Lipstick-Face Demon (above), in the first, third and fourth films.
Emboldened by success, Bishara leapt into the CONJURING series, which soon expanded into a whole universe worth of projects. His new musical themes perfectly accompanied Wan's virtuoso work. The sophistication of Bishara's work increased over the course of the series. He developed robust skills for amplifying tension with music, while also learning when to pull back and let Wan's work speak for itself, the better to create anxiety he could later pay off musically.
More Than Music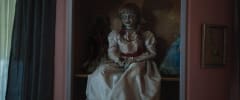 Few film composers do double-duty on movie projects. John Ottman famously edits and also writes music for Bryan Singer movies, but there aren't many others. So, the multitalented Joseph Bishara stands out.
When Bishara also played the spirit Bathsheba in THE CONJURING, it cemented his importance to that franchise. Not only does he create the themes that get underneath our skin, but he also becomes the physical manifestation of evil. His presence helps give the series emotional weight and huge entertainment value.
Bishara also played the Annabelle demon in the first two ANNABELLE films, creating an imposing presence that elevated a children's toy to the kind of talisman that you'd want to throw in a well if you saw it — and in ANNABELLE CREATION, someone tries to do just that.
More Than a Feeling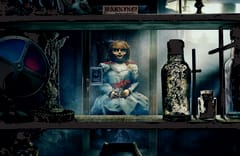 Bishara has worked on scores for other films and created music for artists like rapper Tech N9ne, for whom he provided ominous musical "black ooze." What is black ooze? It's tough to pin down, but it actually relates to his film work. Bishara captures a feeling, or a mood, and helps give real shape to ideas that can be amorphous.
Bishara and Wan have created not just a universe, but an artistic empire. With each new project, they not only create new scares and conquer new worlds, but they also generate new feelings to impact viewers. The effects last long after we've left the theatre. Thanks to this duo, as we venture out into the darkness, we know there's plenty to be scared of.
ANNABELLE COMES HOME opens on June 26.