The JOHN WICK movies, so far, have told one long, continuous story. It all began when criminals tried to steal John Wick's (Keanu Reeves) car … and in the process, killed his dog. Terrible mistake. That act of blatant cruelty triggered something inside Wick, and the former assassin came out of his self-imposed "retirement" to right some wrongs.
Over the course of two bloody and exciting action thrillers, John Wick faced the consequences of his actions. He disrupted the balance of the criminal underworld with his recent killing spree, and by the end of JOHN WICK: CHAPTER 2, Wick was declared "excommunicado," with a global bounty placed on his head — meaning every assassin known to mankind will now begin hunting him.
We expect this summer's JOHN WICK: CHAPTER 3 – PARABELLUM to pick up shortly after where JOHN WICK: CHAPTER 2 ended, with John escaping New York City as unlimited killers targeted him. These movies have been vicious playgrounds for talented character actors like Laurence Fishburne and Ian McShane. JOHN WICK: CHAPTER 3 will be no different, as director Chad Stahelski plans to expand the world with several fresh faces. They can be broken down into three key categories. Let's meet the new (and likely deadly) characters of JOHN WICK: CHAPTER 3 – PARABELLUM.
John's Ally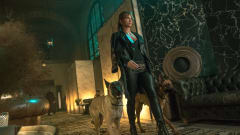 John Wick doesn't really need that much help. So long as he has a gun in his hand, or any object that he can turn into a weapon, the odds are in his favor that he can get out of most sticky situations. But in PARABELLUM, Wick will be assisted by Sofia, a fellow assassin and someone who is being described as a "close friend" of John. She'll be played on screen by Oscar® winner Halle Berry, who hasn't done much action in recent years. Yes, there once was a time when John had a life and a wife. Friends? That seems foreign to John, but Sofia will bring some needed assistance once CHAPTER 3 kicks in.
The Rival Assassins
By the look of the first poster, every assassin on the planet will be gunning for Wick (Keanu Reeves) once JOHN WICK: CHAPTER 3 – PARABELLUM begins. With the way that Wick normally mows down opponents, most of them likely won't be on screen long enough for us to get to know them. But the studio has at least confirmed two assassins who will make life more difficult for Wick than usual.
One will go by the name of Zero, and he will be played by Mark Dacascos. Zero is being described as the main assassin in PARABELLUM, who already has a vendetta against John Wick. Yeah, we're guessing that Wick made a lot of people very angry when he was in the business, and now that there's a contract on his head, we imagine they're all going to surface, looking for a little payback.
The other assassin who has been identified is the awesomely named Tick Tock Man, and he will be played by comedian Jason Mantzoukas. That casting alone has us excited, but we'll be ready to find out why he has that name when PARABELLUM open in theatres.
The Members of the High Table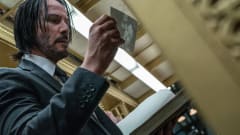 There are rules in the world of John Wick. And when those rules are broken, the assassins who operate under the umbrella of protection have to face the High Table. We obviously will learn a lot more about the High Table in JOHN WICK: CHAPTER 3 – PARABELLUM, as three new cast members have connections to this mysterious organization.
Anjelica Huston is the most familiar face in the group. She will play the Director, a member of the High Table who also is pulling some strings to try to protect John Wick for as long as she can. John's in trouble for killing someone while on the grounds of the Continental — which is supposed to be a safe space. This is why John is on the run, and the Director is trying to buy him time.
There are two other members of the High Table who we will meet, though at the moment, we know next to nothing about them. Asia Kate Dillon has been cast as the Adjudicator, while Robin Lord Taylor will play the Administrator. We love that they protect real names in this group. So devious.
There could be even more surprises in this third (and final?) JOHN WICK movie, but for now, these are the characters we expect to join Keanu Reeves as he fights for his life against a universe of bloodthirsty killers. See how he fares once JOHN WICK: CHAPTER 3 – PARABELLUM opens in theatres on May 17.