There's no doubt about just how powerful Marvel has become. With their movies doing record-breaking business, it's no wonder that the comic book powerhouse has continued to attract big names. Now, for its 10th Anniversary, Marvel's planning a big photoshoot combining all its star-power to take a picture that will no doubt break the internet upon release.
While it's not yet confirmed just how many actors and actresses will be present for the Mcu event, thanks to Groot a.k.a Vin Diesel, we now have a pretty good idea of who will be there.
The video posted by the Fast and The Furious star shows celebrities Michael Rooker, who played Yondu in the Guardians of the Galaxy, Samuel L. Jackson a.k.a Nick Fury, Colbie Smulders (Avengers' Maria Hill) and Thor: Ragnarok visionary Taiki Waititi.
Laurence Fishburne (who is set to play Goliath in the upcoming Ant Man movie) too is present, and had also previously uploaded a picture on Facebook with Samuel L. Jackson and Anthony Mackie (Falcon from Captain America).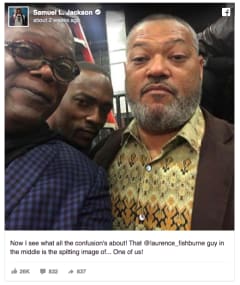 Ant-Man's Michael Douglas is also present in Diesel's video, along with Chris Pratt of Guardiansofthe Galaxy.
Other stars not present in Diesel's video, but whom we know will be there, include Don Cheadle, Chadwick Boseman, Hayley Attwell, Pom Klementieff, and Karen Gillian.
Mark Ruffalo released a similar video a while back, which featured all the main stars of the MCU films including Scarlet Johansson (Black Widow), Robert Downey Jr. (Iron Man) Chris Hemsworth (Thor), Brie Larson (Captain Marvel), Paul Bettany (Vision), Evangeline Lilly (Wasp), and from Dr. Strange, Benedict Cumberbatch and Benedict Wong.
So, superhero fans, you'd best prepare yourself for what will turn out to be perhaps the most Marvel-ous photo shoot of our time.