Solo: A Star Wars Story hits theaters on May 25. Much like Rogue One, it will be a journey into the franchise's past, as Solo follows the adventures of a young Han Solo prior to Star Wars: A New Hope. In addition to Han, characters like Chewbacca and Lando Calrissian appear, with new actors filling the familiar roles. One Star Wars veteran will appear in the film, however. That is none other than Warwick Davis.
Davis has appeared in some of the biggest franchises of all time – albeit often in roles that mask his face. Harry Potter fans know him as Filius Flitwick and Griphook. Children of the 1980s adored him in Willow. He played Marvin the Paranoid Android in The Hitchhikers Guide to the Galaxy in 2005 and has been in the Leprechaun movies. Above all that Davis has always been a vital part of the Star Wars universe. It's fair to say that Davis is one of the unsung heroes of the entire franchise.
Warwick Davis's Star Wars Origins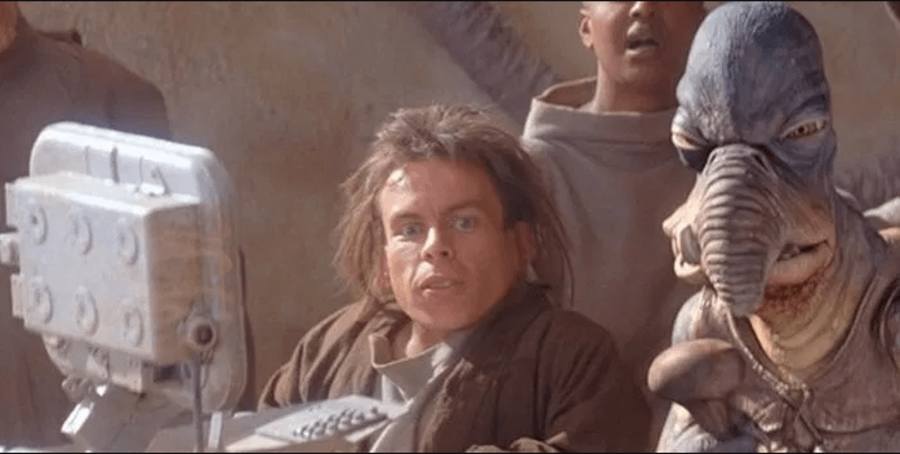 Davis's relationship with Star Wars began long before he appeared in Return of the Jedi. Fans might know him as the Ewok named Wicket, but prior to that he was just another young fan. Davis adored Star Wars and The Empire Strikes Back when he was young. At the age of 11 he grabbed a role in Return of the Jedi. Originally, however, he wasn't cast as Wicket. George Lucas admired Davis's work on set, and when R2-D2 actor Kenny Baker (who was originally cast as Wicket) fell sick, Lucas tapped Davis for the part.
Return of the Jedi started Davis's career, but it was a small part of his larger presence in the Star Wars universe. Davis would reprise his role as Wicket in TV movies The Ewok Adventure and Ewoks: The Battle for Endor. Sixteen years later, George Lucas cast Davis to play multiple roles in The Phantom Menace. (See one, Weazel, above.) After The Phantom Menace, it became clear he was a versatile asset for Lucasfilm.
At the press conference for Solo, director Ron Howard (who also made Willow) summed up Davis's value:
He helps out with a lot of characters, a lot of the droids and things like that. He would come in and he goes uncredited, but he loves it and the company is smart enough to bring him and not only play a character, but to help with coaching and setting up and figuring out some of the behaviors.
In the early 2000s, Davis was heavily involved with the Harry Potter franchise and did not appear in the other prequel films. He was, however, a constant champion for Star Wars, often attending fan events. In many ways, Warwick Davis became the embodiment of Star Wars fandom. He was a fan like so many others, but he was now a part of that world. Star Wars fans were drawn to his humility and reverence for the franchise, which made him the perfect ambassador.
A Return To A Galaxy Far, Far Away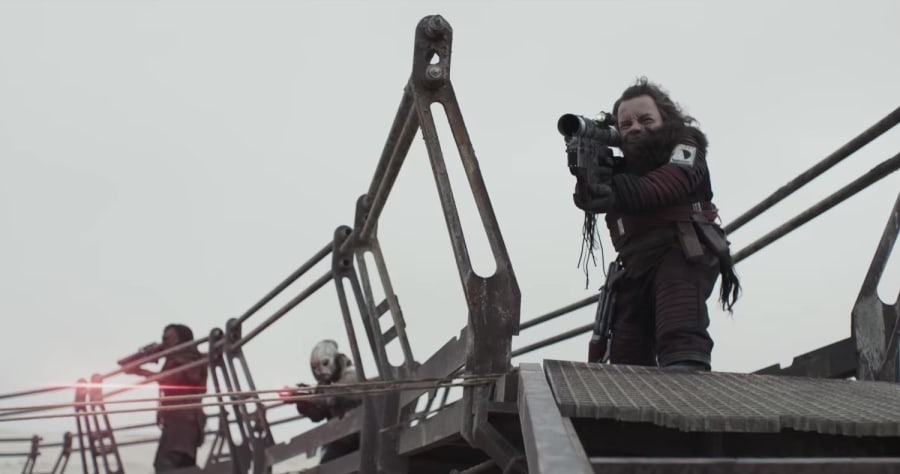 Davis returned to Star Wars when he appeared as Wollivan in 2015's The Force Awakens. The film ushered in a new age for the series, and Davis has been proving his versatility all over again. He played Weeteef Cyubee in Rogue One: A Star Wars Story and Wodibin in The Last Jedi. In the final season of the animated series Star Wars Rebels, he voiced Ruhk.
Davis even stepped up to moderate several panels at Star Wars Celebration in 2017, including the high-profile 40th anniversary panel. He was brilliant, with charm and love for the franchise on full display.
We will see Warwick Davis again in Solo: A Star Wars Story, and reports suggest his character might actually be a reprise of one of his previous Star Wars roles. (He's definitely not playing an Ewok.) One thing we do know is that we'll get to see his face once again. That's a happy thing for fans of this actor who has so often been under masks and make-up in his Star Wars roles.
After 32 years, Warwick Davis has become one of the most reliable actors in the Star Wars ensemble. He take on multiple roles, offers expert advice on set, and is a huge part of the fan community. To use a baseball term, Davis is the Star Wars utility player. He may not always get the credit he deserves, but he's an essential part of the franchise.
See Solo: A Star Wars Story when it hits theaters on May 25, 2018.