A long weekend means an extra day to see a movie! Both of these new releases are the perfect kickoff for summer because they both feature the beach.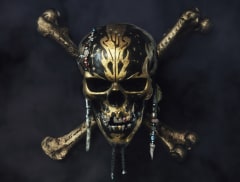 Pirates of the Caribbean: Dead Men Tell No Tales
Captain Jack Sparrow is back in this fifth installment of the Pirates of the Caribbean franchise. He's not the only familiar character either – Geoffrey Rush (Captain Barbossa), Orlando Bloom (Will Turner), and Keira Knightley (Elizabeth Turner) all return in Dead Men Tell No Tales. This new adventure features Captain Salazar (played by the villainous Javier Bardem) leading his crew of ghost sailors and ghost sharks (you had us at ghost sailors) on a mission to kill every pirate at sea. Whether it be ye first time seein' a Pirates of the Caribbean movie, or ye have been aboard this ship since 2003's The Curse of the Black Pearl, Dead Men Tell No Tales be a fun time at the movies (Arrrrr!!!). To get you ready for this wild ride, we joined the Pirates cast to discuss the newest film in the franchise. Check out our interviews, and then get your tickets.
Baywatch
The hottest film of the year (we literally mean hottest) arrives this weekend with Baywatch. This adaptation of the 90's television show brings the laughs, excitement, and heat just in time for summer! The comedy stars Dwayne Johnson as a devoted lifeguard who butts heads with the new hot-shot recruit played by Zac Efron. With the rest of their ridiculously gorgeous lifeguard crew, they uncover a criminal plot happening at the beach that threatens the future of the Bay. If you're staying home this Memorial Day weekend, Baywatch will give you a day at the beach – all from the comfort of your local AMC Theatre! And for our 21+ moviegoers out there, we also have a MacGuffins premium cocktail to go with your 'day at the beach'. Get your Baywatch tickets, and then head to the theatre to try the 'Banana Hammock'.