No.1: Alien: Covenant
It was a close one this weekend, but the newest addition to the Alien franchise, Alien: Covenant had a strong weekend, edging out Guardians of the Galaxy Vol.2 by pulling in $36M for its opening weekend. Alien fans showed their love for the film, especially on Friday night ($15.3M) and didn't let Guardians, teen love or wimpy kids keep them from letting their Alien flag fly. Looking at past Alien franchise opening weekends, Covenant's debut ranks third on the list – Prometheus and Alien vs. Predator are at the top two spots.
No. 2: Guardians of the Galaxy Vol. 2
Coming in at number two, is Guardians of the Galaxy Vol. 2 making $35.1M over the weekend (we told you it was a close one). This is the third weekend for the film which has made a total of $300M domestically and $431M internationally. While it wasn't number one from the weekend, Guardians fans are still coming out to see it for the first, second and third time. Quick fan poll for the Guardians fans out there: How many times have you seen Vol.2? Tell us on Twitter using #GOTGV2TIMES.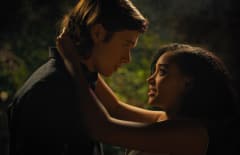 No. 3 Everything, Everything
Some movie fans like comedy, others action, while some just crave a good teen love story and Everything, Everything is proof of that. The novel turned feature film finished its debut weekend making $12M. Not a bad start for a movie with a $10M budget. This particular young love story is about girl confined to her home due to an illness who suddenly falls in love with the boy next door. You have to admit if you're into warm and fuzzies and getting all the feels from a film, this one has your name on it. #Swoon❤
Looking Ahead to Next Weekend…
Two big films help kick off the unofficial start to summer. Johnny Depp reprises his role as Captain Jack Sparrow in Pirates of the Caribbean: Dead Men Tell No Tales (May 25) while former wrestler and turned leading funny man Dwayne Johnson brings the 90's TV classic Baywatch to the big screen (May 24). Will Pirates out-perform buff and beautiful lifeguards? Or will Guardians and Aliens show Pirates who's in charge? Check back next week for our total and extended recap from the holiday weekend.