With the critics buzzing about the film, and fans already in love with the little they've seen of Thor: Ragnarok, Marvel's third Thor movie is certainly shaping up to be a bonafide hit. However like all Marvel movies details about the project are strictly kept under wraps till the movie hits theaters. That said, many fans are anxious to know what they can about the post credit scenes in the latest Thor film. And now, thanks to a hint by Forbes journalist Scott Mendelson, we may have a clue about the upcoming Marvel tentpole project, Infinity War.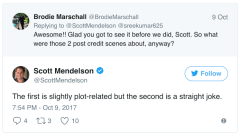 A joke in the post-credit is certainly to be expected with Taika Waititi helming the Marvel picture. But the other post-credit scene could be a crucial scene for the the future of the MCU. Thor: Ragnarok is one of the few movies being released before Infinity War and since Marvel's films often contain post credit scenes about other parts of their vast Mcu, it makes sense why Ragnarok would contain a spoiler which would lead up to the upcoming massive MCU film.
After all, Thor: Ragnarok has the distinction of being the only Avengers related film so far which isn't based primarily on Earth. This means that the film's end and subsequent "plot-related" post credit scene that Mendelson mentions, could feature an appearance by the Guardiansofthe Galaxy members, explaining how Thor ends up teaming up with them in Infinity War — which we learned from the leaked trailer.
This scene could also reveal some crucial hint as to who Loki sides with in Infinity War, or perhaps give us a clue about Captain Marvel's MCU debut, given that her storyline too will be about an alien species. Of course these are major plot details and it's doubtful that the writer could be referring to them and there's a greater chance that the spoiler is something else entirely.
Still, until we check out Thor: Ragnarok, we Marvel fans can certainly keep dreaming up new ways of how the comic-book studio plans to reunite its vast universe for Infinity War.