How does an actor approach a role when the character they are about to play has been done before … and in animated mode? Do they go back and watch the original source material? Do they try and find inspiration in it? Or do they avoid it, in hopes of figuring out a way to create their own take?
The answer probably differs depending on each performer. But when AMC sat down with ALADDIN star Mena Massoud — who is about to play Aladdin in Guy Ritchie's live-action version of the classic animation — he said that he actively made the choice not to revisit the original film, for very specific reasons.
"I didn't want to — I stopped," Massoud said. "I grew up watching ALADDIN, and obviously, you know, it was one of the few films that I could wholeheartedly relate to growing up. This was a character who looked like me, had a similar culture to me and things like that. But when I started the audition process, I made an active decision not to watch it anymore. So, I haven't actually seen it since the first time I auditioned for it. Because I think when you're talking about a live-action character, you want them to live and breathe and be their own character. I grew up watching it enough that I understood what it was about and what it had to do."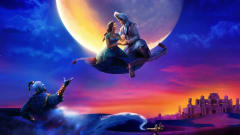 In the case of his role preparation, Mena Massoud felt like the fabric and culture of ALADDIN was so tightly woven into his DNA that he didn't need to go back and see the original 1992 film again. Also, he wanted his approach to Aladdin to stand apart from what was put to celluloid by Disney's classic animators. And the best way to do that was just to avoid the animated feature entirely from the time he auditioned until he was done filming with director Guy Ritchie.
Because of that, Massoud told AMC that he truly sees this new version as being separate from the experience that audiences got in 1992.
"I treat them like two different films. They are two different films," he said. "We're kind of reimagining what the 1992 version was and bringing this one to life. So, hopefully it satisfies people in the way that it reminds them of the original and traits that they liked about it. And it's very cathartic in that way. And in other ways, it's its own film."
The biggest difference, beyond the live-action aspect, is that Guy Ritchie's ALADDIN will have Will Smith as the Genie in place of the late Robin Williams, so you know the Fresh Prince will bring his own distinct flavor to the role. But the songs and visuals that we love from Disney's original ALADDIN should be on full display when this movie reaches theatres.
Tickets are on sale for ALADDIN, which sails into your local AMC on May 24.