Thoroughly Enhanced Cleaning Procedures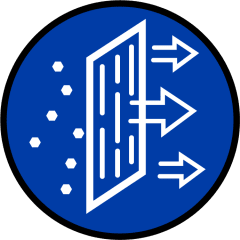 Maximized Fresh Air Flow & MERV 13 Filters
Fresh, outdoor air is constantly circulated in our theatres by opening HVAC dampers, running supply fans and by running exhaust fans 24/7. Our filtration systems have also been upgraded beyond the industry standard of MERV 8 to MERV 13 filters. MERV 13 filters capture the tiniest of droplets, which could contain the COVID-19 virus, whereas the industry standard MERV 8 filter does not.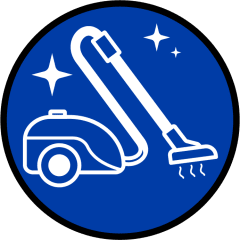 HEPA Filter Vacuums
We routinely vacuum carpeted areas using vacuums with HEPA filters, which are proven to trap 99.97% of airborne particles.
Questions? The answer may be in our FAQs.
AMC is closely monitoring federal, state and local guidelines and our policies and procedures will continue to evolve accordingly.
*AMC is now serving our fully expanded menu. Large popcorn and fountain drink refills are now available by request. An AMC crew member will provide a new cup or tub for your refill. Select locations do not require cashless payments. Cashless transactions are not required at all locations. Select theatres will accept cash at concessions and MacGuffins Bar.
Clorox is not an exclusive supplier of AMC.
Clorox products are EPA-approved to kill the virus that causes COVID-19/the SARS-CoV-2 virus on hard, non-porous surfaces when used as directed.