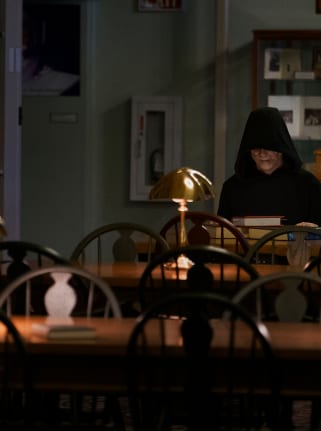 AMC Stubs® Member Exclusive
Get 1,000 bonus points.
Get registered, and get 1,000 bonus points when you see THE BYE BYE MAN, from 1/19–1/22.
Don't think it.
Don't say it.
When three college students move into an old house off campus, they unwittingly unleash a supernatural entity known as THE BYE BYE MAN, who comes to prey upon them once they discover his name. The friends must try to save each other, all the while keeping THE BYE BYE MAN's existence a secret to save others from the same deadly fate.
Select AMC Stubs members who registered for the offer only. 1000 Bonus Points will be awarded 2-4 days following completion of the qualifying visit during the promotion window (January 19, 2017 – January 22, 2017). A qualifying visit must 1) include at least one paid ticket to THE BYE BYE MAN, 2) occur at participating locations, 3) occur during the promotion window, and 4) have the member's AMC Stubs account # associated with the transaction. Multiple separate purchases associated with a common movie showtime per date will only count towards a single qualifying visit. Registered members will earn 1,000 Bonus Points following the completion of a transaction with tickets to THE BYE BYE MAN with a total maximum of 3,000 Bonus Points possible over the course of the promotion. AMC associates are not eligible to participate in this Bonus Point promotion.