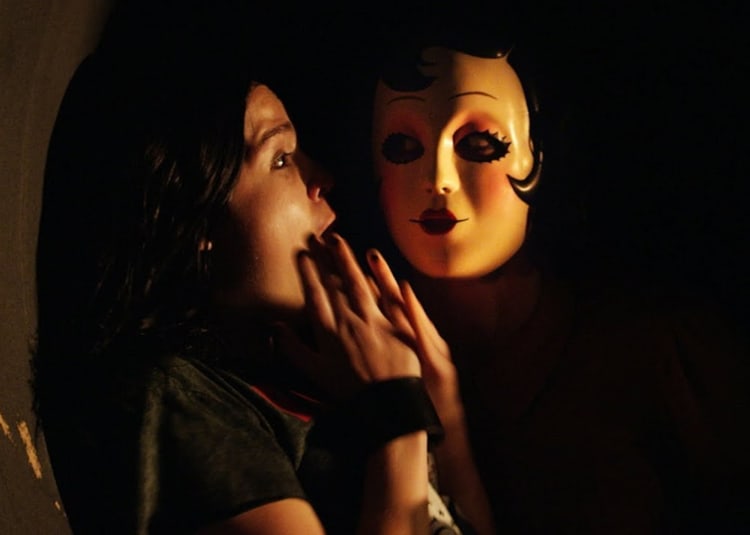 Your Horror-rific Spring Breakdown
The fall may be the best time for horror, but the first half of 2018 has promising chillers, too.
Cast & Crew
Emily Blunt

Actor

Emily Olivia Leah Blunt is a British actress known for her roles in The Devil Wears Prada (2006), The Young Victoria (2009), Edge of Tomorrow (2014), and The Girl on the Train (2016), among many others. Blunt was born on February 23, 1983, in Roehampton, South West London, England, the second of four children in the family of Joanna Mackie, a former actress and teacher, and Oliver Simon Peter Blunt, a barrister. Her grandfather was Major General Peter Blunt, and her uncle is MP Crispin Blunt. Emily received a rigorous education at Ibstock Place School, a co-ed private school at Roehampton. However, young Emily Blunt had a stammer, since she was a kid of 8. Her mother took her to relaxation classes, which did not do anything. She reached a turning point at 12, when a teacher cleverly asked her to play a character with a different voice and said, "I really believe in you". Blunt ended up using a northern accent, and it did the trick, her stammer disappeared. From 1999 - 2001, Blunt went to Hurtwood House, the top co-ed boarding school where she would excel at sport, cello and singing. She also had two years of drama studies at Hurtwood's theatre course. In August 2000, she was chosen to perform at the Edinburgh Festival. She was signed up by an agent, Kenneth Mcreddie, who led her to the West End and the BBC, scoring her roles in several period dramas on stage as well as on TV productions, such as Foyle's War (2002), Henry VIII (2003) and Empire (2005). In 2001, she appeared as "Gwen Cavendish" opposite Dame Judi Dench in Sir Peter Hall's production of "The Royal Family" at Haymarket Theatre. For that role, she won the Evening Standard Award for Best Newcomer. In 2002, she played "Juliet" in "Romeo and Juliet" at the prestigious Chichester Festival. Blunt's career ascended to international fame after she starred as "Isolda" opposite Alex Kingston in Warrior Queen (2003). A year later, she won critical acclaim for her breakout performance as "Tamsin", a well-educated, cynical and deceptive 16-year-old beauty in My Summer of Love (2004), a story of two lonely girls from the opposite ends of the social heap. Emily Blunt and her co-star, Natalie Press, shared an Evening Standard British Film award for Most Promising Newcomer. In 2005, she spent a few months in Australia filming Irresistible (2006) with Susan Sarandon and Sam Neill. Blunt gave an impressive performance as "Mara", a cunning young destroyer who acts crazy and surreptitiously provokes paranoia in others. She also continued her work on British television, starring as "Natasha" in Stephen Poliakoff's Gideon's Daughter (2005), opposite Bill Nighy, a role that won her a 2007 Golden Globe Award for Best Performance by an Actress in a Supporting Role. She continued the line of playing manipulative characters as "Emily", a caustic put-upon assistant to Meryl Streep's lead in The Devil Wears Prada (2006). Blunt's performance with a neurotic twist added a dimension of sarcasm to the comedy, and gained her much attention as well as new jobs: in two dramas opposite Tom Hanks, then in the title role in the period drama, The Young Victoria (2009). Her most recent works include appearances as antiques dealer "Gwen Conliffe" in The Wolfman (2010) and as the ballerina in The Adjustment Bureau (2011). Emily is a highly versatile actress and a multifaceted person. Her talents include singing and playing cello; she is also skilled at horseback riding. Blunt's friend, Anne Hathaway, introduced her to actor John Krasinski, and they have been together since November 2008. On August 28, 2009, Blunt and Krasinski announced their engagement. The couple married on July 10, 2010, at the estate of their friend, George Clooney, on Lake Como in Italy. Blunt and Krasinski live in the Los Angeles area, California, and have two children.

View Full Bio

John Krasinski

Director

Tall, handsome American film and television star John Krasinski is probably best known for his role as sardonic nice guy "Jim Halpert" on NBC's popular TV series, The Office (2005), for which he won a 2007 and 2008 Screen Actors Guild Award for outstanding performance by an ensemble in a comedy series. Born John Burke Krasinski on October 20, 1979, in Newton, Massachusetts, USA, he is the youngest of three brothers. His mother, Mary Claire (Doyle), is a nurse, and his father, Ronald Krasinski, is an internist. His father is of Polish descent and his mother is of Irish ancestry. His first stage experience was starring in a satirical high school play, written and cast by B.J. Novak. Also good at sports, he played on the same Little League baseball team as B.J. Novak, now a writer and co-star on The Office (2005). After graduating from Newton South High School in 1997, Krasinski planned to be an English major and deferred his first semester of college to teach English in Costa Rica. He attended Brown University, graduating in 2001, as a playwright with honors, then studied at the Eugene O'Neill National Theatre Institute in Waterford, Connecticut. During the summer of 2000, he worked as a script intern on Late Night with Conan O'Brien (1993). Krasinski made his big screen debut in 2002, then played several small roles like "Ben" in Kinsey (2004), and "Bob Flynn" in Duane Hopwood (2005). He appeared as "Corporal Harrigan" in Jarhead (2005), by director Sam Mendes, then played a supporting role as "Ben" in The Holiday (2006), a romantic comedy by director Nancy Meyers. He is billed as the voice of "Lancelot" in Shrek the Third (2007). Krasinski co-starred opposite Robin Williams and Mandy Moore in the romantic comedy License to Wed (2007), as well as with George Clooney and Renée Zellweger in the football screwball comedy, Leatherheads (2008). He is also director and writer of Brief Interviews with Hideous Men (2009), a big screen adaptation of the eponymous collection of short stories by David Foster Wallace. Krasinski was featured in People Magazine's Sexiest Men Alive issue of 2006. He claims Los Angeles as his current home but travels to New York City and his hometown of Newton, MA, frequently.

View Full Bio
Cast & Crew photos provided by TMDb.
Pre-show and trailers run for approximately 20 minutes before the movie starts.2 hr 10 minRReleased Jan 19

Get Tickets

Pre-show and trailers run for approximately 20 minutes before the movie starts.1 hr 59 minPG13Released Dec 20

Get Tickets

Pre-show and trailers run for approximately 20 minutes before the movie starts.2 hr 20 minRReleased Jan 19

Get Tickets

Pre-show and trailers run for approximately 20 minutes before the movie starts.1 hr 43 minPGReleased Jan 12

Get Tickets

Pre-show and trailers run for approximately 20 minutes before the movie starts.1 hr 45 minPG13Released Jan 12

Get Tickets

Pre-show and trailers run for approximately 20 minutes before the movie starts.1 hr 28 minRReleased Jan 12

Get Tickets

Pre-show and trailers run for approximately 20 minutes before the movie starts.1 hr 43 minPG13Released Jan 5

Get Tickets

Pre-show and trailers run for approximately 20 minutes before the movie starts.2 hr 32 minPG13Released Dec 15

Get Tickets

Not finding what you're looking for?

Pre-show and trailers run for approximately 20 minutes before the movie starts.1 hr 45 minPGReleased Dec 20

Get Tickets

Pre-show and trailers run for approximately 20 minutes before the movie starts.1 hr 56 minPG13Released Dec 22

Get Tickets