More Trailers and Videos for Annihilation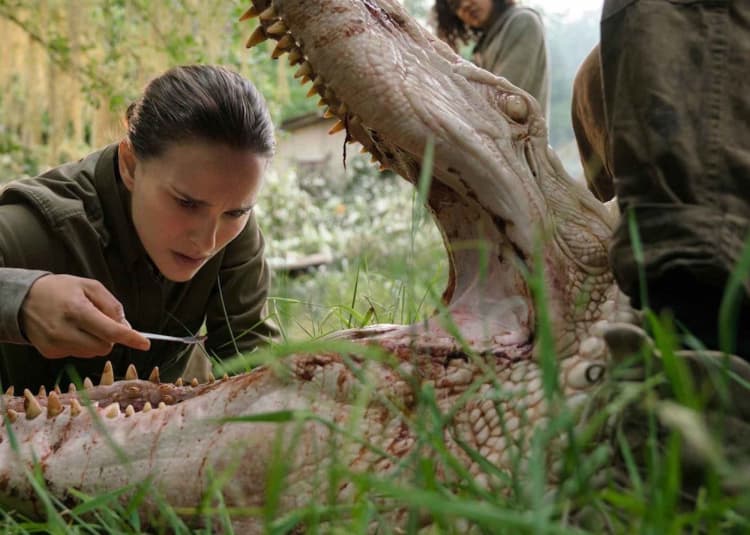 2018 Breakout Sci-Fi Hit?
The sci-fi thriller Annihilation hits theaters in late February, and it looks to be truly special.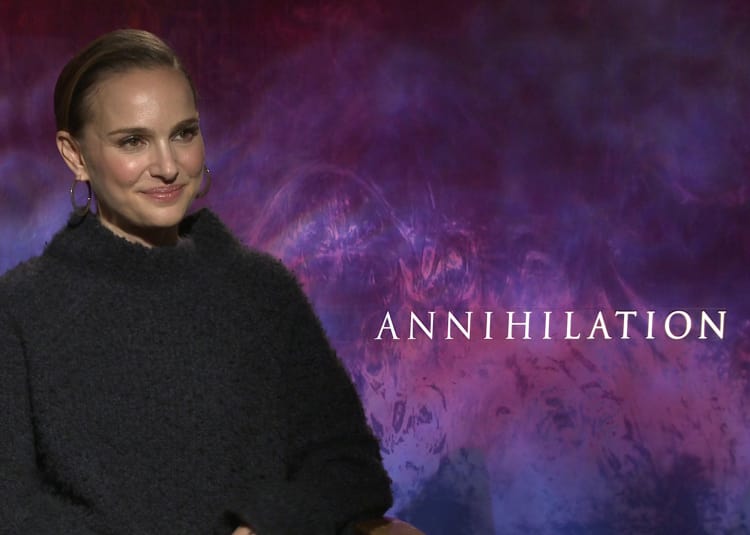 Hear From the Female-Led Cast
In an AMC exclusive interview, the stars of ANNIHILATION discussed their dynamic, yet self-destructive characters and how director Alex Garland adapted the novel of the same name for the big screen.
Cast & Crew
Natalie Portman

Lena

Natalie Portman is the first person born in the 1980s to have won the Academy Award for Best Actress (for Black Swan (2010)). Natalie was born Natalie Hershlag on June 9, 1981, in Jerusalem, Israel. She is the only child of Avner Hershlag, a Israeli-born doctor, and Shelley Stevens, an American-born artist (from Cincinnati, Ohio), who also acts as Natalie's agent. Her parents are both of Ashkenazi Jewish descent. Natalie's family left Israel for Washington, D.C., when she was still very young. After a few more moves, her family finally settled in New York, where she still lives to this day. She graduated with honors, and her academic achievements allowed her to attend Harvard University. She was discovered by an agent in a pizza parlor at the age of 11. She was pushed towards a career in modeling but she decided that she would rather pursue a career in acting. She was featured in many live performances, but she made her powerful film debut in the movie Léon: The Professional (1994) (aka "Léon"). Following this role Natalie won roles in such films as Heat (1995), Beautiful Girls (1996), and Mars Attacks! (1996). It was not until 1999 that Natalie received worldwide fame as Queen Amidala in the highly anticipated US$431 million-grossing prequel Star Wars: Episode I - The Phantom Menace (1999). She then she starred in two critically acclaimed comedy dramas, Anywhere But Here (1999) and Where the Heart Is (2000), followed by Closer (2004), for which she received an Oscar nomination. She reprised her role as Padme Amidala in the last two episodes of the Star Wars prequel trilogy: Star Wars: Episode II - Attack of the Clones (2002) and Star Wars: Episode III - Revenge of the Sith (2005). She received an Academy Award and a Golden Globe Award for Best Actress in Black Swan (2010). She received a second nomination for Best Actress, for playing Jacqueline Kennedy in Jackie (2016).

More

Oscar Isaac

Kane

Oscar Isaac was born Óscar Isaac Hernández Estrada in Guatemala, to a Guatemalan mother, María Eugenia, and a Cuban father, Oscar Gonzalo Hernández-Cano, a pulmonologist. Oscar was raised in Miami, Florida. Before he became an actor, he played lead guitar and sang vocals in his band the Blinking Underdogs. He graduated from the Juilliard School in 2005. Isaac's first major film role was Joseph in the film The Nativity Story (2006). He also had a small role in All About the Benjamins (2002) and the Ché Guevara biopic Guerrilla (2011). In addition to movie appearances, he made an appearance in the television series Law & Order: Criminal Intent (2001). He also had a part in the movies The Life Before Her Eyes (2007); Body of Lies (2008), alongside Leonardo DiCaprio and Russell Crowe; Agora (2009), alongside Rachel Weisz; and the Australian film Balibo (2009), where he played José Ramos-Horta, former president of East Timor, set amid the Indonesian invasion of East Timor in 1975; Isaac won the Australian Film Institute Award for Best Supporting Actor for the role. In 2013, Oscar starred in the Coen Brothers' folk music-themed comedy-drama, Inside Llewyn Davis (2013), for which he received a Golden Globe Award nomination. He subsequently starred in the crime drama A Most Violent Year (2014) and the science fiction thriller Ex Machina (2014), and appeared in the Star Wars films Star Wars: Episode VII - The Force Awakens (2015) and Star Wars: Episode VIII - The Last Jedi (2017), as X-wing pilot Poe Dameron, and the ninth X-Men film, X-Men: Apocalypse (2016), as the mutant supervillain Apocalypse. He has also headlined the HBO miniseries Show Me a Hero (2015), as politician Nick Wasicsko in 2015, which earned him the Golden Globe Award for Best Actor - Miniseries or Television Film. He has a son with his wife, Danish director Elvira Lind.

More

Tessa Thompson

Josie Radek

The actress Tessa Lynn Thompson was born on October 3, 1983 in Los Angeles, California. She is the daughter of singer-songwriter Marc Anthony Thompson and the granddaughter of actor-musician Bobby Ramos. She was raised in Los Angeles before moving to Brooklyn, New York. Her father is of Afro-Panamanian ancestry and her mother is of Mexican and British Isles ancestry. Thompson attended Santa Monica High School, where she was featured in numerous theatre productions. After graduation, she enrolled at Santa Monica College, where she obtained a degree in cultural anthropology. She starred as Juliet in William Shakespeare's drama "Romeo and Juliet" in a production held at the Boston Court Theatre in Pasadena, California. Her performance from earned her the NAACP Theatre nomination the same year. Away from the theatre stage, In 2005, Tessa made her first television appearance when she starred in the CBS series Cold Case (2003). Talented like her father Marc, Tessa's versatility extends to music, as a member of Electro Band, through which she has produced many songs, including one used in her film 'Dear White People.' Since her acting career began in 2002, Tessa has played remarkable roles in popular television series and movies including Murder on the 13th Floor (2012), Make It Happen (2008), Red & Blue Marbles (2011), Selma (2014), Creed (2015), War on Everyone (2016) and Thor: Ragnarok (2017), just to mention a few.

More

Jennifer Jason Leigh

Dr. Ventress

Jennifer Jason Leigh was born Jennifer Lee Morrow in Los Angeles, California, the daughter of writer Barbara Turner and actor Vic Morrow. Her father was of Russian Jewish descent and her mother was of Austrian Jewish ancestry. She is the sister of Carrie Ann Morrow and half-sister of actress Mina Badie. Jennifer's parents divorced when she was two. Jennifer worked in her first film at the age of nine, in a nonspeaking role for the film Death of a Stranger (The Spy Who Never Was (1976)). At 14 she attended summer acting workshops given by Lee Strasberg and landed a role in the Disney TV movie The Young Runaways (1978), and received her Screen Actors Guild membership in an episode of the TV series Baretta (1975) when she was 16. Jennifer performed in several TV movies and dropped out of Pacific Palisades High School six weeks short of graduation for her major role in the film Eyes of a Stranger (1981). Her first major success came as the female lead in Fast Times at Ridgemont High (1982). Jennifer was married to writer/director Noah Baumbach from 2005 to 2013, and the two have a son.

More

Gina Rodriguez

Anya Thorensen

Named the "next big thing" and one of the "top 35 Latinos under 35," by The Hollywood Reporter, Gina Rodriguez's profile has been rising steadily since her breakout performance as the titular character in FILLY BROWN during the Sundance Film Festival in 2012. Gina Rodriguez was born in Chicago, Illinois, to Puerto Rican parents Magali and Genaro Rodriguez, a boxing referee. She started performing at age seven with the salsa dance company Fantasia Juvenil. She went on to work with other companies including Los Soneros Del Swing, performing at several Salsa Congress' in Chicago, California, New York and Puerto Rico. At sixteen, Gina was one of thirteen teens to be accepted into Columbia University NY- Theatrical Collaboration taught by Richard Niles. She wrote, directed and performed original work with twelve other kids from around the world. She fell in love with New York and NYU called her name-she was accepted into the Tisch School of the Arts, and the calling was clear, theatre was it. Gina had four years of intense theatre training at both the Atlantic Theatre Company and Experimental Theatre Wing, working with David Mamet and William H. Macy, the brilliant guidance of Rosemary Quinn and other wonderful professors. Directly after graduation, Gina booked her first lead role in the feature film Tiny Dancer. After, Gina originated the role of Frida Kahlo in the world premiere of "Casa Blue: The Last Moments in the Life of Frida Kahlo," at the American Stage Theatre. She continued to work in NY with multiple theatres and her work in film and TV steadily grew, including shows "Jonny Zero," "Army Wives," and "Law and Order," in addition to several short and indie films. One in particular, Osvaldos, was accepted into festivals including ABFF, NY HBO Latino Film Fest, Chicago International Film Fest, Urbanworld. They named Gina winner of the "Best Actor" award at the First Run Film Festival in NY and the film aired on HBO in 2010 and was named one of the "Five Best Shorts." After the years of success in NY, Gina booked a lead role in a feature film Go for It (Lionsgate) in which she received a 2011 Imagen Awards nomination. After this, Gina booked her first co-star TV role on CBS' "Eleventh Hour." She went on to book series regular roles on web series "Eden's Court" and "No Names;" her first studio film Our Family Wedding with America Ferrera; and a lead in film Superchicas. Since then she has also guest starred on the TV shows: "The Mentalist," "Happy Endings" and "Ten Things I Hate About You." Next up came one of Gina's most exciting roles, to date, Filly Brown. Originally, this role had been written as a spoken word artist, an area that Gina had experience, but upon meeting the directors and producers, they informed her that they were changing the part to a rapper. After an outstanding audition, in which Gina provided an impromptu rap performance, she secured the role. Gina collaborated with music producers, E Dub and Khoolaid from Silent Giant, to come up with over five original songs for the film. Filly Brown is set to hit theatres nationally in April 2013. Up next, Gina stars as the lead in the indie dark comedy Sleeping with Fishes, written and directed by Nicole Gomez Fisher. The film focuses on Alexis Rodriguez Fish, who returns home to her family after the death of her cheating husband. Anna Ortiz will play her sister. Gina remains in the midst of an ABC studios holding deal, and will be seen in a supporting role in Snap, a reunion with her FILLY BROWN director Youssef Delara. Her indie film California Winter with Ruttina Wesley remains in the pipeline as well. Gina is a supporter of Inspira, an organization that works to spotlight Latino leaders who shape their communities. She also works with the National Hispanic Foundation for the Arts and the Boyle Heights Learning Collaborative, and won an Imagen award winner for "Best Actress in a Feature Film: Filly Brown". As of 2014, Gina stars in the CW television series Jane the Virgin (2014), for which she was nominated for a Golden Globe (Best Actress in a Television Series - Comedy). She lives in Los Angeles, CA.

More

Sonoya Mizuno

Humanoid & Katie (Med Student)

Sonoya Mizuno was born on July 1, 1986 in Tokyo, Japan. She is an actress, known for Ex Machina (2014), La La Land (2016) and Maniac (2018).

More