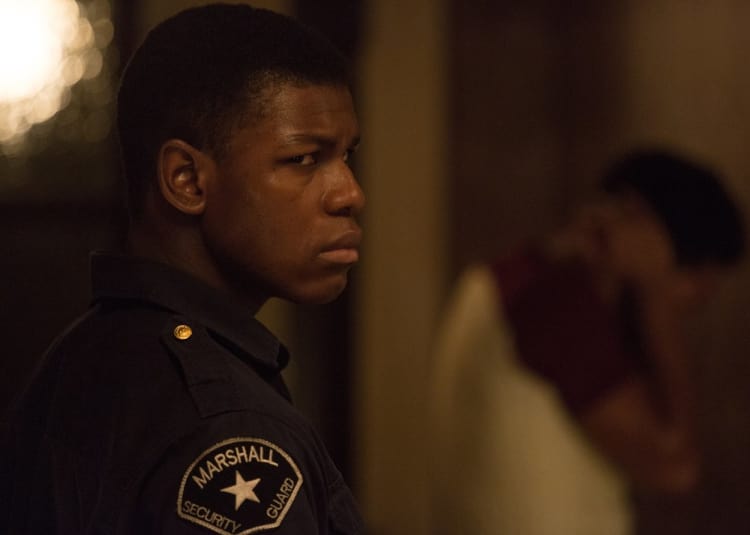 AMC Scene: 'Detroit' – The True Story
Kathryn Bigelow's new movie tackles a racially charged tragedy that occurred during the Detroit riots. What happened at the Algiers Motel Incident?
Cast & Crew
Anthony Mackie

Greene

Anthony Mackie is an American actor. He was born in New Orleans, Louisiana, to Martha (Gordon) and Willie Mackie, Sr., who owned a business, Mackie Roofing. Anthony has been featured in feature films, television series and Broadway and Off-Broadway plays, including Ma Rainey's Black Bottom, Drowning Crow, McReele, A Soldier's Play, and Talk, by Carl Hancock Rux, for which he won an Obie Award in 2002. In 2002, he was featured in Eminem's debut film, 8 Mile, playing Papa Doc, a member of Leaders of the Free World. He was nominated for Best Supporting Actor at the 2009 Independent Spirit Awards for his role in _The Hurt Locker (2009)_(QV). This is Mackie's second ISA nomination, the first coming for his work in _Brother to Brother (2003)_, where he was nominated for Best Actor. Also in 2009, Mackie portrayed rapper Tupac Shakur in the film Notorious (2009). He appears in the Matt Damon film The Adjustment Bureau (2011) where he plays Harry Mitchell, a sympathetic member of a shadowy supernatural group that controls human destiny.

View Full Bio

John Boyega

Dismukes

John Boyega is a British actor, known for playing Finn in Star Wars: The Force Awakens (2015). Boyega rose to prominence in his native United Kingdom for his role of Moses in the 2011 sci-fi comedy film Attack the Block (2011), before attaining international recognition for his work as Finn in the seventh film of the Star Wars series. Other credits include historical fiction drama film Half of a Yellow Sun (2013), four episodes of the television series 24: Live Another Day (2014), and the drama films Imperial Dreams (2014) and The Circle (2017).

View Full Bio

John Krasinski

Attorney Auerbach

Tall, handsome American film and television star John Krasinski is probably best known for his role as sardonic nice guy "Jim Halpert" on NBC's popular TV series, The Office (2005), for which he won a 2007 and 2008 Screen Actors Guild Award for outstanding performance by an ensemble in a comedy series. Born John Burke Krasinski on October 20, 1979, in Newton, Massachusetts, USA, he is the youngest of three brothers. His mother, Mary Claire (Doyle), is a nurse, and his father, Ronald Krasinski, is an internist. His father is of Polish descent and his mother is of Irish ancestry. His first stage experience was starring in a satirical high school play, written and cast by B.J. Novak. Also good at sports, he played on the same Little League baseball team as B.J. Novak, now a writer and co-star on The Office (2005). After graduating from Newton South High School in 1997, Krasinski planned to be an English major and deferred his first semester of college to teach English in Costa Rica. He attended Brown University, graduating in 2001, as a playwright with honors, then studied at the Eugene O'Neill National Theatre Institute in Waterford, Connecticut. During the summer of 2000, he worked as a script intern on Late Night with Conan O'Brien (1993). Krasinski made his big screen debut in 2002, then played several small roles like "Ben" in Kinsey (2004), and "Bob Flynn" in Duane Hopwood (2005). He appeared as "Corporal Harrigan" in Jarhead (2005), by director Sam Mendes, then played a supporting role as "Ben" in The Holiday (2006), a romantic comedy by director Nancy Meyers. He is billed as the voice of "Lancelot" in Shrek the Third (2007). Krasinski co-starred opposite Robin Williams and Mandy Moore in the romantic comedy License to Wed (2007), as well as with George Clooney and Renée Zellweger in the football screwball comedy, Leatherheads (2008). He is also director and writer of Brief Interviews with Hideous Men (2009), a big screen adaptation of the eponymous collection of short stories by David Foster Wallace. Krasinski was featured in People Magazine's Sexiest Men Alive issue of 2006. He claims Los Angeles as his current home but travels to New York City and his hometown of Newton, MA, frequently.

View Full Bio

WILL POULTER

Krauss

Will Poulter is an English actor, recognized for his performances as Lee Carter in Son of Rambow (2007), Eustace Scrubb in The Chronicles of Narnia: The Voyage of the Dawn Treader (2010), and Kenny Rossmore in We're the Millers (2013). Will was born in Hammersmith, London, the son of Caroline (Barrah), a nurse, and Neil Poulter, a professor of cardiology. His mother was raised in an Anglo family in Kenya, where her own father was a prominent game warden at the Maasai Mara wildlife sanctuary. Poulter was educated at The Harrodian School, where he participated in drama. He said in an interview that his drama teacher (Laura Lawson) encouraged his audition for the Hammer and Tongs film, Son of Rambow (2007), by knocking on his English class window and mouthing "auditions" while pointing at a flier. He was later cast as the spiky-haired delinquent "Lee Carter". Laura Lawson was also responsible for the E4 comedy sketch show, School of Comedy (2008), in which Poulter appears portraying various roles, such as "Mr. Mills" and a South African security guard. Beginning as an after-school club, School of Comedy (2008) involves children parodying the world of adults. The show was taken to The Edinburgh Festival Fringe and, in 2009, it was adapted into a 6-part television series for E4. The show has, so far, run for two seasons. In 2008, Poulter was cast as "Eustace Clarence Scrubb" in the third film of the "Narnia" franchise, The Chronicles of Narnia: The Voyage of the Dawn Treader (2010). "Dawn Treader" was filmed in Queensland, Australia. During his almost six-month stay in Australia, Poulter was accompanied by his mother and younger sister. His father was not able to stay the entire time because of work, and his older siblings were able to stay for about two weeks, until they had to return to England. Poulter noted that, though it was hard to be separated from his family, they were able to keep in touch through phone calls and emails. More recently, Poulter appeared in the British independent film Wild Bill (2011), directed by Dexter Fletcher, and played Kenny Rossmore, his first American film character, in the comedic We're the Millers (2013), a major box office hit in the United States. His upcoming roles include The Maze Runner (2014), opposite Dylan O'Brien, and the lead in iBoy (2017).

View Full Bio
Cast & Crew photos provided by TMDb.
Justice League

1 hr 59 minPG13Released Nov 17

Get Tickets

Daddy's Home 2

1 hr 40 minPG13Released Nov 10

Get Tickets

A Bad Moms Christmas

1 hr 44 minRReleased Nov 1

Get Tickets

Three Billboards Outside Ebbing Missouri

1 hr 55 minRReleased Nov 10

Get Tickets

Not finding what you're looking for?

Murder On The Orient Express

1 hr 55 minPG13Released Nov 10

Get Tickets