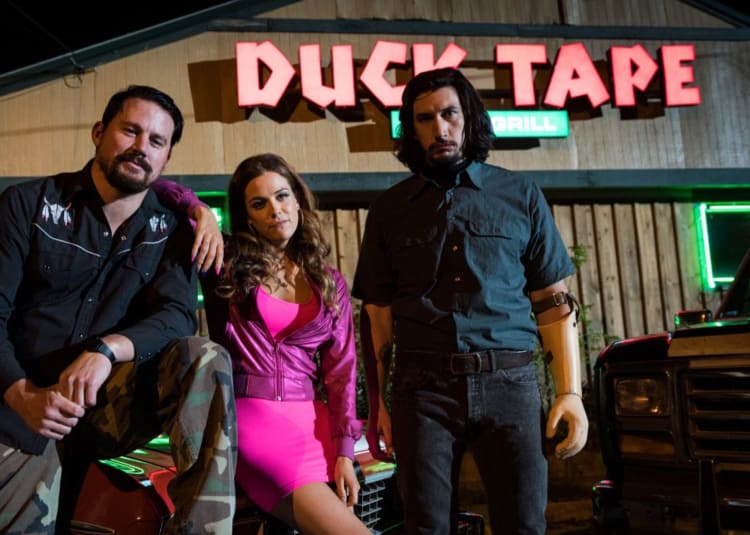 Soderbergh's New Hillbilly Heist
Director Steven Soderbergh is back with his upcoming hillbilly heist movie, Logan Lucky, starring Channing Tatum and Adam Driver.
5 Reasons 'Logan Lucky' Is A Hit
From it's stellar cast to outstanding director, Logan Lucky already seems destined to be one of the best films of the year.
Cast & Crew
Channing Tatum

Actor

Channing Tatum was born in a small town, Cullman, Alabama, 50 miles north of Birmingham. He is the son of Kay (Faust), an airline worker, and Glenn Matthew Tatum, who worked in construction. Growing up, he was full of energy and somewhat troublesome, so his parents decided to enroll him in different sports such as track and field, baseball, soccer, and football to keep him out of trouble. In the ninth grade he was sent to Catholic school. It was there that he discovered his passion for football and his hopes became centered on earning an athletic college scholarship. Channing's goal was finally met, and in his senior year in high school, he was recruited and earned a full athletic college scholarship to a school in West Virginia. Tatum is also skilled in Kung Fu and in Gor-Chor Kung Fu, a form of martial arts, in which he has earned belts. Channing later left college and, in the meantime, worked as a construction worker, a stripper, a mortgage broker and salesman. He has modeled for Abercrombie & Fitch, Nautica, Gap, Aeropostale, Emporio Armani, and has been featured in television commercials for American Eagle, Pepsi, and some very popular Mountain Dew commercials. Channing can be seen on the big screen as a featured actor in Coach Carter (2005), in which he plays a high school basketball player. He was also in the very popular TV series CSI: Miami (2002) where he played the role of Bob Davenport.

View Full Bio

Adam Driver

Actor

Adam Douglas Driver was born in San Diego, California. His mother, Nancy (Needham) Wright, is a paralegal from Mishawaka, Indiana, and his father, Joe Douglas Driver, who has deep roots in the American South, is from Little Rock, Arkansas. His stepfather is a Baptist minister. His ancestry includes English, as well as Dutch, German, Irish, and Scottish. Driver was raised in Mishawaka after his parents' divorce, attending Mishawaka High School, where he appeared in plays. After 9/11, he enlisted in the Marines, serving for more than two years before being medically discharged after he suffered an injury, which prevented him from being deployed. Driver attended the University of Indianapolis (for a year) and then transferred to study drama at Juilliard in New York, graduating in 2009. He began acting in plays, appearing on Broadway, before being cast in Lena Dunham's series Girls (2012), as her character's love interest, Adam Sackler. The role gained him attention, and he subsequently began a robust film career, appearing in small roles in J. Edgar (2011) and Lincoln (2012), supporting roles in Frances Ha (2012) and Inside Llewyn Davis (2013), and graduating to major parts in the comedy-drama This Is Where I Leave You (2014) and the upcoming Star Wars: The Force Awakens (2015) and Martin Scorsese's Silence (2016), the latter film opposite Andrew Garfield.

View Full Bio

Daniel Craig

Actor

One of the British theatre's most famous faces, Daniel Craig, who waited tables as a struggling teenage actor with the National Youth Theatre, went on to star as James Bond in Casino Royale (2006), Quantum of Solace (2008), Skyfall (2012) and Spectre (2015). He was born Daniel Wroughton Craig on March 2, 1968, at 41 Liverpool Road, Chester, Cheshire, England. His father, Timothy John Wroughton Craig, was a merchant seaman turned steel erector, and then became landlord of the "Ring O' Bells" pub in Frodsham, Cheshire. His mother, Carol Olivia (Williams), was an art teacher. Craig is of English, as well as Welsh, Scottish, and Irish, ancestry. His parents split up in 1972, and young Daniel was raised with his older sister, Lea, in Liverpool, then in Hoylake, Wirral, in the home of his mother. His interest in acting was encouraged by visits to the Liverpool Everyman Theatre arranged by his mother. From the age of 6, Craig started acting in school plays, making his debut in the Frodsham Primary School production of "Oliver!", and his mother was the driving force behind his artistic aspirations. The first Bond movie he ever saw at the cinema was Roger Moore's Live and Let Die (1973); young Daniel Craig saw it with his father, so it took a special place in his heart. He was also a good athlete and was a rugby player at Hoylake Rugby Club. At age 14, Craig played roles in "Oliver", "Romeo and Juliet" and "Cinderella" at Hilbre High School in West Kirby, Wirral. He left Hilbre High School at age 16 to audition at the National Youth Theatre's (NYT) troupe on their tour in Manchester in 1984. He was accepted and moved down to London. There, his mother and father watched his stage debut as Agamemnon in Shakespeare's "Troilus and Cressida". As a struggling actor with the NYT, he was toiling in restaurant kitchens and as a waiter. Craig performed with NYT on tours to Valencia, Spain, and to Moscow, Russia, under the leadership of director Edward Wilson. He failed at repeated auditions at the Guildhall, but eventually his persistence paid off, and in 1988, he entered the Guildhall School of Music and Drama at the Barbican. There, he studied alongside Ewan McGregor and Alistair McGowan, then later Damian Lewis and Joseph Fiennes, among others. He graduated in 1991, after a three-year course under the tutelage of Colin McCormack, the actor from the Royal Shakespeare Company. From 1992-1994, he was married to Scottish actress Fiona Loudon, their daughter, named Ella Craig (born 1992). Craig made his film debut in The Power of One (1992). His film career continued on television, notably the BBC2 serial Our Friends in the North (1996). He shot to international fame after playing supporting roles in Lara Croft: Tomb Raider (2001) and Road to Perdition (2002). He was nominated for his performances in the leading role in Layer Cake (2004), and received other awards and nominations. Craig was named as the sixth actor to portray James Bond, in October 2005, weeks after he finished his work in Munich (2005), where he co-starred with Eric Bana under the directorship of Steven Spielberg. Craig's reserved demeanor and his avoidance of the showbiz-party-red-carpet milieu makes him a cool 007. He is the first blond actor to play Bond, and also the first to be born after the start of the film series, and also the first to be born after the death of author Ian Fleming in 1964. Four of the past Bond actors: Sean Connery, Roger Moore, Timothy Dalton and Pierce Brosnan have indicated that Craig is a good choice as Bond.

View Full Bio

Seth MacFarlane

Actor

Seth Woodbury MacFarlane was born in the small New England town of Kent, Connecticut, where he lived with his mother, Ann Perry (Sager), an admissions office worker, his father, Ronald Milton MacFarlane, a prep school teacher, and his sister, Rachael MacFarlane, now a voice actress and singer. He is of English, Scottish, and Irish ancestry, and descends from Mayflower passengers. Seth attended and studied animation at the Rhode Island School of Design and, after he graduated, he was hired by Hanna-Barbera Productions (Now called Cartoon Network Studios) working as an animator and writer on the TV series Johnny Bravo (1997) and Cow and Chicken (1995). He also worked for Walt Disney Animation as a writer on the TV series Jungle Cubs (1996). He created The Life of Larry (1995) which was originally supposed to be used as an in-between on MADtv (1995). Unfortunately the deal fell through but, a few months later, executives at FOX called him into their offices and gave him $50,000 to create a pilot for what would eventually become Family Guy (1998). Since Family Guy's debut, MacFarlane has gone on to create two other television shows-American Dad! (2005) and The Cleveland Show (2009). MacFarlane began to establish himself as an actor, voice actor, animator, writer, producer, director, comedian, and singer throughout his career. MacFarlane has also written, directed and starred in Ted (2012) and its sequel Ted 2 (2015), and A Million Ways to Die in the West (2014). He voiced the mouse, Mike, in the animated musical Sing (2016).

View Full Bio

Riley Keough

Actor

Actress and model Danielle Riley Keough was born in Santa Monica, California, to musicians Lisa Marie Presley and Danny Keough. She is the eldest grandchild of legendary singer Elvis Presley and actress Priscilla Presley. Keough started modeling as a teenager. Her first appearance was on a runway for Dolce & Gabbana. She has also appeared on the cover of Vogue with her mother and grandmother. Keough's acting debut came in 2010 when she won the role of Marie Currie in The Runaways (2010). Other roles followed in The Good Doctor (2011), Jack & Diane (2012) and Steven Soderbergh's Magic Mike (2012). She has been married to Ben Smith-Petersen since February 4, 2015.

View Full Bio

Hilary Swank

Actor

Hilary was born in Lincoln, Nebraska, to Judith Kay (Clough), a secretary, and Stephen Michael Swank, who served in the National Guard and was also a traveling salesman. Her maternal grandmother, Frances Martha Dominguez, was of Mexican descent, and her other roots include German, English, and Scottish. During her early childhood, her family moved to Spokane, Washington, and when she was six, to Bellingham, Washington. Hilary was discovered as a child by producer Suzy Sachs, who coached her in acting. When she was nine years old, she starred in her first play as "Mowgli" in "The Jungle Book". She began to appear regularly in local theater and school plays. She went to school in Bellingham, where she lived with her family, until she was 16. She competed in the Junior Olympics and Washington State championships in swimming; she ranked 5th in the state in all-around gymnastics (which would come in handy for starring in The Next Karate Kid (1994) years later). In 1990, Hilary and her mother moved to Los Angeles, where she enrolled in South Pasadena High School, and started acting professionally. She appeared in Buffy the Vampire Slayer (1992) but The Next Karate Kid (1994), where she got the part competing against hundreds of other actresses, was her breakout role. Ever since then, she has been much in demand and has worked non-stop in movies. She won the Best Actress Oscar for playing "Brandon Teena" in Boys Don't Cry (1999). In addition to the Oscar, Hilary won the Golden Globe Award for "Best Actress in a Drama" and "Best Actress" prizes from The New York Film Critics, The Los Angeles Film Critics, The Chicago Film Critics and The Broadcast Film Critics Association. She also won the "Breakthrough Performance" prize from The National Board of Review. Hilary then appeared in supporting roles opposite Cate Blanchett and Keanu Reeves in Sam Raimi's The Gift (2000) and opposite Al Pacino and Robin Williams in Christopher Nolan's Insomnia (2002). Hilary then starred as "Alice Paul" in HBO's Iron Jawed Angels (2004), which told the story of the women's suffragist movement and she was honored with both SAG and Golden Globe nominations for her performance in this film. In 2004, Hilary starred opposite Clint Eastwood and Morgan Freeman as the title character in Eastwood's Million Dollar Baby (2004); the story of a young woman's quest to realize her dream of becoming a professional boxer. For this performance, she was honored with her second Academy Award for "Best Performance by an Actress in a Leading Role" and has garnered "Best Actress" prizes from the National Society of Film Critics, the Screen Actors Guild, The Broadcast Film Critics, and a Golden Globe for "Best Lead Actress in a Drama". Hilary Swank is the third youngest woman in history to win two Academy Awards for "Best Performance by an Actress in a Leading Role". She subsequently had a supporting role opposite Scarlett Johansson and Josh Hartnett in Brian De Palma's The Black Dahlia (2006), starred in Freedom Writers (2007), the true story of Long Beach schoolteacher, Erin Gruwell, The Reaping (2007) for Warner Brothers, and reunited with her Freedom Writers (2007) writer/director, Richard LaGravenese, starring in the film adaptation of Cecelia Ahern's novel, P.S. I Love You (2007). An aficionado for anything that involves the outdoors, she enjoys: sky diving, river rafting and skiing.

View Full Bio
Cast & Crew photos provided by TMDb.
Kingsman: The Golden Circle

2 hr 21 minRReleased Sep 22

Get Tickets

The Lego Ninjago Movie

1 hr 41 minPGReleased Sep 22

Get Tickets

American Assassin

1 hr 51 minRReleased Sep 15

Get Tickets

The Hitman's Bodyguard

1 hr 58 minRReleased Aug 18

Get Tickets

Spider-Man: Homecoming

2 hr 13 minPG13Released Jul 7

Get Tickets

Not finding what you're looking for?