He's done keeping his story straight.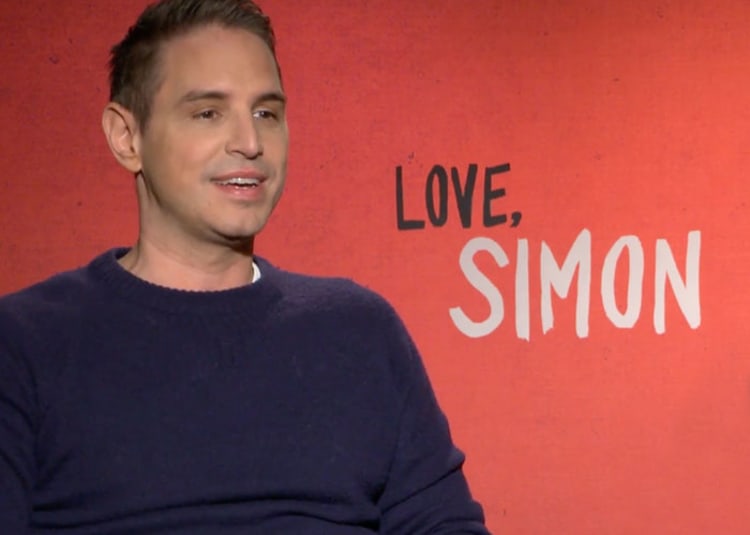 AMC Exclusive
Fall in love with LOVE, SIMON this weekend at AMC. We joined the stars and director Greg Berlanti to discuss the new teen rom-com. Watch our exclusive interviews and get your tickets today.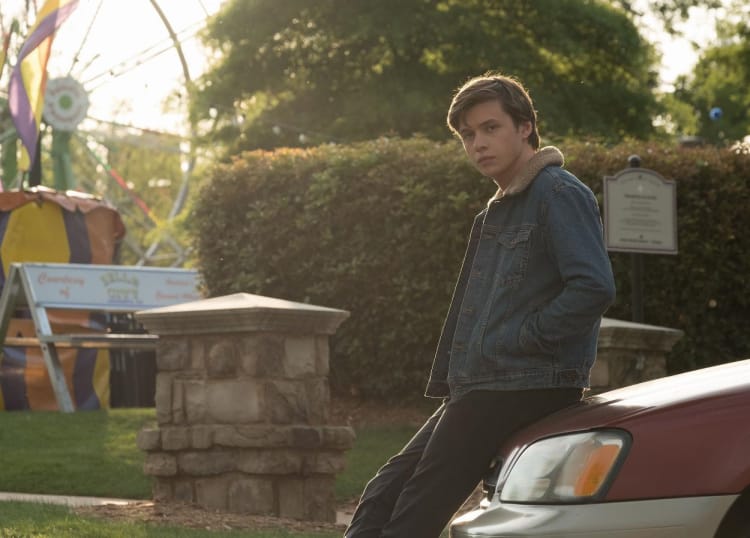 LOVE, SIMON: A Modern Love Story
Director Greg Berlanti's LOVE, SIMON is a refreshing departure from the average teen rom-com about a star-crossed straight couple. Learn more about the film and watch our exclusive cast interviews.
Cast & Crew
Jennifer Garner

Emily

Jennifer Garner, who catapulted into stardom with her lead role on the television series Alias (2001), has come a long way from her birthplace of Houston, Texas. Raised in Charleston, West Virginia by her mother, Patricia Ann (née English), a retired teacher of English, and her father, William John Garner, a former chemical engineer, Jennifer is the middle sibling of three girls. She spent nine years of her adolescence studying ballet, and characterizes her years in dance as consisting of determination rather than talent, being driven mostly by a love of the stage. Jennifer took this determination with her when she enrolled at Denison University as a chemistry major, a decision that was later changed to a drama major when she found that her passions for the stage were stronger than her love of science. New York attracted the young actress after college where she worked as a hostess while pursuing a career in film and television. Her most recent move has been to Los Angeles, a decision that led to a role on the television series Felicity (1998), where she met her future husband Scott Foley. The couple divorced in 2004. Jennifer starred in the television series Alias (2001) as Agent Sydney Bristow, who works for the Central Intelligence Agency. For her work, Garner has received four consecutive Emmy nominations for Outstanding Lead Actress in a Drama Series. She has also received four Golden Globe nominations and won once, as well as received two Screen Actors Guild Award nominations, and won once. She has appeared in numerous other television production as well as such films as Elektra (2005), 13 Going on 30 (2004), Daredevil (2003), Pearl Harbor (2001) and Dude, Where's My Car? (2000). Aside from filming Alias (2001), Jennifer enjoys cooking, gardening, hiking, and inspired by her character on the series, kickboxing.

View Full Bio

Josh Duhamel

Jack

Joshua David Duhamel was born in Minot, North Dakota. His mother, Bonny L., is a retired high school teacher, and the Executive Director of Minot's Downtown Business & Profession Association, and his father, Larry Duhamel, is an advertisement salesman. Josh has three younger sisters: Ashlee, McKenzee and Kassidy. His ancestry is German, and smaller amounts of Norwegian, French-Canadian, English, Irish, and Austrian (his last name is very common among Francophones in the world). Before his acting career, the football player studied biology and earned his Bachelor's degree at Minot State University with the intention of pursuing dentistry. At 26 years old, Josh worked in construction, and it was by chance that he got into showbusiness. Modeling eventually gave way to acting as Josh was asked to audition for the title character in The Picture of Dorian Gray (2005), from the novel by Oscar Wilde. Duhamel can be seen in Vince Gilligan and David Shore's CBS series, "Battle Creek." He is in production on four films: "Lost In The Sun," "Bravetown," "The Wrong Stuff," and "Beyond Deceit." Duhamel also starred alongside Hillary Swank and Emmy Rossum in the George C. Wolfe directed drama, "You're Not You." Duhamel also starred opposite Julianne Hough in Lasse Hallstrom's "Safe Haven," a drama based on the best-selling novel by Nicholas Sparks and the thriller "Scenic Route," which tells the story of two friends stranded in the desert. In addition, Duhamel was seen in the star-studded, ensemble comedy "Movie 43" alongside Emma Stone, Hugh Jackman, Halle Berry, Kate Winslet, Richard Gere among many others. Co-directed by Peter Farrelly and Patrik Forsberg, the film features various intertwining, raunchy tales. Other projects include Garry Marshall's "New Year's Eve" alongside Michelle Pfeiffer, Robert DeNiro, Halle Berry, and Hilary Swank and Michael Bay's "Transformers: Dark of the Moon," where he reprised his role of Captain William Lennox for the third installment of the franchise. Additional film credits include the romantic comedy "Life as We Know It" alongside Katherine Heigl, "Ramona and Beezus," "When in Rome" and "The Romantics." On television, Josh is best known for his role as Danny McCoy on the NBC crime drama "Las Vegas." Additionally, he lent his voice to Nickelodeon's Emmy Award-winning animated series "Fanboy & Chum Chum" and starred in several seasons of the long-running ABC soap opera "All My Children," in which he received three consecutive Daytime Emmy nominations. On January 10 2009, Josh married Fergie Duhamel, better known as Fergie from The Black Eyed Peas. They have one child together, Axl Jack Duhamel. They reside in Los Angeles.

View Full Bio

Nick Robinson

Simon

Nick Robinson made his film debut starring as Joe in CBS Films' critically-acclaimed adventure film The Kings of Summer (2013), followed by shooting a lead role in the Universal action adventure sequel Jurassic World (2015), where he starred alongside Chris Pratt, Judy Greer, Vincent D'Onofrio and Bryce Dallas Howard. In 2015, Nick had the lead role of a drug-addicted teenager in Rob Reiner's drama Being Charlie (2015), and in 2016, played Ben Parish in Sony Pictures' adaptation of Rick Yancey's bestselling science fiction novel The 5th Wave (2016), helmed by J Blakeson and co-starring Chloë Grace Moretz. Also among his credits is HBO drama Boardwalk Empire (2010). Continuing his streak of novels-to-films, Nick starred with Amandla Stenberg in the 2017 romance Everything, Everything (2017), and played the title role of a gay teenager in the well-received 2018 dramedy Love, Simon (2018). Nick was born in Seattle, Washington, to Denise Podnar and Michael Robinson.

View Full Bio

Logan Miller

Martin

Logan Miller was born on February 18, 1992 in Colorado, USA. He is an actor and editor, known for Scouts Guide to the Zombie Apocalypse (2015), Ghosts of Girlfriends Past (2009) and Before I Fall (2017).

View Full Bio

ALEXANDRA SHIPP

Abby

Alexandra Shipp is best known for her role as the iconic mohawked super heroine 'Storm' in Twentieth Century Fox's X-Men: Apocalypse (2016), directed by Bryan Singer. Shipp plays a younger version of 'Storm' (originally played by Halle Berry). Determined to make the mutant character her own, she delivers a new spin on 'Storm,' which many media outlets boasted her as the "breakout" star of the film. Shipp will be reprising the role of 'Storm' in the next feature X-MEN: DARK PHOENIX. Shipp can next be seen in Fox 2000's coming-of-age story Love, Simon (2018)., based on the popular Young Adult book "Simon VS the Homo Sapien Agenda." She also completed work on Simon Kaijser's psychological thriller SPINNING MAN, based on the novel by George Harrar. Alexandra appeared in Universal Pictures' Oscar nominated feature STRAIGHT OUTTA COMPTON, which has become the highest grossing music biopic of all-time. Shipp's other film credits include the two-hander TRAGEDY GIRLS and the title role of 'Aaliyah' in the Lifetime biopic, "Aaliyah: Princess of R&B" which she demonstrated and was praised for her singing and dancing talents. The same year, she was the lead in "Drumline 2: A New Beat," the VH1's sequel to 2002's DRUMLINE. Originally from Phoenix, Arizona, Shipp moved to Los Angeles to pursue an acting career at 17. She is known for her role as 'KT Rush,' on Nickelodeon teen drama-mystery series, "House of Anubis," and made her film debut in the Fox feature film, ALVIN AND THE CHIPMUNKS: THE SQUEAKQUEL, playing the role of 'Valentina.' Aside from acting, she is a songwriter, pianist, and guitar player.

View Full Bio
Cast & Crew photos provided by TMDb.
Pre-show and trailers run for approximately 20 minutes before the movie starts.2 hr 8 minPG13Released Jun 22

Get Tickets

Pre-show and trailers run for approximately 20 minutes before the movie starts.2 hr 6 minPGReleased Jun 15

Get Tickets

Pre-show and trailers run for approximately 20 minutes before the movie starts.1 hr 50 minPG13Released Jun 8

Get Tickets

Pre-show and trailers run for approximately 20 minutes before the movie starts.2 hr 6 minRReleased Jun 8

Get Tickets

Pre-show and trailers run for approximately 20 minutes before the movie starts.2 hr 15 minPG13Released May 25

Get Tickets

Pre-show and trailers run for approximately 20 minutes before the movie starts.1 hr 56 minRReleased Jun 13

Get Tickets

Pre-show and trailers run for approximately 20 minutes before the movie starts.2 hr 30 minPG13Released Apr 27

Get Tickets

Pre-show and trailers run for approximately 20 minutes before the movie starts.1 hr 36 minPG13Released Jun 1

Get Tickets

Not finding what you're looking for?

Pre-show and trailers run for approximately 20 minutes before the movie starts.2 hr RReleased May 18

Get Tickets

Pre-show and trailers run for approximately 20 minutes before the movie starts.1 hr 40 minRReleased Jun 15

Get Tickets