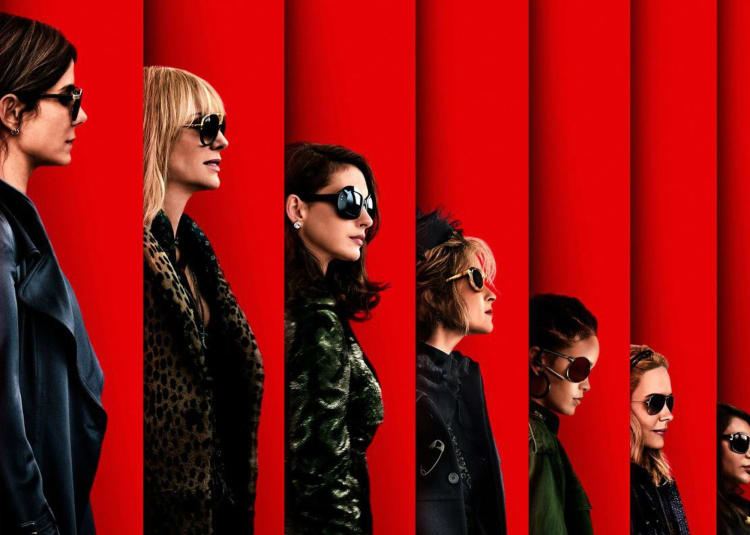 An All-Female Ensemble Done Right
The girl gang is here and set to take over where Danny Ocean & co. left off in the first trailer for 'Ocean's 8'.
Cast & Crew
Anne Hathaway

Daphne Kluger

Anne Jacqueline Hathaway was born in Brooklyn, New York, to Kate McCauley Hathaway, an actress, and Gerald T. Hathaway, a lawyer, both originally from Philadelphia. She is of mostly Irish descent, along with English, German, and French. Her first major role came in the short-lived television series Get Real (1999). She gained widespread recognition for her roles in The Princess Diaries (2001) and its 2004 sequel as a young girl who discovers she is a member of royalty, opposite Julie Andrews and Heather Matarazzo. She also had a notable role in Nicholas Nickleby (2002) opposite Charlie Hunnam and Jamie Bell, and a starring role in Ella Enchanted (2004). A former top-ranking soprano in New York, Hathaway was reportedly a front-runner for the role of "Christine" in the 2004 The Phantom of the Opera (2004). However, due to scheduling conflicts with The Princess Diaries 2: Royal Engagement (2004), she couldn't take the role, which was later given to newcomer Emmy Rossum. Hathaway soon started to move away from family-friendly films. Following The Princess Diaries 2: Royal Engagement (2004), she appeared topless in the films Havoc (2005) opposite Josh Peck and Brokeback Mountain (2005) opposite Heath Ledger and Jake Gyllenhaal. Her desire to break out of her "Princess Diaries" image parallels that of her one-time co-star, Julie Andrews, who went topless in the film S.O.B. (1981) in order to break away from the image she created from her 1960s musicals. In interviews, Hathaway said that doing family-friendly films didn't mean she was similar to their characters or mean she objected to appearing nude in other films.

View Full Bio

Cate Blanchett

Lou

Cate Blanchett was born on May 14, 1969 in Melbourne, Victoria, Australia, to June (Gamble), an Australian teacher and property developer, and Robert DeWitt Blanchett, Jr., an American advertising executive, originally from Texas. She has an older brother and a younger sister. When she was ten years old, her 40-year-old father died of a sudden heart attack. Her mother never remarried, and her grandmother moved in to help her mother. Cate graduated from Australia's National Institute of Dramatic Art in 1992 and, in a little over a year, had won both critical and popular acclaim. On graduating from NIDA, she joined the Sydney Theatre Company's production of Caryl Churchill's "Top Girls", then played Felice Bauer, the bride, in Tim Daly's "Kafka Dances", winning the 1993 Newcomer Award from the Sydney Theatre Critics Circle for her performance. From there, Blanchett moved to the role of Carol in David Mamet's searing polemic "Oleanna", also for the Sydney Theatre Company, and won the Rosemont Best Actress Award, her second award that year. She then co-starred in the ABC Television's prime time drama Heartland (1994), again winning critical acclaim. In 1995, she was nominated for Best Female Performance for her role as Ophelia in the Belvoir Street Theatre Company's production of "Hamlet". Other theatre credits include Helen in the Sydney Theatre Company's "Sweet Phoebe", Miranda in "The Tempest" and Rose in "The Blind Giant is Dancing", both for the Belvoir Street Theatre Company. In other television roles, Blanchett starred as Bianca in ABC's Bordertown (1995), as Janie Morris in G.P. (1989) and in ABC's popular series Police Rescue (1994). She made her feature film debut in Paradise Road (1997). She also married writer Andrew Upton in 1997. She had met him a year earlier on a movie set, and they didn't like each other at first. He thought she was aloof, and she thought he was arrogant, but then they connected over a poker game at a party, and she went home with him that night. Three weeks later he proposed marriage and they quickly married before she went off to England to play her breakthrough role in films: the title character in Elizabeth (1998) for which she won numerous awards for her performance, including the Golden Globe for Best Actress in a Drama. Cate was also nominated for an Academy Award for the role but lost out to Gwyneth Paltrow. 2001 was a particularly busy year, with starring roles in Bandits (2001), The Shipping News (2001), Charlotte Gray (2001) and playing Elf Queen Galadriel in the "Lord Of The Rings" trilogy. She also gave birth to her first child, son Dashiell, in 2001. In 2004, she gave birth to her second son Roman. Also, in 2004, she played actress Katharine Hepburn in Martin Scorsese's film "Aviator" (2004), for which she received an Academy Award as Best Supporting Actress. Two years later, she received an Academy Award nomination as Best Supporting Actress for playing a teacher having an affair with an underage student in "Notes on a Scandal" (2006). In 2007, she returned to the role that made her a star in "Elizabeth: The Golden Age" (2007). It earned her an Oscar nomination as Best Actress. She was nominated for another Oscar that same year as Best Supporting Actress for playing Bob Dylan in "I'm Not There" (2007). In 2008, she gave birth to her third child, son Ignatius. She and her husband became artistic directors of the Sydney Theatre Company, choosing to spend more time in Australia raising their three sons. She also purchased a multi-million dollar home in Sydney, Australia and named it Bulwarra and made extensive renovations to it. Because of her life in Australia, her film work became sporadic, until Woody Allen cast her in the title role in Blue Jasmine (2013), which won her the Academy Award as Best Actress. She ended her job as artistic director of the Sydney Theatre Company, while her husband continued there for two more years before he too resigned. In 2015, she adopted her daughter Edith in her father's homeland of America. That same year, she and her husband sold their multi-million dollar home in Australia at a profit and moved to America. Reasons varied from her wanting to work more in America to wanting to familiarize herself with her late father's American heritage. She played the title role of Carol (2015), a 1950s American housewife in a lesbian affair with a younger woman, for which she received an Oscar nomination as Best Actress. While most actresses might slow down in their forties, Blanchett did the opposite by stretching her boundaries even further, such as when she played 13 different characters in Manifesto (2015) and then making her Broadway debut in 2017 in "The Present", which is her husband's adaptation of Chekhov's play "Platonov" for which she earned a Tony nomination as Best Actress in a Play. Also in 2017, she was selected for the highest honor in her birth country: the Companion of the Order of Australia (AC).

View Full Bio

Helena Bonham Carter

Rose

Helena Bonham Carter is an actress of great versatility, one of the UK's finest and most successful. Bonham Carter was born May 26, 1966 in Golders Green, London, England, the youngest of three children of Elena (née Propper de Callejón), a psychotherapist, and Raymond Bonham Carter, a merchant banker. Through her father, she is the great-granddaughter of former Prime Minister Herbert H. Asquith, and her blue-blooded family tree also contains Barons and Baronesses, diplomats, and a director, Bonham Carter's great-uncle Anthony Asquith, who made Pygmalion (1938) and The Importance of Being Earnest (1952), among others. Cousin Crispin Bonham-Carter is also an actor. Her maternal grandfather, Eduardo Propper de Callejón, was a Spanish diplomat who was awarded the honorific Righteous Among the Nations, by Israel, for helping save Jews during World War II (Eduardo's own father was a Czech Jew). Helena's maternal grandmother, Hélène Fould-Springer, was from an upper-class Jewish family from France, Austria, and Germany, and later converted to her husband's Catholic faith. Bonham Carter experiencing family dramas during her childhood, including her father's stroke - which left him wheelchair-bound. She attended South Hampstead High School and Westminster School in London, and subsequently devoted herself to an acting career. That trajectory actually began in 1979 when, at age thirteen, she entered a national poetry writing competition and used her second place winnings to place her photo in the casting directory "Spotlight." She soon had her first agent and her first acting job, in a commercial, at age sixteen. She then landed a role in the made-for-TV movie A Pattern of Roses (1983), which subsequently led to her casting in the Merchant Ivory films A Room with a View (1985), director James Ivory's tasteful adaptation of E.M. Forster's novel, and Lady Jane (1986), giving a strong performance as the uncrowned Queen of England. She had roles in three other productions under the Merchant-Ivory banner (director Ivory, producer Ismail Merchant, and screenwriter Ruth Prawer Jhabvala): an uncredited appearance in Maurice (1987), and large roles in Where Angels Fear to Tread (1991) and Howards End (1992). Often referred to as the "corset queen" or "English rose" because of her early work, Bonham Carter continued to surprise audiences with magnificent performances in a variety of roles from her more traditional corset-clad character in The Wings of the Dove (1997) and Shakespearian damsels to the dark and neurotic anti-heroines of Fight Club (1999). Her acclaimed performance in The Wings of the Dove (1997) earned her a Best Actress Academy Award nomination, a Golden Globe Best Actress nomination, a BAFTA Best Actress nomination, and a SAG Awards Best Actress nomination. It also won her a Best Actress Award from the National Board of Review, the Los Angeles Film Critics, the Boston Society Film Critics, the Broadcast Film Critics Association, the Texas Society of Film Critics, and the Southeastern Film Critics Association. In the late 1990s, Bonham Carter embarked on the next phase of her career, moving from capable actress to compelling star. Audiences and critics had long been enchanted by her delicate beauty, evocative of another time and place. Her late '90s and early and mid 2000s roles included Mick Jackson's Live from Baghdad (2002), alongside Michael Keaton, receiving a nomination for both an Emmy and a Golden Globe; Paul Greengrass' The Theory of Flight (1998), in which she played a victim of motor neurone disease; Trevor Nunn's Twelfth Night or What You Will (1996), in which she played Olivia; opposite Woody Allen in his Mighty Aphrodite (1995); Mort Ransen's Margaret's Museum (1995); Kenneth Branagh's Mary Shelley's Frankenstein (1994); and Franco Zeffirelli's Hamlet (1990). Other notable credits include her appearance with Steve Martin in Novocaine (2001), Tim Burton's remake of Planet of the Apes, in which she played an ape, Thaddeus O'Sullivan's The Heart of Me (2002), opposite Paul Bettany, and Big Fish (2003), her second effort with Tim Burton, in which she appeared as a witch. In between her films, Helena has managed a few television appearances, which include her portrayal of Jacqui Jackson in Magnificent 7 (2005), the tale of a mother struggling to raise seven children - three daughters and four autistic boys; as Anne Boleyn in the two parter biopic of Henry VIII starring Ray Winstone; and as Morgan Le Fey, alongside Sam Neill and Miranda Richardson, in Merlin. Earlier television appearances include Michael Mann's Miami Vice (1984) as Don Johnson's junkie fiancée, and as a stripper who wins Rik Mayall's heart in Dancing Queen (1993). Helena has also appeared on stage, in productions of Trelawney of the Wells, The Barber of Seville, House of Bernarda Alba, The Chalk Garden, and Woman in White. Bonham Carter was nominated for a Golden Globe for the fifth time for her role in partner Tim Burton's film adaptation of the Stephen Sondheim musical, Sweeney Todd: The Demon Barber of Fleet Street (2007), for which Burton and co-star Johnny Depp were also nominated. For the role, she was awarded Best Actress at the Evening Standard British Film Awards 2008. Other 2000s work includes playing Mrs Bucket in Tim Burton's massive hit Charlie and the Chocolate Factory (2005), providing the voices for the aristocratic Lady Campanula Tottington in The Curse of the Were-Rabbit (2005) and for the eponymous dead heroine in Tim Burton's spooky Corpse Bride (2005), and co-starring in Conversations with Other Women (2005) opposite Aaron Eckhart. Since their meeting while filming Planet of the Apes (2001), Bonham Carter and Tim Burton have made seven movies together. They live in adjoining residences in London, sharing a connecting hallway, and have two children: Billy Ray Burton, 4, and Nell Burton, who was born December 15, 2007. Ironically, a mutual love of Sweeney Todd was part of the initial attraction for the pair. Despite that, Bonham Carter has said in numerous interviews that her audition process for the role of Mrs. Lovett was the most grueling of her career and that, ultimately, it was Sondheim who she had to convince that she was right for the role.

View Full Bio

Sandra Bullock

Debbie Ocean

Sandra Annette Bullock was born in Arlington, a Virginia suburb of Washington, D.C. Her mother, Helga Bullock (née Helga Mathilde Meyer), was a German opera singer. Her father, John W. Bullock, was an American voice teacher, who was born in Alabama, of Irish, English, French, and German descent. Sandra grew up on the road with her parents and younger sister, chef Gesine Bullock-Prado, and spent much of her childhood in Nuremberg, Germany. She often performed in the children's chorus of whatever production her mother was in. That singing talent later came in handy for her role as an aspiring country singer in The Thing Called Love (1993). Her family moved back to the Washington area when she was adolescent. She later enrolled in East Carolina University in North Carolina, where she studied acting. Shortly afterward she moved to New York to pursue a career on the stage. This led to acting in television programs and then feature films. She gave memorable performances in Demolition Man (1993) and Wrestling Ernest Hemingway (1993), but did not achieve the stardom that seemed inevitable for her until her work in the smash hit Speed (1994). She now ranks as one of the most popular actresses in Hollywood. For her role in The Blind Side (2009) she won the Oscar, and her blockbusters The Proposal (2009), The Heat (2013) and Gravity (2013) made her a bankable star. With $56,000,000, she was listed in the Guinness Book Of World Records as the highest-paid actress in the world.

View Full Bio

Sarah Paulson

Tammy

Sarah Paulson was born on December 17, 1974 in Tampa, Florida, to Catharine Gordon (Dolcater) and Douglas Lyle Paulson II. She spent most of her early years in New York and Maine, before settling in Manhattan to attend the American Academy of Dramatic Arts and the High School for Performing Arts. Although she made her Broadway debut in "The Sisters Rosensweig" and performed in the off-Broadway "Talking Pictures", she debuted on the small screen in late 1994 in a guest shot on NBC's Law & Order (1990), then, in the following spring, landed her first TV-movie role in CBS' Friends at Last (1995) and finally became a TV series regular by fall 1995. Best known for her amazing performance in CBS' supernatural drama American Gothic (1995) as the benevolent spiritual guide to her young brother, she was also a regular on the WB series Jack & Jill (1999) as "Elisa Cronkite", the former girlfriend of David "Jill" Jillefsky (Ivan Sergei) as well as the main character in the TV series Leap of Faith (2002), "Faith Wardwell", and as "Audrey" in the TV movie Metropolis (2000). She was also part of the cast of Shaughnessy (1996), The Long Way Home (1998) (as "Leanne Bossert") and Path to War (2002) as Luci Baines Johnson, as well as making notable appearances in Touched by an Angel (1994) playing "Zoe" in Manhunt (2001), 20 October 2001, and Cracker: Mind Over Murder (1997) playing "Nina" in True Romance: Part 1 (1997), 18 September 1997. Sarah has now played in movies with such stars as Mel Gibson in the romantic comedy What Women Want (2000) (as "Annie", Gibson's secretary), Diane Keaton in the romantic drama The Other Sister (1999) (as "Heather Tate", Keaton's lesbian eldest daughter), Jamie Foxx in Held Up (1999) (as "Mary", a developmentally disabled young woman with an unfaithful boyfriend) and David Hyde Pierce in the romantic comedy Down with Love (2003) (as "Vicky Hiller", Pierce's crush). She also had two major roles in the comedy Bug (2002) and the drama, Levitation (1997), where she starred as a pregnant teenager who searches for her biological mother, with the help of a guardian angel.

View Full Bio

Mindy Kaling

Amita

Mindy Kaling was born on June 24, 1979 in Cambridge, Massachusetts, USA as Vera Mindy Chokalingam. She is an actress and producer, known for The Office (2005), Inside Out (2015) and Wreck-It Ralph (2012).

View Full Bio
Cast & Crew photos provided by TMDb.
Pre-show and trailers run for approximately 20 minutes before the movie starts.1 hr 51 minPG13Opening Mar 23

Advance Tickets

Pre-show and trailers run for approximately 20 minutes before the movie starts.1 hr 26 minPGOpening Mar 23

Advance Tickets

Pre-show and trailers run for approximately 20 minutes before the movie starts.2 hr 14 minPG13Released Feb 16

Get Tickets

Pre-show and trailers run for approximately 20 minutes before the movie starts.1 hr 58 minPG13Released Mar 16

Get Tickets

Pre-show and trailers run for approximately 20 minutes before the movie starts.1 hr 49 minPGReleased Mar 9

Get Tickets

Pre-show and trailers run for approximately 20 minutes before the movie starts.1 hr 48 minPG13Opening Mar 23

Advance Tickets

Pre-show and trailers run for approximately 20 minutes before the movie starts.1 hr 31 minPG13Opening Mar 23

Advance Tickets

Pre-show and trailers run for approximately 20 minutes before the movie starts.1 hr 33 minRReleased Feb 23

Get Tickets

Not finding what you're looking for?

Pre-show and trailers run for approximately 20 minutes before the movie starts.1 hr 50 minPG13Released Mar 16

Get Tickets

Pre-show and trailers run for approximately 20 minutes before the movie starts.1 hr 50 minPGReleased Mar 16

Get Tickets