Stand Together
In the face of an unstoppable force, you need the courage of everyone at your back. Learn the meaning of brotherhood with a group showing of ONLY THE BRAVE and the courageous true story of the Granite Mountain Hotshots.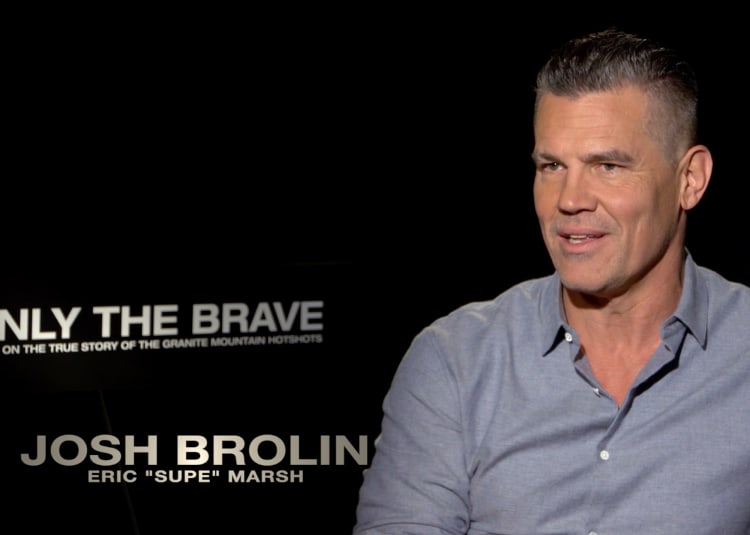 AMC Exclusive
Before ONLY THE BRAVE blazes onto the big screen, watch our exclusive interviews with the cast and two real-life Granite Mountain hotshots. We discuss sacrifices, brotherhood and more.
Cast & Crew
Josh Brolin

Eric Marsh

Rugged features and a natural charm have worked for Josh Brolin, the son of actor James Brolin. He has recently seen a massive surge in his career, finding well-known roles such as a policeman, a hunter, and the President of the United States. Brolin was born February 12, 1968 in Santa Monica, California, to Jane Cameron (Agee), a Texas-born wildlife activist, and James Brolin. Josh was initially against the lifestyle of the entertainment business, in light of his parents' divorce, and both of them being actors. However, during junior year in high school, he took an acting class to see what it was like and played Stanley in "A Streetcar Named Desire" and became hooked. His first major screen role was as the older brother in the film The Goonies (1985), based on a story by Steven Spielberg. He then immediately moved on to work on television, taking roles on such series as Alien Private Eye (1988) and The Young Riders (1989). "Private Eye" was a chance for Brolin to play a detective. "The Young Riders" was set just before the Civil War, and was co-directed by Brolin's father, James Brolin. After The Young Riders (1989), Brolin moved back to the big screen, with mediocre success. He played a supporting role in The Road Killers (1994), but the film was not a success. He followed up with the crime film Gang in Blue (1996), the romantic film Bed of Roses (1996), the thriller film Nightwatch (1997), and appeared with his father in My Brother's War (1997). However, nothing truly stuck out, especially not the box office flop The Mod Squad (1999). The 2000s initially brought no significant change in Brolin's career. He appeared in the independent film Slow Burn (2000), the sci-if thriller Hollow Man (2000) and starred on the television series Mister Sterling (2003). In 2004, he married actress Diane Lane and are still together. It was not until 2007 that Brolin received much acclaim for his films. He took a supporting role in the Quentin Tarantino-written Grindhouse (2007) which was a two-part film accounting two horror stories. He also played two policemen that year: corrupt officer Nick Trupo in the crime epic American Gangster (2007), and an honest police chief in the emotional drama In the Valley of Elah (2007) which starred Tommy Lee Jones and was directed by Paul Haggis. However, it was his involvement in No Country for Old Men (2007) that truly pushed him into the limelight. The film, directed by the Coen brothers, was about a man (Brolin) who finds a satchel containing two million dollars in cash. He is pursued by an unstoppable assassin (Javier Bardem, who won an Oscar for his work) and his friend, a local sheriff (Tommy Lee Jones). The film won four Oscars, including Best Picture and Best Director. Brolin found high-profile work the next year, being cast as Supervisor Dan White in the film Milk (2008). His performance as the weak and bitter politician earned him an Oscar nomination, and Brolin received more praise for his fascinating portrayal of George W. Bush in the Oliver Stone film W. (2008). Despite the mediocre success of W. (2008), he was recognized as the best part of the film, and Milk (2008) was another triumph, critically and commercially. Brolin then acted in the smaller comedy Women in Trouble (2009) before landing a number of large roles in 2010. The first of these was the film based on the comic book figure Jonah Hex (2010). The film was a box office flop and critically panned, but Brolin also forged a second collaboration with legendary director Oliver Stone for Wall Street: Money Never Sleeps (2010). Brolin played a large role alongside such young stars as Carey Mulligan and Shia LaBeouf, and older thespians such as Michael Douglas, Eli Wallach, and Frank Langella. Brolin's character was Bretton James, a top banker in the film, and also the film's chief antagonist. Brolin also appeared in Woody Allen's London-based film You Will Meet a Tall Dark Stranger (2010) and a second collaboration with the Coen Brothers, which was a remake of True Grit (1969). Despite his earlier mediocre success and fame, Brolin has maintained a choosiness in his films and, recently, these choices have paid off profoundly. Hopefully, he continues this streak of good fortune that his talents have finally given him.

View Full Bio

Miles Teller

Brendan McDonough

Miles Alexander Teller is an American actor and musician. For his performance in the film The Spectacular Now (2013), he won the Dramatic Special Jury Award for Acting at the 2013 Sundance Film Festival. He has appeared in the films Rabbit Hole (2010), Footloose (2011), Project X (2012), That Awkward Moment (2014), Divergent (2014), Two Night Stand (2014), Whiplash (2014).

View Full Bio

Taylor Kitsch

Christopher MacKenzie

Best known for his portrayal of troubled high school football star "Tim Riggins" on NBC's acclaimed television series, Friday Night Lights (2006), actor Taylor Kitsch has scored big with audiences and critics on both the big and small screens. Taylor Kitsch was born on April 8, 1981 in Kelowna, British Columbia, Canada, to Susan (Green), who worked for the BC Liquor Board, and Drew Kitsch, who worked in construction. He grew up in Vancouver. During his childhood, he aspired to become an actor, which eventually was the real reason behind his move to New York. There, Taylor pursued his dreams by studying the art of acting with coach Sheila Grey. Not too long after that, Taylor was cast in several film and television roles, such as John Tucker Must Die (2006), Snakes on a Plane (2006) and Kyle XY (2006). Moving to New York in 2002 was the prize that Taylor received after being scouted by modeling scouts in Canada. Taylor was signed to "IMG Models" and became a regular face for the famous clothing lines, "Abercrombie & Fitch" and also "Diesel". Taylor was also signed under "Untitled Entertainment" during his two years stay in the city. While Taylor was living in New York, he found time to become a certified personal trainer and nutritionist. In the year 2004, Taylor decided that it was time for him to move to Los Angeles to learn more about the acting course. Taylor stayed in Los Angeles for about eight months and did some print work with "Nous Modeling Management". It wasn't too long until Taylor realized that he didn't want to be in Los Angeles. Taylor thought that things were running a little bit too fast for him, then making the decision to move back to Vancouver for the summer of 2005 to spend more time with his family. In 2006, Taylor then signed with "Endeavour". What shot him to bigger fame was his role in the movie, The Covenant (2006), with actors Steven Strait, Toby Hemingway and Chace Crawford. In the stylish thriller from Lakeshore Entertainment and Sony Screen Gems, four young witches do battle with a powerful, centuries-old supernatural force. In "The Covenant", fans got to know who Taylor really is. Even though the movie wasn't as successful as people hoped it would be, Taylor became more recognized since acting in the movie. In the movie, fans also got to see a more fit and toned version of Taylor. Fortunately, after "The Covenant", casting directors from the football teen drama, Friday Night Lights (2006), saw the talent that Taylor had. They eventually hired Taylor to play the role of "Tim Riggins", one of the Dillon Panthers' main players. On "Friday Night Lights", Taylor managed to show his acting skills to fans and television critics who were very impressed with Taylor's acting skills. USA Today called the series "one of the best-acted, best-written, best-produced shows on television". After receiving fame and gaining a big fan base from "Friday Night Lights", Taylor received the acting publicity he had always been waiting for. During the show's summer hiatus, Taylor filmed the feature Gospel Hill (2008), alongside Julia Stiles, Danny Glover, Angela Bassett and Samuel L. Jackson. Directed by Giancarlo Esposito, the film focuses on the bigoted former sheriff of a southern town and a one-time civil rights worker whose intersecting lives are still haunted by events that took place decades earlier. Old wounds are reopened as residents of a black neighborhood are forced out of their homes to make way for a multi-million dollar development. In February 2008, he signed on to play "Gambit" in the "X-Men" franchise spin-off, X-Men Origins: Wolverine (2009). He subsequently starred in the films The Bang Bang Club (2010), John Carter (2012), Battleship (2012), and Savages (2012). Despite being famous, Taylor is still a very humble guy and has said that he'd prefer to skip the whole tabloid craze. During his free time, he enjoys doing charity work and listening to music, especially those in the country genre. With all the success and a humble attitude, we're pretty sure that Taylor is going to be one of the "Must Watch" stars for the coming years. When he's not on set, Kitsch pursues children's charity work and enjoys spending time with family and friends.

View Full Bio

Jennifer Connelly

Amanda Marsh

Jennifer Connelly was born in the Catskill Mountains, New York, to Ilene (Schuman), a dealer of antiques, and Gerard Connelly, a clothing manufacturer. Her father had Irish and Norwegian ancestry, and her mother was from a Jewish immigrant family. Jennifer grew up in Brooklyn Heights, just across the Brooklyn Bridge from Manhattan, except for the four years her parents spent in Woodstock, New York. Back in Brooklyn Heights, she attended St. Ann's school. A close friend of the family was an advertising executive. When Jennifer was ten, he suggested that her parents take her to a modeling audition. She began appearing in newspaper and magazine ads (among them "Seventeen" magazine), and soon moved on to television commercials. A casting director saw her and introduced her to Sergio Leone, who was seeking a young girl to dance in his gangster epic Once Upon a Time in America (1984). Although having little screen time, the few minutes she was on-screen were enough to reveal her talent. Her next role after that was an episode of the British horror anthology TV series Tales of the Unexpected (1979) in 1984. After Leone's movie, horror master Dario Argento signed her to play her first starring role in his thriller Phenomena (1985). The film made a lot of money in Europe but, unfortunately, was heavily cut for American distribution. Around the same time, she appeared in the rock video "I Drove All Night," a Roy Orbison song, co-starring Jason Priestley. She released a single called "Monologue of Love" in Japan in the mid-1980s, in which she sings in Japanese a charming little song with semi-classical instruments arrangement. On the B-side is "Message Of Love," which is an interview with music in background. She also appeared in television commercials in Japan. She enrolled at Yale, and then transferred two years later to Stanford. She trained in classical theater and improvisation, studying with the late drama coach Roy London, Howard Fine, and Harold Guskin. The late 1980s saw her starring in a hit and three lesser seen films. Amongst the latter was her roles in Ballet (1989), as a ballerina and in Some Girls (1988), where she played a self-absorbed college freshman. The hit was Labyrinth (1986), released in 1986. Jennifer got the job after a nationwide talent search for the lead in this fantasy directed by Jim Henson and produced by George Lucas. Her career entered in a calm phase after those films, until Dennis Hopper, who was impressed after having seen her in "Some Girls", cast Jennifer as an ingénue small-town girl in The Hot Spot (1990), based upon the 1950s crime novel "Hell Hath No Fury". It received mixed critical reviews, but it was not a box office success. The Rocketeer (1991), an ambitious Touchstone super-production, came to the rescue. The film was an old-fashioned adventure flick about a man capable of flying with rockets on his back. Critics saw in "Rocketeer" a top-quality movie, a homage to those old films of the 1930s in which the likes of Errol Flynn starred. After "Rocketeer," Jennifer made Career Opportunities (1991), The Heart of Justice (1992), Mulholland Falls (1996), her first collaboration with Nick Nolte and Inventing the Abbotts (1997). In 1998, she was invited by director Alex Proyas to make Dark City (1998), a strange, visually stunning science-fiction extravaganza. In this movie, Jennifer played the main character's wife, and she delivered an acclaimed performance. The film itself didn't break any box-office record but received positive reviews. This led Jennifer to a contract with Fox for the television series The $treet (2000), a main part in the memorable and dramatic love-story Waking the Dead (2000) and, more important, a breakthrough part in the polemic and applauded independent Requiem for a Dream (2000), a tale about the haunting lives of drug addicts and the subsequent process of decadence and destruction. In "Requiem for a Dream," Jennifer had her career's most courageous, difficult part, a performance that earned her a Spirit Award Nomination. She followed this role with Pollock (2000), in which she played Pollock's mistress, Ruth Klingman. In 2001, Ron Howard chose her to co-star with Russell Crowe in A Beautiful Mind (2001), the film that tells the true story of John Nash, a man who suffered from mental illness but eventually beats this and wins the Nobel Prize in 1994. Jennifer played Nash's wife and won a Golden Globe, BAFTA, AFI and Oscar as Best Supporting Actress. Connelly continued her career with films including Hulk (2003), her second collaboration with Nick Nolte, Dark Water (2005), Blood Diamond (2006), The Day the Earth Stood Still (2008), He's Just Not That Into You (2009) and Noah (2014), where she did her second collaboration with both Darren Aronofsky and Russell Crowe and made her third collaboration with Nick Nolte in that same film. Jennifer lives in New York. She is 5'7", and speaks fluent Italian and French. She enjoys physical activities such as swimming, gymnastics, and bike riding. She is also an outdoors person -- camping, hiking and walking, and is interested in quantum physics and philosophy. She likes horses, Pearl Jam, SoundGarden, Jesus Jones, and occasionally wears a small picture of the The Dalai Lama on a necklace. Her favorite colors are cobalt blue, forest green, and "very pale green/gray -- sort of like the color of the sea". She likes to draw.

View Full Bio

Jeff Bridges

Duane Steinbrink

Jeffrey Leon Bridges was born on December 4, 1949 in Los Angeles, California, the son of well-known film and TV star Lloyd Bridges and his long-time wife Dorothy Dean Bridges (née Simpson). He grew up amid the happening Hollywood scene with big brother Beau Bridges. Both boys popped up, without billing, alongside their mother in the film The Company She Keeps (1951), and appeared on occasion with their famous dad on his popular underwater TV series Sea Hunt (1958) while growing up. At age 14, Jeff toured with his father in a stage production of "Anniversary Waltz". The "troublesome teen" years proved just that for Jeff and his parents were compelled at one point to intervene when problems with drugs and marijuana got out of hand. He recovered and began shaping his nascent young adult career appearing on TV as a younger version of his father in the acclaimed TV- movie Silent Night, Lonely Night (1969), and in the strange Burgess Meredith film The Yin and the Yang of Mr. Go (1970). Following fine notices for his portrayal of a white student caught up in the racially-themed Halls of Anger (1970), his career-maker arrived just a year later when he earned a coming-of-age role in the critically-acclaimed ensemble film The Last Picture Show (1971). The Peter Bogdanovich- directed film made stars out off its young leads (Bridges, Timothy Bottoms, Cybill Shepherd) and Oscar winners out of its older cast (Ben Johnson, Cloris Leachman). The part of Duane Jackson, for which Jeff received his first Oscar-nomination (for "best supporting actor"), set the tone for the types of roles Jeff would acquaint himself with his fans -- rambling, reckless, rascally and usually unpredictable). Owning a casual carefree handsomeness and armed with a perpetual grin and sly charm, he started immediately on an intriguing 70s sojourn into offbeat filming. Chief among them were his boxer on his way up opposite a declining Stacy Keach in Fat City (1972); his Civil War-era conman in the western Bad Company (1972); his redneck stock car racer in The Last American Hero (1973); his young student anarchist opposite a stellar veteran cast in Eugene O'Neill's The Iceman Cometh (1973); his bank-robbing (also Oscar-nominated) sidekick to Clint Eastwood in Thunderbolt and Lightfoot (1974); his aimless cattle rustler in Rancho Deluxe (1975); his low-level western writer who wants to be a real-life cowboy in Hearts of the West (1975); and his brother of an assassinated President who pursues leads to the crime in Winter Kills (1979). All are simply marvelous characters that should have propelled him to the very top rungs of stardom...but strangely didn't. Perhaps it was his trademark ease and naturalistic approach that made him somewhat under appreciated at that time when Hollywood was run by a Dustin Hoffman, Robert De Niro and Al Pacino-like intensity. Neverthless, Jeff continued to be a scene-stealing favorite into the next decade, notably as the video game programmer in the 1982 science-fiction cult classic TRON (1982), and the struggling musician brother vying with brother Beau Bridges over the attentions of sexy singer Michelle Pfeiffer in The Fabulous Baker Boys (1989). Jeff became a third-time Oscar nominee with his highly intriguing (and strangely sexy) portrayal of a blank-faced alien in Starman (1984), and earned even higher regard as the ever-optimistic inventor Preston Tucker in Tucker: The Man and His Dream (1988). Since then Jeff has continued to pour on the Bridges magic on film. Few enjoy such an enduring popularity while maintaining equal respect with the critics. The Fisher King (1991), American Heart (1992), Fearless (1993), The Big Lebowski (1998) (now a cult phenomenon) and The Contender (2000) (which gave him a fourth Oscar nomination) are prime examples. More recently he seized the moment as a bald-pated villain as Robert Downey Jr.'s nemesis in Iron Man (2008) and then, at age 60, he capped his rewarding career by winning the elusive Oscar, plus the Golden Globe and Screen Actor Guild awards (among many others), for his down-and-out country singer Bad Blake in Crazy Heart (2009). Bridges next starred in TRON: Legacy (2010), reprising one of his more famous roles, and received another Oscar nomination for Best Actor for his role in the Western remake True Grit (2010). In 2014, he co-produced and starred in an adaptation of the Lois Lowry science fiction drama The Giver (2014). Jeff has been married since 1977 to non-professional Susan Geston (they met on the set of Rancho Deluxe (1975)). The couple have three daughters, Isabelle (born 1981), Jessica (born 1983), and Hayley (born 1985). He hobbies as a photographer on and off his film sets, and has been known to play around as a cartoonist and pop musician. His ancestry is English, and smaller amounts of Scots-Irish (Northern Irish), Irish, Swiss-German, and German.

View Full Bio

James Badge Dale

Jesse Steed

James Badge Dale was born on May 1, 1978 in New York City, New York, USA as James Badgett Dale. He is an actor, known for The Departed (2006), World War Z (2013) and Iron Man 3 (2013).

View Full Bio
Cast & Crew photos provided by TMDb.