More Trailers and Videos for The Sisters Brothers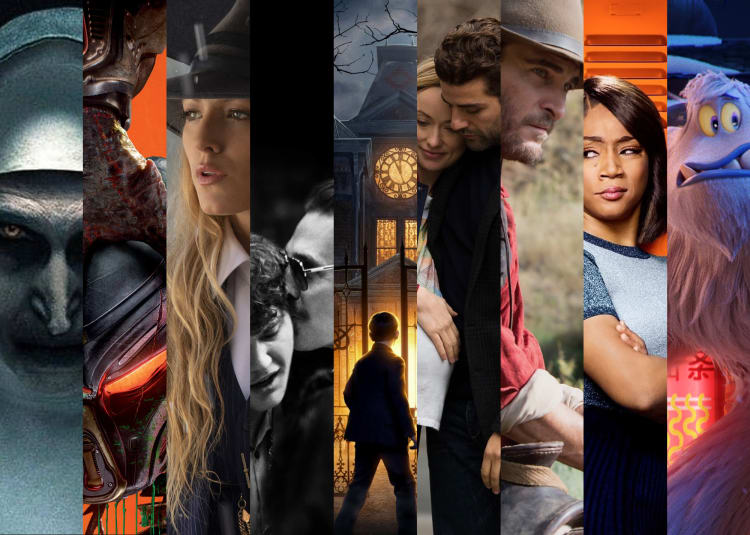 September's Must-See Films
September has a whole array of movies we're excited to see, from franchise continuations to great novel adaptations, to big dramas and comedies. Here's everything you need to see this month at AMC.
3 Upcoming John C. Reilly Films
Reilly is a talented and well-rounded actor, comedian and voice over artist — and this year alone, he has three films hitting theatres. Read on to learn more and get your tickets at AMC.
Cast & Crew
Joaquin Phoenix

Actor

Joaquin Phoenix was born Joaquin Rafael Bottom in San Juan, Puerto Rico, to Arlyn (Dunetz) and John Bottom, and is the middle child in a brood of five. His parents, from the continental United States, were then serving as Children of God missionaries. His mother is from a Jewish family from New York, while his father, from California, is of mostly British Isles descent. As a youngster, Joaquin took his cues from older siblings River Phoenix and Rain Phoenix, changing his name to Leaf to match their earthier monikers. When the children were encouraged to develop their creative instincts, he followed their lead into acting. Younger sisters Liberty Phoenix and Summer Phoenix rounded out the talented troupe. The family moved often, traveling through Central and South America (and adopting the surname "Phoenix" to celebrate their new beginnings) but, by the time Joaquin was age 6, they had more or less settled in the Los Angeles area. Arlyn found work as a secretary at NBC, and John turned his talents to landscaping. They eventually found an agent who was willing to represent all five children, and the younger generation dove into television work. Commercials for meat, milk, and junk food were off-limits (the kids were all raised as strict vegans), but they managed to find plenty of work pushing other, less sinister products. Joaquin's first real acting gig was a guest appearance on River's sitcom, Seven Brides for Seven Brothers (1982). He worked with his brother again on the afterschool special Backwards: The Riddle of Dyslexia (1984), then struck out on his own in other made-for-TV productions. He made his big-screen debut as the youngest crew member in the interstellar romp SpaceCamp (1986), then won his first starring turn in the Cold War-era drama Russkies (1987). In the late '80s, the Phoenix clan decided to pull up stakes and relocate again--this time to Florida. River's film career had enough momentum to sustain the move, but Joaquin wasn't sure what lay in store for him in the Sunshine State. As it happened, Universal Pictures had just opened a new studio in the area and he was cast almost immediately as an angst-ridden adolescent in Parenthood (1989). His performance was very well-received, but Joaquin decided to withdraw from acting for a while--he was frustrated with the dearth of interesting roles for actors his age, and he wanted to see more of the world. His parents were in the process of separating, so he struck out for Mexico with his father. Joaquin returned to the public eye three years later under tragic circumstances. On October 31, 1993, he was at The Viper Room (a Los Angeles nightclub partly-owned by Johnny Depp) when his brother River collapsed from a drug overdose and later died. Joaquin made the call to 911, which was rebroadcast on radio and television the world over. Months later, at the insistence of friends and colleagues, Joaquin began reading through scripts again, but he was reluctant to re-enter the acting life until he found just the right part. He finally signed up to work with Gus Van Sant (who had directed River in My Own Private Idaho (1991) and Even Cowgirls Get the Blues (1993)) to star as Nicole Kidman's obsessive devotee in To Die For (1995). The performance made Joaquin (who had dropped Leaf and reverted to his birth name) a critics' darling in his own right. His follow-up turn in Inventing the Abbotts (1997) scored more critical kudos and, perhaps more importantly, introduced him to his one-time fiancée Liv Tyler. (The pair dated for almost three years.) He returned to the big screen later that year with a supporting role in Oliver Stone's U Turn (1997), then played a locked-up drug scapegoat in Return to Paradise (1998). He and "Paradise" co-star Vince Vaughn re-teamed almost immediately for the small-town murder caper Clay Pigeons (1998), which Joaquin followed with a turn as a porn store clerk in 8MM (1999). The film that confirmed Phoenix as a star was the historical epic Gladiator (2000). The Roman epic cast him as the selfish, paranoid young emperor Commodus opposite Russell Crowe's swarthy hero. Determined to make his character as real as possible, Phoenix gained weight and cultivated a pasty complexion during the shoot. He received international attention and an Academy Award nomination for Best Supporting Actor for that role. Later that year, he appeared in two indies, playing a dock worker in The Yards (2000) (which he counts among his favorite experiences--and one of the only films of his that he can sit through) and the priest in charge of the Marquis de Sade's asylum in Quills (2000). He received an Academy Award nomination for Best Actor as the legendary musician Johnny Cash in the biography Walk the Line (2005). He also recorded an album, the film's soundtrack, for which he received the Grammy Award for Best Compilation Soundtrack for Visual Media.

More

John C. Reilly

Actor

Character actor, dramatic leading man, or hilarious comic foil? With an astonishing range of roles already under his belt, John C. Reilly has played an eclectic host of rich characters to great effect over the years, from seedy ne'er-do-wells, to lovable, good-natured schlepps. The fifth of six children, John Christopher Reilly was born in Chicago, to a father of mostly Irish descent, and a Lithuanian-American mother, and was brought up on Chicago's tough Southwest territory. His father, also named John, ran an industrial linen supply company business. On the amateur stage from age eight, Reilly trained at the Goodman School of Drama and eventually became a member of Chicago's renowned Steppenwolf Theatre. His film break came with a small role in the Vietnam War drama Casualties of War (1989), wherein Brian De Palma liked his work so much during the early stages that he recast him in a major role by the start of shooting as a soldier bent on rape. Reilly gained momentum throughout the 1990s and showed his dazzling stretch of talent in such films as Days of Thunder (1990), Shadows and Fog (1991), What's Eating Gilbert Grape (1993) and The River Wild (1994). He became a major stock player in director Paul Thomas Anderson's films, while finding some of his best roles in Hard Eight (1996) as a compulsive gambler, Boogie Nights (1997) in which he played a narcissistic porn star, and in Magnolia (1999) as a compassionate policeman. He went on to earn further critical points for his role of the soldier sent to the front lines in Terrence Malick's war epic The Thin Red Line (1998). On stage, Reilly has wowed audiences in "The Grapes of Wrath" on Broadway, "A Streetcar Named Desire" and "Othello" at Steppenwolf, and earned an Outer Critics Circle Award and Tony nomination for "True West" alongside another impeccable character player Philip Seymour Hoffman. Reilly finally received the film recognition he deserved in 2002 with a slew of choice, high-profile parts in The Hours (2002), The Good Girl (2002), Gangs of New York (2002), and especially Chicago (2002) as the put-upon husband, Amos Hart, who is played for a patsy by murderous wife Roxie (Renée Zellweger). For this last part, he received both Golden Globe and Academy Award nominations for Best Supporting Actor. Since then his stock has risen considerably, and he has further widened his cinematic repertoire, appearing in everything from dramatic roles - We Need to Talk About Kevin (2011), The Aviator (2004) and Carnage (2011) - to broader comic turns - Walk Hard: The Dewey Cox Story (2007), Talladega Nights: The Ballad of Ricky Bobby (2006), Step Brothers (2008), Cyrus (2010) and Cedar Rapids (2011). Most recently, he has voiced the lead in Disney's animated smash Wreck-It Ralph (2012). Reilly is married to producer Alison Dickey.

More

Jake Gyllenhaal

Actor

Jacob Benjamin Gyllenhaal was born in Los Angeles, California, to producer/screenwriter Naomi Foner (née Achs) and director Stephen Gyllenhaal. He is the brother of actress Maggie Gyllenhaal, who played his sister in Donnie Darko (2001). His godmother is actress Jamie Lee Curtis. His mother is from a Jewish family, and his father's ancestry includes Swedish, English and Swiss-German. At the age of eleven, Gyllenhaal made his movie debut in the comedy-drama City Slickers (1991), playing Billy Crystal's character's son. He made an impact in various films in the late 1990s and early 2000s, in films such as the period drama October Sky (1999), his breakthrough performance, and as the title role in the psychological thriller Donnie Darko (2001), for which he received an Independent Spirit Award nomination for Best Actor, playing a psychologically troubled teenager. He followed this with roles encompassing many different genres, including the comedy film, the Disney romantic comedy Bubble Boy (2001); opposite Jennifer Aniston in another Sundance favorite, The Good Girl (2002), as a young man grieving the death of his fiancée in Moonlight Mile (2002), and in the science fiction blockbuster The Day After Tomorrow (2004), portraying a student caught in a cataclysmic climate event, opposite Dennis Quaid. Making his theater debut, Gyllenhaal appeared on the London stage with a starring role in Kenneth Lonergan's revival of "This Is Our Youth". The play was widely-received and played for eight weeks in London's West End. Gyllenhaal followed his successful theater en devour with a role in Jarhead (2005), playing Anthony "Swoff" Swofford, an aggressive and masculine but equally vulnerable and sensitive Marine during the Gulf War, and Proof (2005), as Gwyneth Paltrow's love interest. However, it was his follow-up performance that won critical acclaim in Brokeback Mountain (2005), in which he co-starred with Australian actor Heath Ledger, as sheep herders who fall in love in the 1960s and depicts their relationship over the 1960s, 1970s and early 1980s. For his role as Jack Twist, Gyllenhaal received critical acclaim and won the BAFTA Award for Best Actor in a Supporting Role and was nominated for the Screen Actors Guild Award for Outstanding Performance by a Male Actor in a Supporting Role, the Satellite Award for Best Supporting Actor - Motion Picture, and the Academy Award for Best Supporting Actor. Since then, he has acted in a wide range of movies, ranging from the critically-acclaimed thriller, Zodiac (2007), the drama Brothers (2009), playing opposite Tobey Maguire as the title siblings, in the action adventure film, Prince of Persia: The Sands of Time (2010), sporting a bulked-up physique, and the box office hit, Love & Other Drugs (2010), in which he teamed up with Anne Hathaway, once again, and for which he was nominated for a Golden Globe Award for Best Actor - Motion Picture Musical or Comedy. In the 2010s, Gyllenhaal starred in several major films for which he received significant critical acclaim: science fiction thriller Source Code (2011), police drama End of Watch (2012), mystery Prisoners (2013), dark media satire Nightcrawler (2014), the boxing drama Southpaw (2015), and the dramedy Demolition (2015). For Nightcrawler, he was nominated for the Golden Globe Award for Best Actor - Motion Picture Drama, the Screen Actors Guild Award for Outstanding Performance by a Male Actor in a Leading Role, and the BAFTA Award for Best Actor in a Leading Role. Gyllenhaal is the godfather of Matilda Ledger (aka Matilda Rose Ledger), daughter of the late actor Heath Ledger and Michelle Williams. Gyllenhaal's most significant personal relationships have been with actresses Kirsten Dunst and Reese Witherspoon. He is friends with Maroon 5 frontman Adam Levine, having known him since kindergarten. He is good friends with his sister's husband and Jarhead (2005) co-star, actor Peter Sarsgaard.

More

Riz Ahmed

Actor

Riz Ahmed (born 1 December 1982), also known by his stage name Riz MC and birth name Rizwan Ahmed, is a British Pakistani actor, rapper, and activist. As an actor, he has won one Emmy Award, out of two Emmy nominations, and was also nominated for a Golden Globe, Screen Actors Guild Award, and three British Independent Film Awards.

More

Rutger Hauer

Actor

Blond, blue-eyed, tall and handsome Dutch actor Rutger Hauer enjoyed an international reputation for playing everything from romantic leads to action heroes to sinister villains. Hauer was born in Breukelen, a Dutch town and former municipality in the province of Utrecht. He was the son of Teunke (Mellema) and Arend Hauer, actors who operated an acting school. As his parents were often touring, he and his three sisters were raised by a nanny. A bit of a rebel during his childhood, he chafed at the rules and rigors of school and was often getting into mischief. His grandfather had been the captain of a schooner and at age fifteen, Hauer ran away to work on a freighter for a year. Like his great-grandfather, Hauer was color-blind, which prevented him from furthering his career as a sailor. Upon his return he attended night school and started working in the construction industry. When he again bombed at school, his parents enrolled him in drama classes. An amateur poet, he spent most of his time writing poetry and hanging out in Amsterdam coffee houses instead of studying. He was expelled for poor attendance and afterward spent a brief period in the Dutch navy. Deciding he didn't like military life, Hauer honed his acting skills trying to convince his superiors he was mentally unfit and was sent to a special home for psych patients. It was an unpleasant place, but Hauer remained there until he had convinced his ranking officers that the military really did not need him.

More