The Party of the Century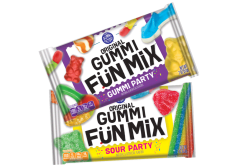 Satisfy your sweet tooth with a Gummi Party or Sour Party, yours free when you buy a Combo #1. While supplies last.
Offer available while supplies last. One free 2 oz. package of either Gummi Party or Sour Party per Combo #1 purchase.
©2018 Original Gummi Factory, The Gummi Factory, Original Gummi FunMix, Gummi Party and Sour Party are trademarks of The Promotion in Motion Companies, Inc. All rights reserved.