Asian-Pacific Cinema
We're proud to bring you the best from Asia and the Pacific Islands. We scour the world in search of global gems to bring to a movie screen near you. Check out the movies playing now or coming soon.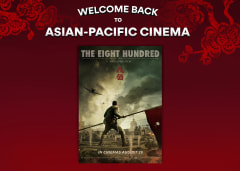 Don't Miss This Epic War Story
Get your tickets for THE EIGHT HUNDRED, now showing at select AMC theatres! Based on true events, this Chinese drama tells of a group fighting against impossible odds in the 1937 Sino-Japanese War.