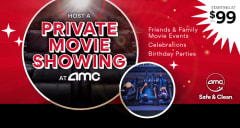 Make an AMC Auditorium All Yours
Host a personal screening for one or make it a private party for up to 20 people total! It's perfect for an everyday escape or a celebration to remember. Make AMC your next destination to meet friends and family and reserve an entire AMC Safe & Clean™ auditorium, starting at just $99+tax.
Get Started - Fill out the Events Inquiry Form with all your details so we may best assist you.
Due to popular demand, our current availability for showings are 10 days out and require payment 7 days out to secure rental.
Double Check - Verify the movie and time you are requesting is correct – you won't be able to change this after submitting your request.
Hang Tight - An AMC representative will be in contact with you within 3 business days. Not seeing our email response? Please check your Spam or Promotional folders – it may be trapped!
Questions? - Check out our FAQs here.
Which Movie Do You Want to Watch?
Choose from our exciting selection of movies for your private showing.
Private Movie Showing is only available at participating theatres. Total number of guests cannot exceed 20 per auditorium. Movie selection is subject to change and availability may vary by theatre. Pricing may vary by title selection. Pricing is subject to change. Additional charges may apply for premium formats where offered. Restrictions apply. No substitutions or rainchecks. Auditorium rental must paid 7 days in advance to secure rental. For private use only. Seats and tickets not for resale. Private Movie Showing pricing is only applicable for participating films. Price does not include tax or applicable online service fees. No tax exemption or credits applicable. Offer includes one auditorium rental for one select film only on one select day. A-List reservations excluded.
Learn more about our new AMC Safe & Clean™ policies and procedures, including which masks are acceptable.